What I am trying to say is, if you have a passion, start working on it – nothing can be achieved without hard work. And if you haven't discovered it yet, no worries you will soon.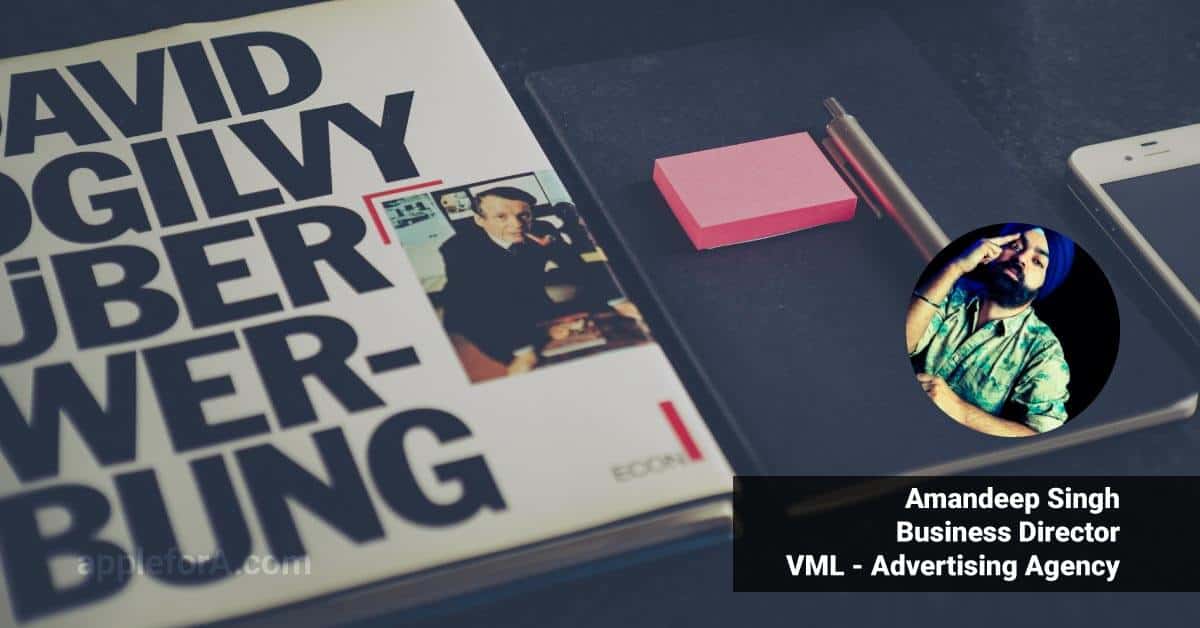 I am Amandeep Singh, working as Business Director at VML, a full-service global digital marketing and advertising agency. Fresh Marketing Idea is my blog, which I started in my B school and that played an important role in shaping up my career.
Lesson : A blog can change your whole life/shape you career. So start one today for the sake of learning, not for making money out of it. If you make money consider it as an added bonus.
Who is a Business Developer?
Business Developer is in charge of growing the business. He/She needs to have good knowledge and understanding of the service sold, and hence brand strategy.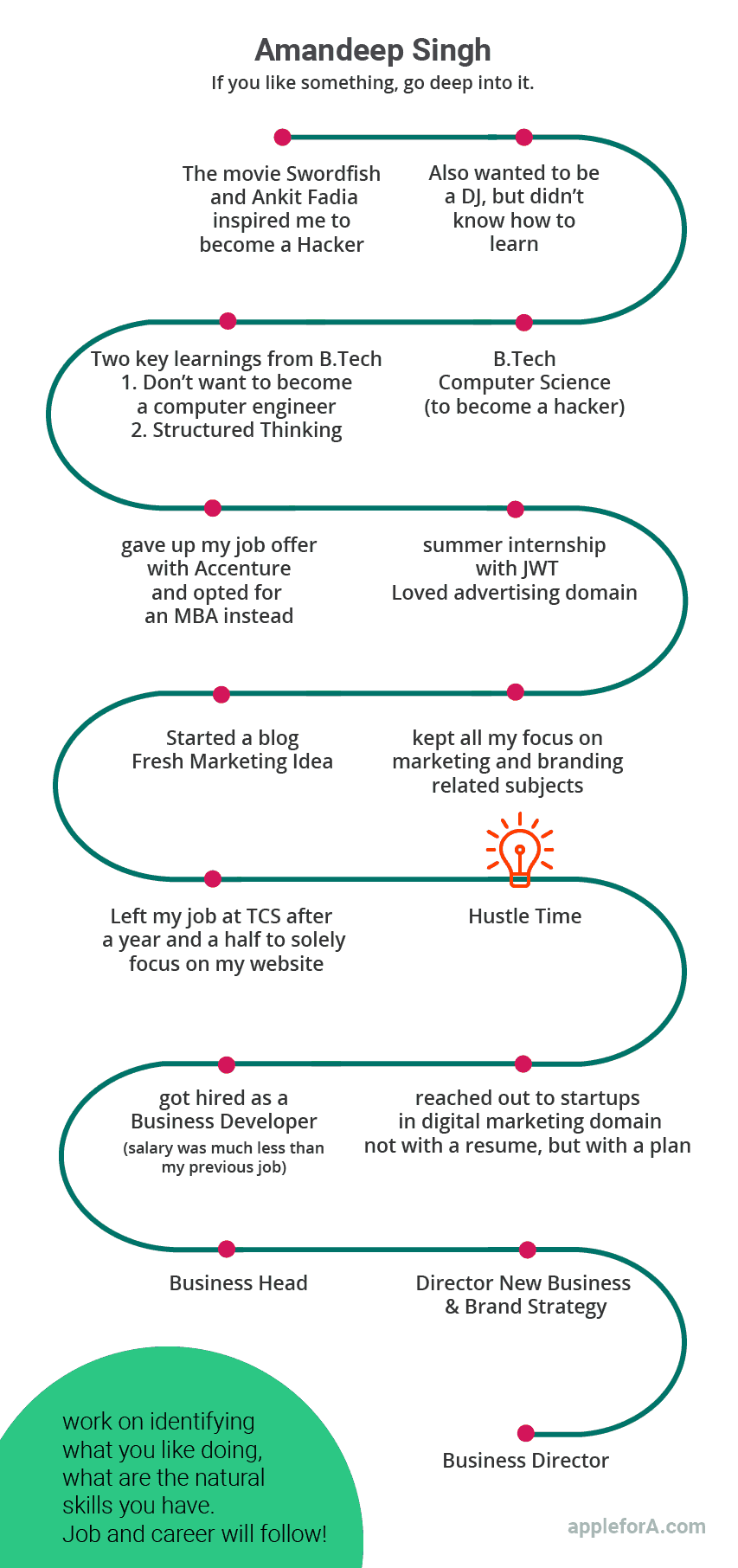 What did you want to be when you were in higher secondary school?
I wanted to be a hacker and a DJ during my high school. Back then, I was not exposed to good DJing schools or teachers to teach me the art of being a Disc Jockey. Being a hacker was a hipster thing to do. So, I got into CS in order to become one. Movies like Swordfish and Ankit Fadia (ethical hacker) were my key influences to become a hacker.
A major learning from my experience in my CS was – I did not want to become a computer engineer. But I learnt a very important skill in my engineering – Structured Thinking! I gave up my job offer with Accenture and opted for an MBA instead.
During my MBA, I specialised in Finance as I had already realised my love for Brands. My summer internship with JWT was the first real flirt with advertising world and I was left in awe! I have always been a brand conscious person and a chance to dig deeper into their world caught my fancy.
What are your specific activities as a business developer?
The most important part of my job is to meet prospective clients from various brands in India. I work with my team to meet Marketing heads, CMO's, Digital marketers, Brand Managers to understand their requirements and challenges as part of their marketing plans. Then I work with my strategy and creative teams to design our recommendations which we present to the brand team.
As many of you might know – "The Pitch Process" is holy grail in agency world where a number of competitive agencies fight for the client's business. And I try my best to win the pitch of course!
As an interface between client and creative team – the next important task I have to do is to understand client's business and their challenges, and to translate them for our creative teams in form of a "Brief". Further, I need to ensure that our "creative solution" and "strategy plan" is in sync and provides the best solution to client's problem.
I work from my office, sometimes from cafes, co working spaces, as well as from home. As a business developer you have to do a lot of meetings and travel around for work. My workplace is super fun and energetic. If you want to know what I mean by that, you better spend a day in an agency's office. Everyone is young (aged around 25), you might have loud music playing in the office, people playing PS.
In short you might wonder – do these people ever work? Well apparently we all do!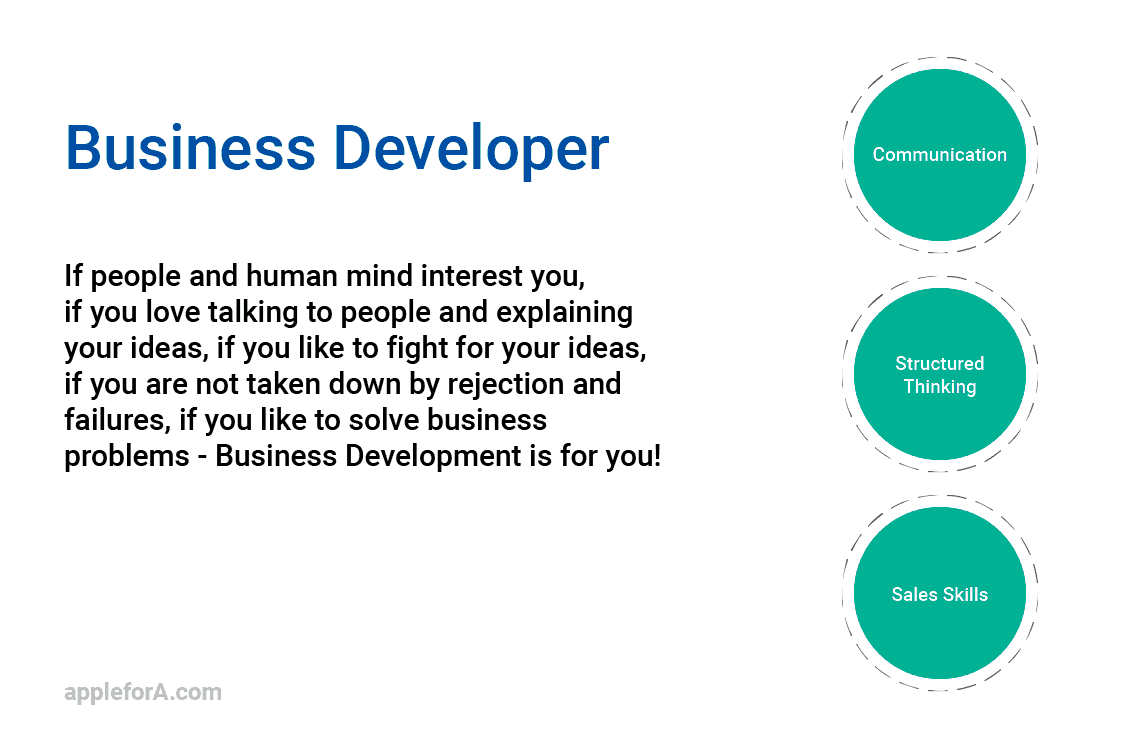 What drives you?
One thing which I learnt in my first job with IT company was that I cannot work in a field which I am not passionate about. If you can make the field you love as your career, nothing can be better. You are not just doing it for money, but for the love of it. Hence, the drive and motivation comes automatically.
How do I find my area of interest?
When you are 18 you let your mind have a lot of influences. In short – you give lot of f*cks (Reminds me to recommend you the brilliant book called – "The Subtle art of not giving a F*ck"). When you grow up – on the way you realise what is important for you (not shaped by what is important to others around you). What I am trying to say is, if you have a passion, start working on it – nothing can be achieved without hard work. And if you haven't discovered it yet, no worries you will soon.
What steps did you take to land in your present job?
During engineering, I always wanted to understand why we are making a particular software or writing a program in first place? What is the problem it is solving? Every product or service exists in the market because there was a unfulfilled need for it.
Took up a major in Marketing in MBA , Summer internship with JWT. I kept all my focus on marketing and branding related subjects.
Started a blog during my college – called Fresh Marketing Idea where we generated marketing ideas for various brands and posted them.
Left my job at TCS after a year and a half to solely focus on my website – did couple of projects for clients.
I reached out to a couple of startups in digital marketing domain. Not just resume – but with a deck with my ideas for one of their existing clients. (I took up a job with salary much less than my previous job). The founder gave me an honest views and feedback, decided to hire me as a business developer for the agency. It was one of the best experiences for me – to get my hands of almost all aspects of an agency – pre sales, sales, lead generation, pitch process, planning, brand strategy and fine points of digital marketing.
Within a year and a half, I was offered a role as Business Head – to set up and lead branch office of a European agency in Delhi. Again the learnings were immense here.
After this I am currently leading the new business domain for an US based global agency.
What do you wish you knew before you started preparing for this career?
It is all hindsight right now, but I think what is most important is to keep a focus on finding your passion and be flexible enough to learn as much as you can in everything life throws out at you. Looking back, I would have loved to find a mentor who would have guided me through everything. In that case I would have picked up good things and skills from observing people and business around me.
What have been the most surprising elements of this career?
One surprising element would be to realise no matter what field you work on – understand human behaviour and work on your communication skills. Pretty much everything in people management is one of the most important skill you would need to go after your goal.
What things would you do differently in preparing for this career?
Read more – not just fiction but nonfiction, about subjects which catch your attention, about successful people and their lives.
Get involved in as many projects as you can to expand your options and learn from actual work – work in coffee shop, join as volunteer with an organization, etc.
When you see an ad think about it, read about it online – why did they make this commercial, why this piece of ad is so stupid, why do you see ads following you on internet.
What do you love about your current role?
Advertising agencies are not best pay masters. You might not earn as much as your other friends during the beginning of the career. But trust me, you will catch with them later! If just money is your ultimate aim in life, I would suggest look at another option. But you would have super cool work life – wear whatever you want, crazy parties, award ceremonies, seeing your work take life (on Facebook, Youtube, TV, Billboard), rub shoulders with celebrities ( when your client has Virat Kohli or Katrina Kaif as their ambassador)
The future of business developer is always going to be good. Since apart from your knowledge in business – your people skills are the most important skill, AI has a long way to go in order to put your job at risk!
Lesson : There are careers which will pay you good money during your initial years of career. But it does not mean it will take you to places where you want and will always pay you well.

There are careers which won't pay well during your initial years, but as you learn and progress, it will pay really good. One example I can give you is career in Law. It won't even pay for your expenses during your initial years. But after years you can charge lakhs for an hour for your service, if you are really good at it. So consider this fact while choosing and switching careers.
What are the challenges you face in your career?
With the rise of digital marketing and ever developing technology, you have to keep yourself at par with expectations. You have to develop yourself and learn new things at every step. The work can get very demanding at times (ask any ad guy) but we all love our work!
Can you please summarise your career journey?
+ 2 – Science (Non Medical)
Graduation – B.Tech, Computer Science
Post Graduation – MBA, Marketing
TCS – Assistant Manager
Founder & Conceptualizer – Fresh Marketing Ideas
BrandAppZ – Business Development Manager
KRDS – Business Head
Brandmovers – Director New Business & Brand Strategy
VML – Business Director
What sort of experiences helped prepare you the most?
As I said everything you do will eventually help you in your career. Everything which I faced in life has helped me throughout.
How do you like to spend your free time?
During free time I try to read as much as I can, and I love spending time in coffee shops with a great cup. Apart from that, I visit at least one new country every year.
What are the skills and education required to be a business developer in 2020?
Education:
Go for a course which can teach you basic marketing. Studying psychology, mass communication, business management can be very good too.
If you want to be a business developer like me – MBA is a good bet. You can choose to major in marketing from a good B school or you can also go for special colleges like MICA. You can look at international advertising schools too.
If you have time – doing a basic course in digital marketing can add value to your career.
Skills:
Communication
People Skills
You can always keep learning new techniques, new technologies, new skills. As I have repeatedly said, one thing will never change – that is understanding humans and how they behave!
I am 17 and I am planning for a similar career path like yours. What advice you have for me?
Instead of focussing on a particular career – work on identifying what you like doing, what are the natural skills you have. Job and career will follow!
Go online – read about advertising. If you like something, go deep into it. You have the magic wand called google in your hand. Don't waste all your time messaging and laughing on memes!
What are some alternate career options for a business developer?
You can work in client servicing, account management which is closest to a business developer. Alternate to Brand Strategist – you can choose to be in the creative department – a copywriter, art director, graphic designer!
You can also be a Brand or Marketing Consultant or even a business consultant after some experience. All big 4 firms are now in business of digital marketing, digital transformation, creative shops. Accenture is currently ranked as one of the best in the field.
What do you think potential recruiters/you look for in a business developer?
Communication
Structured Thinking
Sales Skills
How do I know if a career in Advertising/Branding is for me?
Are you curious about the world of brands? Does a TV ad make you curious? Does a brand video make you interested? Do you like to observe people, culture and trends? If yes, the world of advertising is for you!
If people and human mind interest you, if you love talking to people and explaining your ideas, if you like to fight for your ideas, if you are not taken down by rejection and failures, if you like to solve business problems – Business Development is for you!
What are some resources you use to keep yourself updated about the industry?
Read the basic and most important books of advertising.
Watch Mad Men, may be it would inspire you in some way.
Do subscribe to Seth Godin's blog.
Follow websites like Adage, Adweek, Campaign Asia/India to keep updated on world of advertising.
What do you think everyone leaving higher secondary school should know?
Work on side projects. In order to do that, seek the help of your professors to find one. If you don't get one from him, give yourself a project and work on it.
Get an experience in sales. Take up a part time job which includes selling in some way.
Take up online courses. There is a pool of free knowledge sources and courses online. Sign up for them. If you find a paid one, never hesitate to invest in learning new skills.
Talk to people, have a conversation with a new person every day in your life if you can!
Any final thoughts?
Find your passion. (Remember trial & error, and choosing by elimination of options is one of the ways to do it too.)
Develop your skills. (For a business developer – work on your communication skills, be a people's person, take up projects/work experience.)
All universities and colleges are just enablers for developing skills sets and gaining knowledge, at the end of the day it is your effort what will yield results.
---
Thanks for reading! 🙂 If you enjoyed this article, leaving your 

comment

 below would mean a lot to me and it helps other people see the story. And you can say hello to us at

hello@applefora.com
If any of your friend is considering a career in a similar area 

share

 this with him/her.
You can 

read

 more real career stories 

here

.