TO BE A

DESIGNER
Sketch, sketch and sketch

– There is nothing more powerful for designers.

Read and read

– The more you know by reading, the chances are it will show up in your work.

Wander a bit

– Learning from other fields and careers is important. It's important you know them because we design for them.
I am Francis Xavier. I run a design studio in Bangalore and really see a potential in design. My graduation was in Fashion Communication from NIFT. That was the foundation of design for me. Over a period of time while working with people in design and otherwise, I feel there is a huge potential for design and for the business of design. Running this studio for the past 4+ years has been a great journey.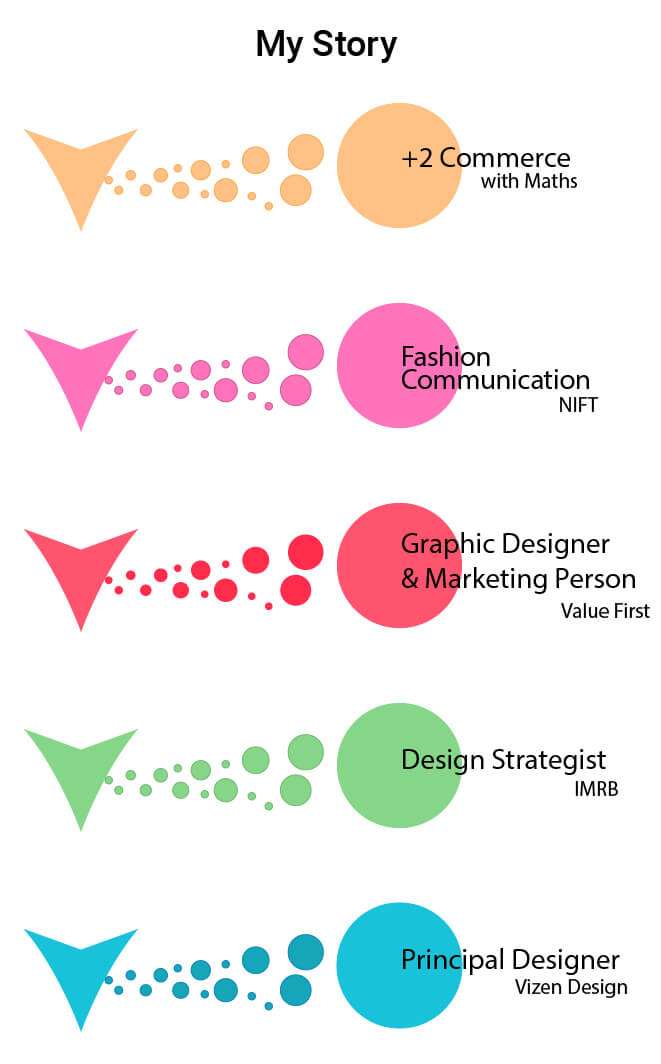 What do you do as a
Graphic Designer

?

My typical day is mostly starts by looking at the calendar, scheduling my work for the day and seeing how that goes across the week and then the month. As a graphic designer, I really need to worry about how I spend my time, whether I am working on a project or I am learning new skills that makes me better at what I do.

I work independently, and with consultants who are in design or otherwise. Depends largely on the projects themselves. Sometimes a website needs a lot of developer work and little of design, so the team changes accordingly.

My workplace is simple, I like books, pens and stationery but I love to keep my workplace as empty and clean as possible. Inspiration is important, so a couple of design books are there, my cup for tea or coffee. And then mostly my notepad, pen and laptop. Post-its on the walls with ideas and project details and headphones with my collection of music.
What is the story behind
Vizen Design

and

PowerPresso

?

Story is simple. I loved design from the very beginning.

But to love something and making it work is different.

Vizen and PowerPresso were on earlier, we did design for information which essentially means making infographics and data visualization but soon we realized that Vizen had become very big and that data work and non data work were very different.

Powerpresso is all about data related work where data leads the design but design makes it look better, more comprehensible and quick to make conclusions on.

Vizen mostly is now becoming an umbrella design studio, does everything from websites to digital marketing. As we grow, we want to cater to different needs of the market through design interventions. Our intention is to become a multi-disciplinary studio.
What things would you do differently in preparing for this career?
I think the core of design is to understand how it creates value.
It's not just about pretty little things, it's a lot about what it does to the end user. Design in effect has to create a positive impact towards a certain action. So when you design a product, you create a need for the user to have it and come back for it. When you design an UI, you want them to enjoy and use to gain from it.
If I had to start over, I think my primary focus would have been on what value drives into business, marketing and sales. Because, when you practice, design would come easy to you but marketing and sales can become tough.
What do you love about your job?
I like the fact that design is not just about visuals.
It brings learnings from people, psychology, marketing, business, etc under one umbrella. And that is something I don't see in other fields.
80% of the design with respect to Colgate toothpaste and brushes you see are works that I have worked on. I was not that creative. But the challenging projects gave me a new perspective on design.
I have worked with startups on design, on packaging, on website and mobile interfaces and design workshops as well. I figured that for each, you need a very different approach and mindset and as a designer, you start master them as you go along. There is always scope for personal growth.
What are the challenges faced by a Graphic Designer?
The challenges are vast.
There is no amount of learning and schooling that can completely make you ready. If you are a graphic designer, you do that 24/7. It's not a job that you walk out of office and say its done. You need to be at it and be constantly at it. You need to learn new skills, work on ideas and concepts and observe other people's work. There is a continuous growth in it but that is self driven. It's not something you can get from doing online courses or by reading books.
Design is purely about application, without application… the theory will not work. .
How do you like to spend your free time?
Looking at designs of other people
Reading articles about design
Sketching fantasy animals and creatures
Reading philosophy, psychology and business.
What did you want to be when you were leaving higher secondary school?
I wanted to sketch and create design, knowing little what it means. Above all I wanted to be great. As time went by, things became more certain. But I would say, nothing is certain, things may change. Its mostly upto you to use the opportunities you get.
What are the education and skills required to be a Graphic Designer?
In India, there is NIFT and NID at the primary level. Later there are tons of other big players.
What is wrong with education in India is that, they almost make design classes look fancy, which can mislead students.
So courses that you choose has to be chosen with a mindset that,
What kind of exposure do I get?
How does it make me grow, both personally and professionally?
What kind of person do I become ?
If you have answers to these questions, then it's great your journey is right.
Skills you need:
design (50%)
communication skills – speaking skills, presentation skills (10%)
marketing and business skills (10%)
a little bit of psychology and people skills (10%)
sketching (10%)
writing skills or language (10%)
You can definitely add more. But these greatly enhance your skills to do better.
How do I know if graphic design is for me?
You can never know if design is for you for certain. I myself have jumped between different jobs and come back to design.
But, I think the primary driver that makes you a designer is when you want to create new things. If you are driven to create things, design makes that space available for you. The urge to make things and make it better than the existing ones is a recognisable trait. It could be anything, from posters, to apps, to chips packets, etc.
Can you please summarise your career journey?
+2 commerce with maths
Graduation : NIFT
Graphic designer and marketing person for 2 years at ValueFirst
Design strategist for 1.5 years at IMRB
Last 4+ Years, I have been independently working and slowly creating the studio setup for Vizen.
In between, I have done global workshops for design thinking, have mentored startups and founders.
I have also done some courses on data driven journalism and ux design.
What sort of experiences helped prepare you most?
I think working with cross disciplinary teams (teams which don't have an experience in design) helped me shape a lot of my ideas on design.
As a designer I always want to sell aesthetic. But there was something beyond that.
The question, how can design contribute to more than just aesthetics? brought the larger change in me.
What have been the most surprising elements of this career?
The surprising element is that, no matter what I learn, to master I need to learn more. Overall, I think with design there is no limit. So hunger for more knowledge is good. And one needs to know how to be creative with the existing knowledge.
When I started off, I thought I would be designing only brand. But as I began to work on more stuffs, I realized that the design can affect users choices in every certain ways. And that design is not limited to graphics alone but experiences. To create a net positive impact is much more important than creating visuals. By positive, I don't mean 'happy'. Sometimes you need to make choices that make the user unhappy or discourage him from doing something. Like the graphics on a cigarette pack is meant to discourage, not encourage smoking.
Why did you choose to be a Graphic Designer after pursuing fashion communication?
NIFT has many courses in fashion and one course in design. For me, contrast between design and fashion is huge. Fashion never appealed to me, it felt like a wasteful use of resources and my time.
Design on the other hand, had better challenges which I liked to take on. And the challenges helped me to grow from one field to another. Being a graphic designer was a calling that took effort, time and patience.
What are your future aspirations?
I see design as a strategic tool. It has the ability to bring multiple fields together and to make people empathetic. Lot of the problems can be easily solved if good minds (not great) from different fields come together.
And I am trying to build something where people from different fields can work together.
What do you wish you knew before you started preparing for this career?
I should have known more about sketching, marketing and business. Being from a commerce background helped, but a lot I learned on my own post college as well.
What are the most critical factors for being successful in this career?
I had a professor who had this vague thing he used to tell us. But now it makes sense. He used to say, we should eat, live and drink design. It's important that design constantly is a part of your thinking and it bothers and irritates you. Unless you want to change something, nothing really moves.
The following should do a decent trick:
a little bit of restlessness
some daily sketching and ideation
understanding business and how they need design
Its very tricky to be in design. The landscape changes so often that you ought to be prepared to work and learn together.
Any recommended resources for aspiring Graphic Designers?
Websites
Documentaries
What do you think everyone leaving higher secondary school should know?
There are no right decisions.

There is no set path. If you do everything great, there is nothing that stops you from being great.

There are no shortcuts to hard work and passion.

You need to earn it for yourself. And when you are ready, trust me … you will know.
The problem is that, most often people spend too much time for irrelevant things. But they still reach places they don't deserve. That's bad, because when they reach there, they wouldn't know what to do. Thus they will end up doing bad things to other people.
Vizendesign.com | PowerPresso.co
---
Thanks for reading! 🙂
If you enjoyed this article, leaving your 
comment

 below would mean a lot to me and it helps other people see the story.
If any of your friend is considering a career in a similar area 
share

 this with him/her.
You can 
read

 more real career stories here.