My name is Venkataraman. I do consulting and storytelling for large organizations and startups.
When I am not working, I mostly sing and play percussion with my band, The Hyderabad Trio, based, naturally in Hyderabad.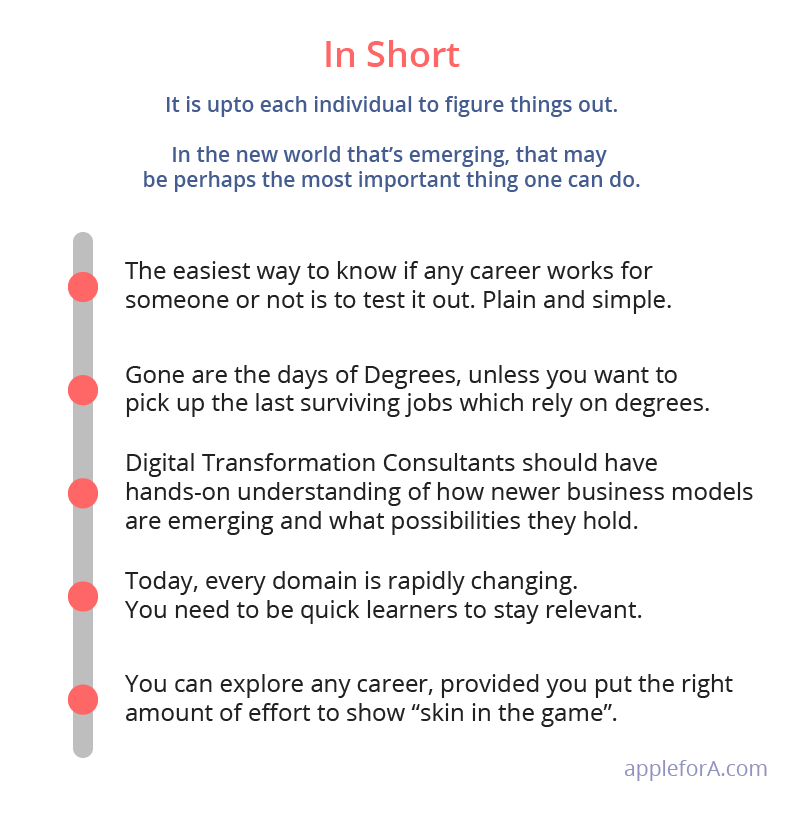 Who is a Digital Transformation Consultant?
Currently, the industry has coined "Digital Transformation" as one-size-fits-all phrase which encapsulates how organizations are coping with the deep, structural changes happening in world of business, thanks to technology.
I have my pet peeves with the way the word "Transformation" is used and abused in the industry. I have written about it here.
Do you remember that old parable about blind men and the elephant? In my view, a Digital Transformation Consultant help clients – mostly large organizations who've grown to become big to be nimble, grope the elephant in their room – "Digital Transformation" – staring at them, threatening to take them towards the way of the dinosaur.
Thankfully, each day of a consultant's day is different. You work with your client on problems. There are no specific scripts. Each day beckons me with unique set of activities.
What did you want to be when you were in higher secondary school?
When I was in my school, I was an avid quizzer. In one of the Quiz shows which was broadcasted in TV, I remember crowing with youthful exuberance that I wanted to be a "Business Tycoon". I don't remember how and where I picked up that phrase. It had a nice ring to it; with all sound and fury.
Today, obviously, I feel embarrassed to admit that. I didn't set out to be a Digital Transformation Consultant. It is something that came along my way, and I thought, why not?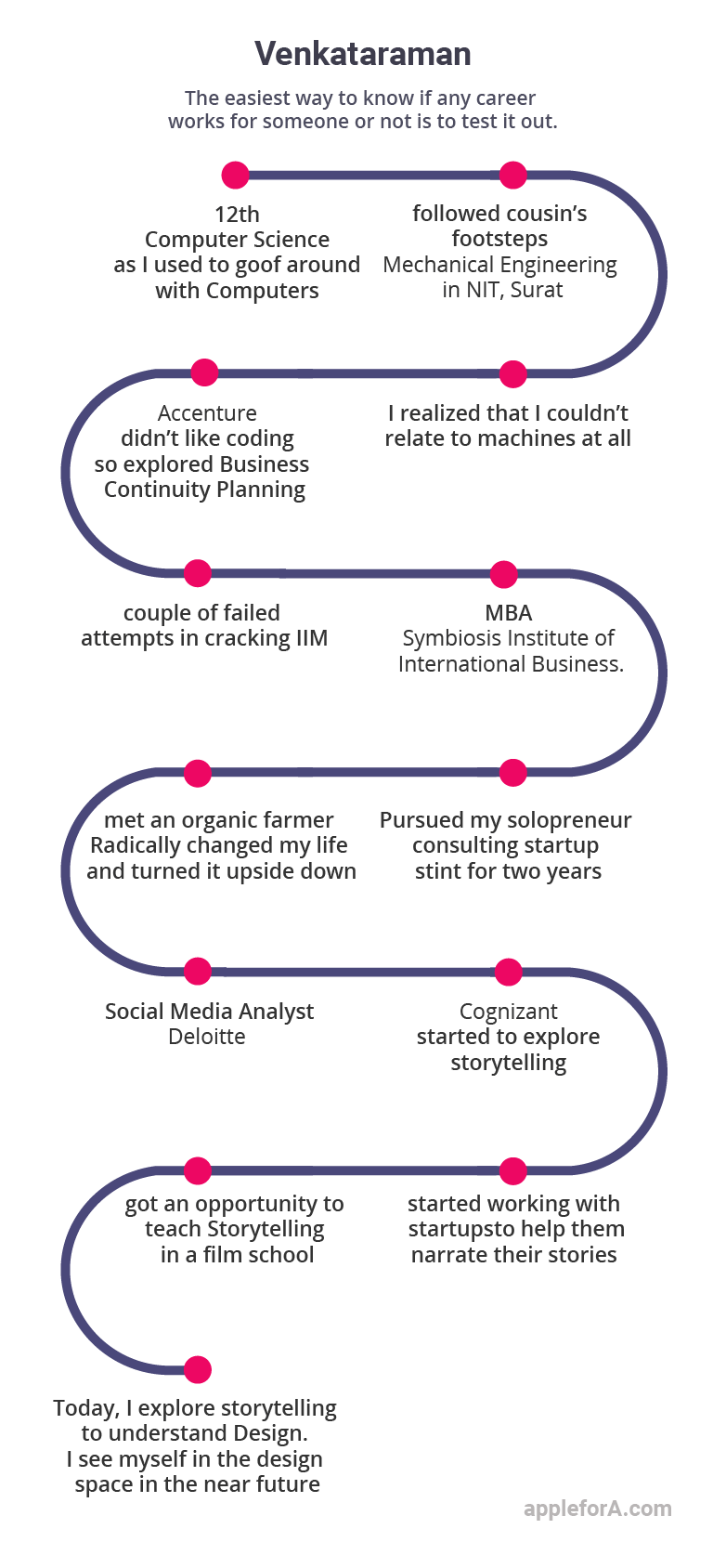 Is there something which influenced you as a teenager?
I met an organic farmer when I was doing my MBA. He radically changed my life and turned it upside down. I wrote about him here. (You should definitely read this)
What is your typical day like?
I wake up around 4, do my yoga practice and start my day with writing anything I feel like until 9.
After 9, I start my work. I mostly work from home, go to office only when I have to meet somebody or do a workshop/presentation.
Without fail, I attend to the projects I am involved in, and in the evenings I catch up with calls. Once I am done with work, I venture out to a lovely park near my home for a walk to breathe and slow down. After some reading, I go to bed by 10 PM.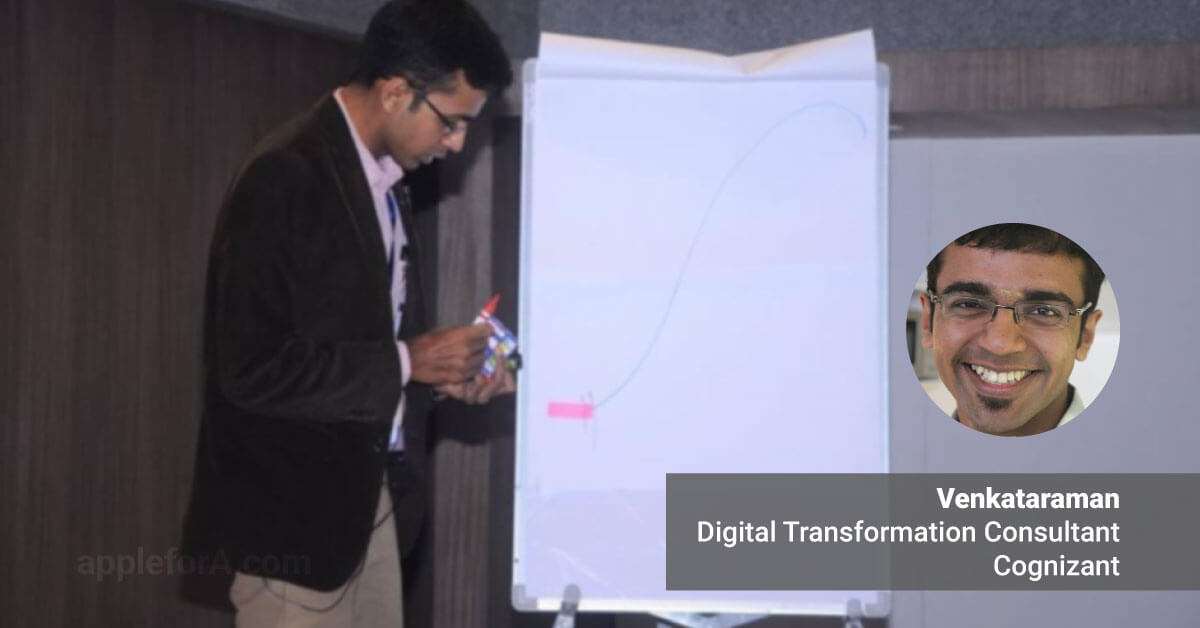 What steps did you take to land in your present job?
Nothing in particular. I keep changing my teams within Cognizant based on the interests I pursue. I have been into consulting, and I wanted to take up larger business challenges around "Digital Transformation" for organizations based in India and Asia Pacific Markets. And so I joined my team.
What do you wish you knew before you started preparing for this career?
First of all, I don't know what I do can be called a "career". Mostly the work I have been doing came out of a result of pursuing my itches doggedly.
I spent the first eighteen years of my life sleepwalking through the default expectations of a middle class Brahmin household. When I met that organic farmer in my college, suddenly all those plans and expectations fell apart. I felt liberated from all the baggage I was carrying so far. It felt so light. I could now start from scratch and design my life. I had an open canvas. My life changed deeply ever since.
Today, I can clearly see what led me to sleep walk through the first eighteen years of my life, without proclaiming anything my own.
I wish more people come out of their parental cocoon sooner and explore and understand who they are. 
I wish I had not taken the advice that was doled out to me by well meaning elders in the first eighteen years of my life.
What do you love about your current role?
My work gives me tremendous amount of Flexibility and Independence. For someone like me, those are precious.
What are the challenges you face in your career?
Given the eclectic range of work I do, straddling across disciplines – be it for organizations, governments, NGOs, startups, I often get well meaning advice to "stay focussed".
I struggle sometimes to articulate the deeper pattern of work that excites me.
How do you like to spend your free time?
I like to spend my free time, working with my kitchen garden. However, my wife complains that I spend a lot of time with media/books, assimilating information. I read a lot and therefore, writing becomes a good laxative to purge things out.
What type of marketers will be high in demand in the near future?
Today, every domain is rapidly changing. Marketers have to stay connected with the edges of their ecosystem which are going through tremendous amount of changes. They need to be quick learners to stay relevant in the future.
Can you please summarise your career journey?
I don't think the journey will look pretty. Nevertheless, I will attempt it here.
+2 Stream – I used to goof around a lot with Computers, and I took specialization in Computer Science
After +2 – I followed my cousin's footsteps and did Mechanical Engineering in NIT, Surat.
After College – Joined Accenture. I realized I didn't like coding the way it was taught and explored Business Continuity Planning during my stint in Accenture.
MBA After Work – After couple of failed attempts in cracking IIM, I joined Symbiosis Institute of International Business.
I met my organic farmer, who taught a course on World Wide Web. Was completely bowled by the vision I was introduced to, and started my own social media consulting practice out of my dorm.
Pursued my solopreneur consulting startup stint for two years.
Worked as a Social Media Analyst in Deloitte.
In 2013, I left Deloitte and joined Cognizant. That was the time, I started to explore storytelling. Presented a white paper on Narratives in a Big Data Conference.
Slowly, I started exploring Storytelling. I started working with startups to help them narrate their stories. In the meantime, I got an opportunity to teach Storytelling in a film school. That opened my eyes to various possibilities. I enjoy teaching. I did multiple teaching assignments.
Today, I explore storytelling to understand Design.
What will be the skills and education required to be a Digital Transformation Consultant in 2020?
First of all, I don't know whether this role will exist in 2020. I don't think I would be doing this role in 2020. All roles are mostly time-bound constructs that are defined based on what is needed in an industry. I sincerely don't know what I would be doing in 2020. Maybe,something around Design and Storytelling, I guess.
What are some alternate career options for a Digital Transformation Consultant?
I can't speak for others. I think I have many options, if I choose to do something other than being a Digital Transformation Consultant
I have attempted documentary films earlier, and I could get some crowdfunding and take up a story project.
Or I could take up writing as a career. I have many books to write and many stories to narrate.
Or if I am bored with life revolving mostly around Tech, I could take up Teaching in a school which aligns with my outlook on Education.
I already do some of these in various permutations combinations, depending on how things fall in place.
What do you think potential recruiters look for in a Digital Transformation Consultant?
For Digital Transformation Consultants, it is necessary to have hands-on understanding of how newer business models are emerging and what possibilities they hold.
Gone are the days of Consulting which relied mostly on two dimensional tools of Microsoft Excel and Powerpoint. There are newer hands-on tools which can deal with huge datasets, and Consultants have no choice but to get proficient in them, if they have to compete with Machines.
How do I know if a career in Branding and Marketing is for me?
The easiest way to know if any career works for someone or not is to test it out. Plain and simple.
Before I started off with Marketing and Branding, I used to do branding and marketing for a non-profit spiritual organization. I could figure out that it was my cup of tea – telling stories and having the ability to persuade someone.
Gone are the days of Degrees, unless you want to pick up the last surviving jobs/careers which rely on degrees.
Today, we have the kind of infrastructure which can help us test out each of the career possibilities we want to explore and figure if it works or not. You can explore any career, provided you put the right amount of effort to show "skin in the game". There is no need to speculate about career options. Like we design applications with A/B testing, all one has to do is test things out and see.
What do you think everyone leaving higher secondary school should know?
They should know that there are no "shoulds" in life. I say this without any iota of overstatement. Each life unfolds based on variety of possibilities that exist and what we can do to explore into those possibilities. One can never be industry ready. One has to follow one's own bliss, and share what best one can offer.
What are some resources you use to keep yourself updated?
I read blogs, books and newsletters in no particular order. I don't have a structured approach to keeping myself updated, rather go by instincts.
As a storyteller, one thing I do well is, I pay a lot of attention to how the stories I narrate are being received and what stories are being told around me. That teaches me a lot about what is happening in the world.
Any final thoughts?
It is upto each individual to figure things out.
In the new world that's emerging, that may be perhaps the most important thing one can do.
---
Thanks for reading! 🙂 If you enjoyed this article, leaving your 

comment 

below would mean a lot to me and it helps other people see the story.
If any of your friend is considering a career in a similar area 

share 

this with him/her.
You can 

read 

more real career stories here.