From a Trainee to Global Leader
My name is Milan Singh Thakur and I am a "Learner for Life". My passion and curiosity to learn has brought me to the domain of Cyber Security. When your Passion becomes your Profession, that is when you start breaking the Barrier of Limitless Thoughts. It feels good to have 20,000+ followers in LinkedIn within just 3 years of professional experience.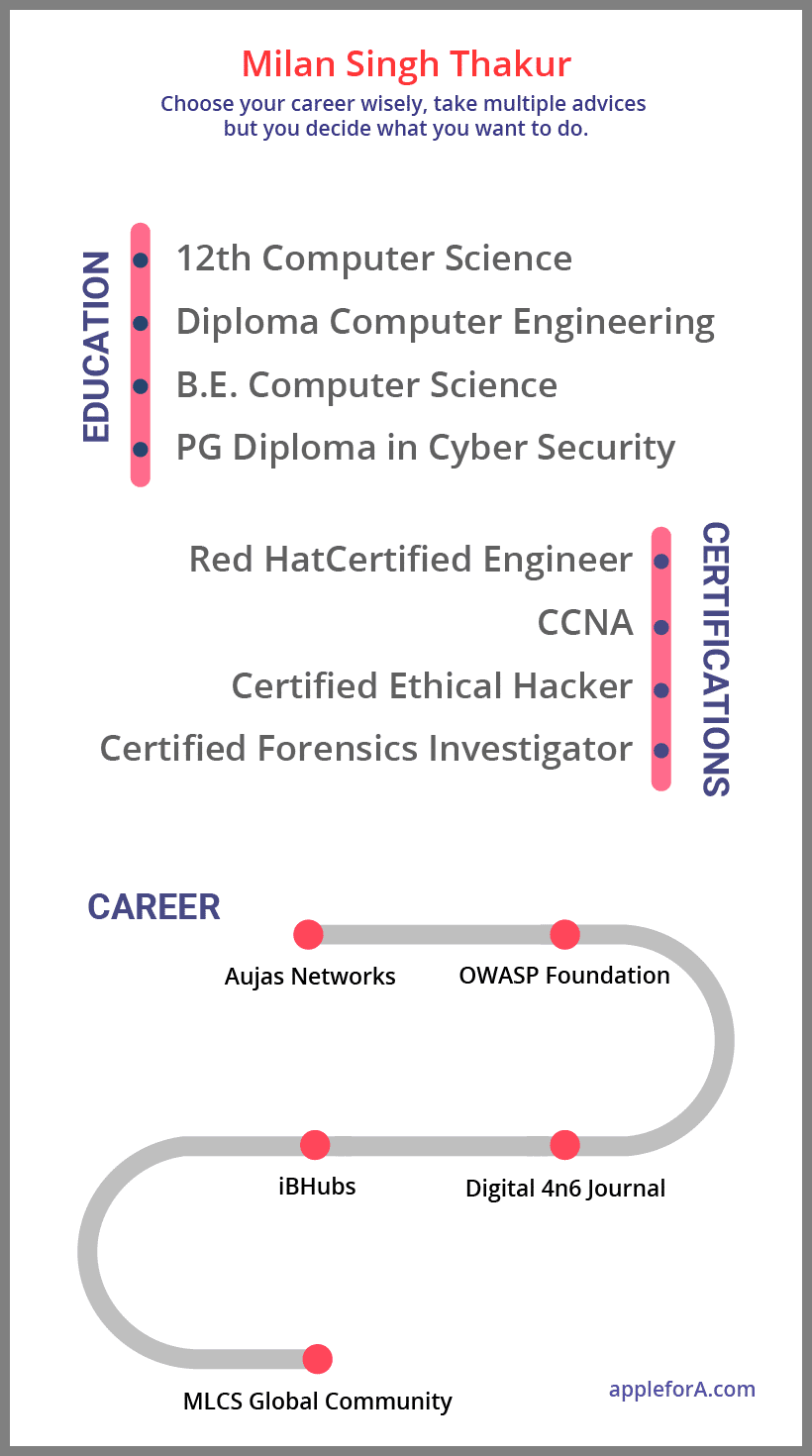 The Cyber Security Blog | MLCS Global | App Sec India
Who is a Cyber Security Consultant?
It's just another name for Hacker, so called the Ethical name. Whenever there is suspicion of someone stealing your money online, breaching your privacy or even stalking you online; then we (Cyber Security Consultants) step-in. We help corporates to secure their user's personal and financial information. The role is not just related to this, but also includes securing critical infrastructure like defence systems, nuclear power plant systems, healthcare industries and much more, which can have direct impact on human life if hacked by someone.
What motivated you to become a Cyber Security Analyst?
In my teenage, I thought of joining the defence and serving the country with honour. But then back in 2002, my dad gifted me a computer. This is where things started to change. Since I am the only son, my parents did not allow me to join defence. So, I found a way out and started with playing games on my system. Computer became my partner from then.
In school ,we had HTML programming in 7th standard and it caught my interest. I could write my name in different html tags and also move my name on the screen with different colours. It was like magic for me. Then came C, C++ and Java. So, I thought why not to continue with computers and I chose it to be my career. I used to help my mates with troubleshooting errors in their programs, repairing their CPU and also play more computer based games.
One day my friend gave a CD saying, he got it for free with his new computer and he didn't know it's use. It was Ubuntu Operating System, which is linux. Though I had windows XP on my system, Linux was tempting me. Years later during my engineering, I conducted State Level and National Level workshops for Linux by teaching others how awesome it is to use Linux. Then I jumped into networking which introduced me to the term "Hacking".
One of my networking course instructors said, "Hacking is not easy now, there are lot of Security on IT industry". I accepted it as a challenge and began intense research on different courses and ways to grab knowledge on it.
Remember "A Security Consultant is way too different than a Software Engineer".
What are the challenges you faced when you were pursuing your formal education?
The biggest challenge was resources to study. Well, am not a geek, but you need some books to put your head in it and look for solutions. This is why I chose to do my engineering from Pune. Pune is said to be Home of Education in India.
What is the story behind your company MLCS Global?
I have been doing lot of Information Security (InfoSec) Community work. OWASP Community provides security guidelines and security testing standards which is followed globally by all IT/Non-IT companies for their Web/Mobile/IoT applications. I am one of the Global Project Leader at OWASP Foundation.
I had a vision of doing something for the community which is futuristic and also has real-time applications. Machine Learning was already a hot cake in the market, so I thought why not to fuse both and created Machine Learning for Cyber Security (MLCS Global) Community. Since then we are on a BOOM.
What is your typical day like?
My job is very interesting and is full of challenges, but it's not boring. I have to simulate how a hacker can break into the applications and hack the data. This is what I do for various clients by sometimes travelling to their work location (India/Abroad) or by sitting in my office. This is how I meet lot of new people.
Most of my professional information can be found on LinkedIn.
I stay updated with what is happening around me and my profession by using various Tech news feeds. Political news is boring to me.
What do you love about your area of work?
I love to hunt for new technologies. My job allows me to interact with people who are working with various technologies. Hence, the exploration never stops. Also, I love to give back my knowledge to the community for free.
Here's the thing, I love to face challenges. So nothing can stop you from Learning and Growing if you are Self-Motivated.
What do you wish you knew before you started preparing for this career?
There are no regrets I have for being what I am today. I took time and chose my career wisely. I was never forced to be an engineer, it was all my choice.

Can you please summarise your career journey?
Why did you pursue diploma instead of B.E./B.Tech?
If you want to survive in technical domain, then it is necessary to get grilled in technical manner. So diploma was a better option for me to start with, before entering Engineering. This helped me to have a head start in Engineering.
Who can become a Security Analyst?
I have colleagues who are from non-IT background, but still they are doing very well as Security Analyst/Engineer. So again it comes back to skills and your urge to learn. If you find linux, networking, python to be interesting, then this job profile should be your ideal choice.
How do you like to spend your free time?
I am a biker boy. So when I am stressed, free or just available, there is only one thing I love to do – take my bike and start exploring the adventurous nature around me. Well, I am also a Vlogger (Video Blogger) on YouTube.
What do you think potential recruiters or you will look for in a Security Analyst?
Now the way of recruitment has changed. It's no more about clearing aptitude test but more on technical front. Bug hunting is encouraged in security domain. Also your market value i.e., your status on professional sites like LinkedIn matters too. Now instead of regular tests, CTF (Capture the Flag) is given where you have to bypass security and complete the levels to prove your skills.
What are the various job roles a Security Analyst can perform?
Security domain is very vast and there are tons of job profiles in it. You can choose from given profiles:
Security Engineer
Hardware PenTester
Security Consultant
Forensics Investigator
Security Trainer
Risk Officer
Security Auditor
And many more.
What is the future for Security Analysts in India?
India is moving towards Digital Era now. With current government visions like Digital India and Smart Cities the risk of getting hacked is increasing. Moreover there are always situations like Cyber Warfare. So the need of Cyber Army is automatically generated. Also all the major IT and non-IT companies have dedicated security team. Therefore, the future of security analysts is always evergreen.
How do I know if Security Analysis is for me?
If you are keen about hacking into computers and interested to face challenges on regular basis, then this job is for you.
What do you think everyone leaving higher secondary school (after 12th) should know?
Always remember that you need SKILLS to survive in such a competitive world. So do not compromise on building your skill set.
Understand the new technologies and concepts around it, instead of just mugging-up things.
Any recommended resources for an aspiring Security Analyst?
Yes, one should go through these sites:
Also research blogs of companies like Intel, Symantec, Microsoft, Kali Linux etc.
Any final thoughts?
Choose your career wisely, take multiple advices but you decide what you want to do.
---
Thanks for reading! 🙂 If you enjoyed this article, leaving a comment below would mean a lot to me and it helps other people see the story.
If any of your friend is considering a career in a similar area share this with him/her.