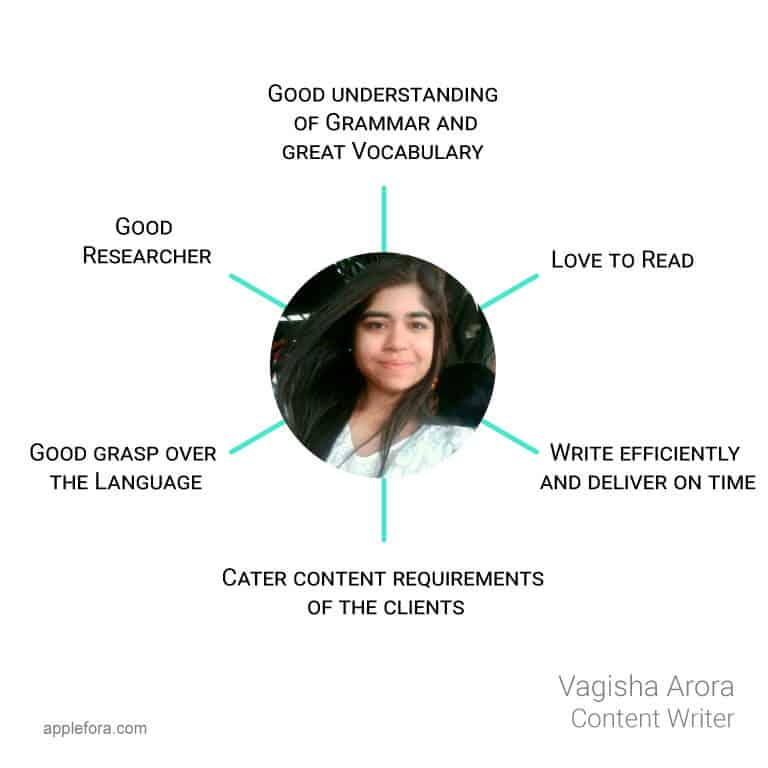 Hi, I am Vagisha Arora working with Accenture as a Content Analyst. I have an experience of about four years in Freelance Writing. My passion for writing is the main driving force which has helped me to explore myself in various niches like health, tourism, education, etc. I completed my MA in English from University of Delhi, in the year 2017 and I have been working with Accenture as a Content Analyst since then.
Who is a Content Writer?
According to me, a Content Writer is someone who is well versed with understanding the nuances of a topic and has the capability to put it in his/her own words.
Precisely, writing is more about researching thoroughly and challenging yourself to write on it.
Writing is definitely not everyone's cup of tea, but

all you need to have is a good grasp over the language to become a successful content writer.

This includes

good understanding of grammar, great vocabulary and good research skills.
What motivated you to become a Content Writer?
The sole reason why I decide to take up English Honours (literature) after my school days was due to my intense love for reading. Those days I spent most of my hours reading and writing. Being a literature student, reading and writing becomes the basic prerequisite for excelling in the course. My college offered me a  plethora of opportunities when it came to writing.
Gradually, I realised what I was passionate about and thought of pursuing it. This was the ultimate reason for choosing content writing over many other fields which are still open to me after MA English.
Why did you choose MA English?
I chose MA in English because literature is really fascinating and it has helped me to understand many aspects of human behaviour and society in general.
What do you do and how do you do it?
Typical day at work is usually hectic. My role is basically related to catering the content requirements of the clients.
Chasing the deadlines can sometimes become monotonous, but that is how it works. But, at the end, I am happy that I am doing what I am passionate about. It gives me a deep sense of satisfaction to be able to achieve what I wanted to and nothing can be better than that.
Workplace is fun and working in a congenial environment feels great.
What drives you?
My passion for writing drives me to do better each day.
My sole aim is to learn as much as I can and I try my best to execute it. I am in touch with few professional bloggers who are writing for big brands and their success stories motivate me to work hard.
Life is about finding what is best for you and I am glad I found that.
How different are you from an 18 year old you?
Well, at the age of 18, I wouldn't have bothered to make an effort of charting a career plan for myself. Five years down the line, I think I have been able to find my area of specialisation which many of us are not able to.
What steps did you take to land in your present job?
It was a rigorous four step interview wherein they checked my communication and writing skills. Each round eliminated about 10-15 people and that is how I landed in the top 5 list.
According to me, it is all about your capabilities and not the number of years of experience you add to your resume. You need to convince the interviewee why you are the best and I guess I was able to do that part very well.
What did you learn about the career after you started your career?
I am very much content with the career path I have chosen for myself.
One of the most important lessons which I learn as a content writer is, delivering the best in the given deadline to be able to build your network of clients.
With thousand of writers working as freelancers, you ought to strive to be the best to be able to make a difference in the content industry.
What things would you do differently in preparing for this career?
I would have done a few more certification courses

which would have shaped my writing career in a better way.
Also, adding digital marketing to the profile is something I missed on. With time, I am understanding how content writing and digital marketing can come out to be a deadly combination.
What do you love about your current role?
My current role challenges me to race against the clock to fulfil the commitments of the clients. Also, with supportive colleagues, it all becomes more of a fun and adventurous ride which you wish to experience every single day.
What are the challenges you face in your career?
One of the challenges is long working hours. Though I enjoy what I do, the day becomes tiring after a ten hours shift.
How do you like to spend your free time?
I am a voracious reader and a passionate learner. I like to spend most of time reading and writing.
Nothing can be better than enjoying the weekends doing what you love to do. Apart from that, freelancing is what has helped me stand out in the crowd among thousand of writers in this competitive industry.
I recently started my own website One True Love. This blog is an ultimate guide to help you understand your relationships better. Interesting love articles, love stories, fun quizzes and a lot more is in store for you.
What type of content writers will be high in demand in the near future?
Technical and academic writing are a few niches which content writers can aim to specialise in. As very few people choose to write on such topics, these niches are always high in demand.
To become a successful content writer, you need to be able to write efficiently and being able to deliver on time, is what you should always keep in mind.
Can you please summarise your career journey?
Education:
Certifications:
Writing courses from British Council.
Future aspiration:
To improvize my skills to be able to work with big brands.
Which was the best moment in your career?
One of my best moments in my writing career was when I was listed as Top 10 Freelance Content Writers of India by a promising startup namely EngineerBabu. Such things drive you to work with more dedication and commitment.
How can I become a Content Writer?
One needs to have the flair for writing when it comes to writing. You can have the best of degrees, but it won't help till you cultivate your innate talent and work for it.
You can do certain certification courses to enhance your skill set. But, no one can be taught how to write efficiently. It comes from within and the sole mantra is your passion for it.
I am 17 and I am planning for a similar career path like yours. What advice you have for me?
Read as much as you can. There is no shortcut to success in any of the career lines you choose.
With years of reading, you will find your area of expertise and work on your weaker areas to stand out.
The more you read, the better you will be able to comprehend the language. This is exactly what is needed to reach great heights you are aiming for.
The 5 Skills You Need to Become a Successful Content Writer
What are some alternate career options for a Content Writer?
Apart from freelancing, you can choose some fields which are also majorly about writing.
Public Relations
Mass Communication
What do you think potential recruiters look for in a Content Writer?
They look for how well you are good at understanding the language as a whole.
It is not just about flamboyant and fancy words you use while writing. It is more about organising your content, putting your thoughts in a precise manner and last but not the least, articulating them with the help of examples and illustrations.
Who do you think should take up this Career choice?
Anyone who loves to read and write can be a perfect match for this career choice.
As a student, you can try writing on variety of topics and see if you are able to write according to your level or not. You can also work with some clients and do different freelancing projects to check your abilities.
Clearing degrees wont fetch you a great job in content writing. Your writing skills will always outweigh those printed degrees when you go out in the market for recruitment.
Any recommended resources for students who are interested in your area of work?
Some of the websites which I highly recommend are :
These platforms help you connect with thousands of bloggers and you get to learn a lot. Also, with fun contests and amazing prizes to give, these websites can be stepping stones in your career when it comes to writing.
12 Content Writing Secrets of Professionals Writers
10 Useful Tools for Creating Content, Writing, and Researching
What do you think everyone leaving higher secondary school should know?
Improve your skill set

as that is the only thing that can help you achieve indefeasible feats in any career you plan to choose.

Try to do as many internships as you can

, as it comes handy when you face job interviews. It shows how focused you have been and how you were actually working for it every single day.
From your point of view what you do think the current generation are collectively doing wrong?
Many of them are just choosing the most sought after courses without understanding their interests. This has led to increasing job dissatisfaction among the youth.
Any final thoughts?
Life is all about exploring yourself, so never be afraid to follow what your heart signals you to do.

Work for yourself and you would no longer have to chase success.

Lastly, be ambitious so that failures don't stop you from chasing your goals.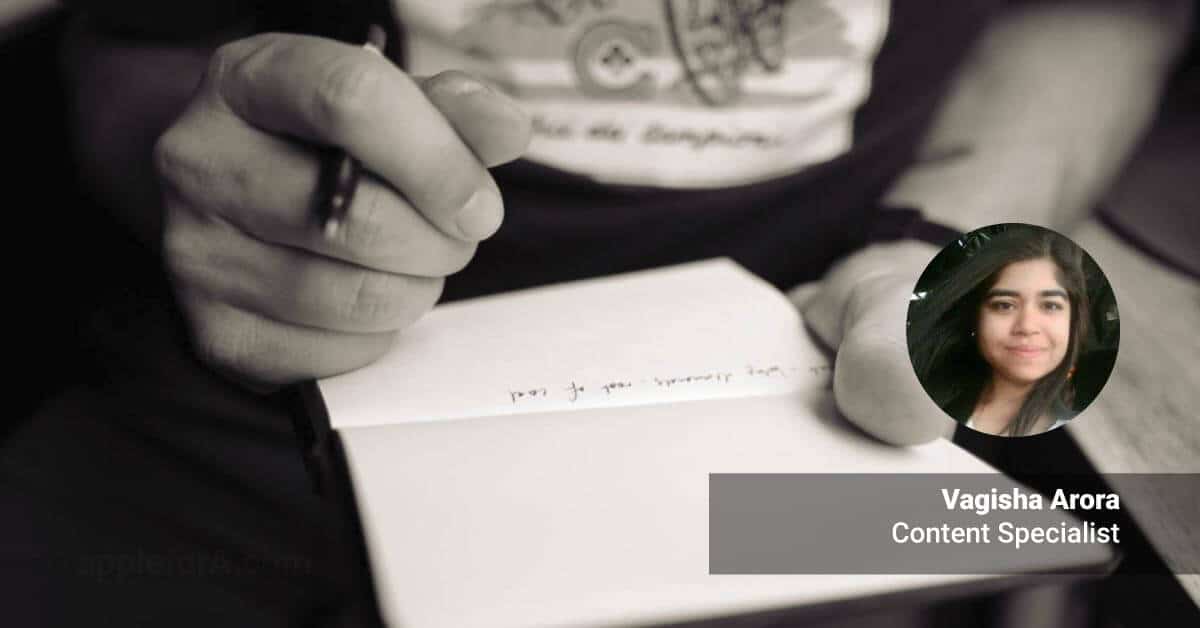 ---
Thanks for reading! 🙂 If you enjoyed this article, leaving your 

comment

 below would mean a lot to me and it helps other people see the story. And you can say hello to us at

hello@applefora.com
If any of your friend is considering a career in a similar area 

share

 this with him/her.
You can 

read

 more real career stories 

here

.