Hi, I am Amar, a writer and stand-up comedian. I also have an MBA from S P Jain School of Global Management. I live in Gurgaon/Delhi.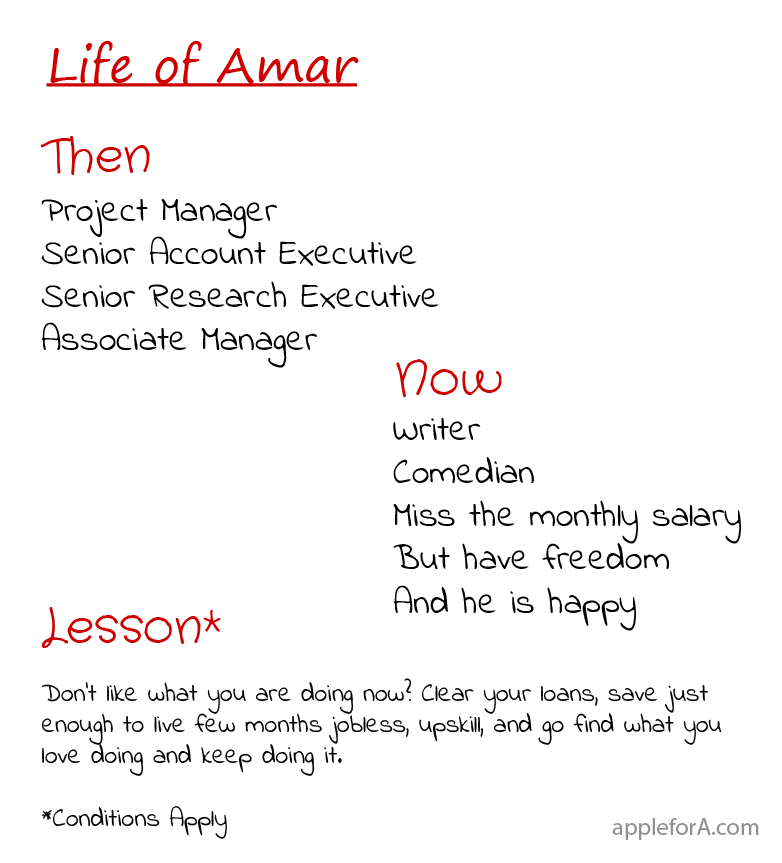 Who is a Stand-up Comedian?
A Stand-up comedian is a performance artist who goes to stage and tells jokes to make people laugh.
Give yourself some good time : Amar's Youtube Channel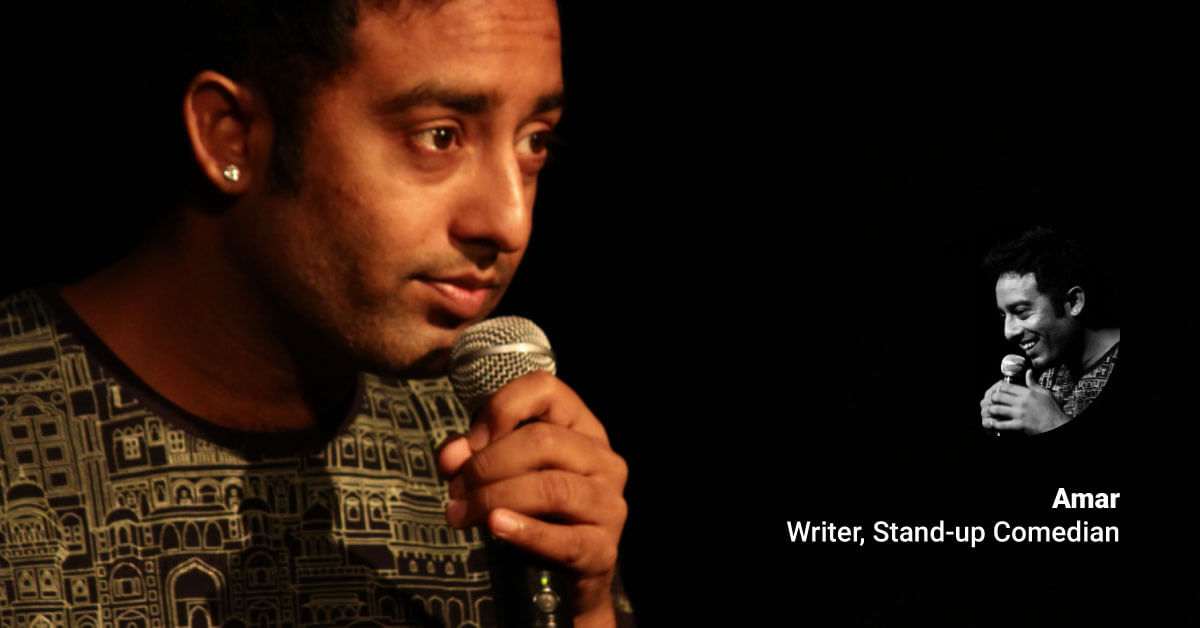 How it all got started for you?
I discovered Stand-up Comedy for the first time in 2010, when I was 29 years old. It took me many years to make time for comedy. I was in a full time job then and had an education loan on me from my MBA which cost me a lot of money.
I did MBA because, I wanted to learn business from one of the top B-schools and I did that. It took me many years to get into a top B-school. However, I will not discount B-school education.
Once I discovered Stand up Comedy, I was so excited to get on stage and I did as much as possible with the job. However, it wasn't working out. So, I quit my job in January 2015. I had paid my loan by then and had accumulated some money to live jobless.
How did everyone around you react when you wanted to do something unconventional?
My parents were not happy. My father is still not happy, although I am doing relatively well now and do get a few shows in a month.
We can't do much about what the world thinks of us. Life is quite a lonely journey sometimes. We are lucky to find people who support us. But, if we don't find people like those, we still must do what we believe in.
What is your typical day like?
I get up in the morning and head to the gym. After the breakfast, sometimes, I will have research projects to be done. Other days, I will have a show or open mic. If I have nothing planned for the day, I fill it up with writing activities, I write a lot, jokes, books and content.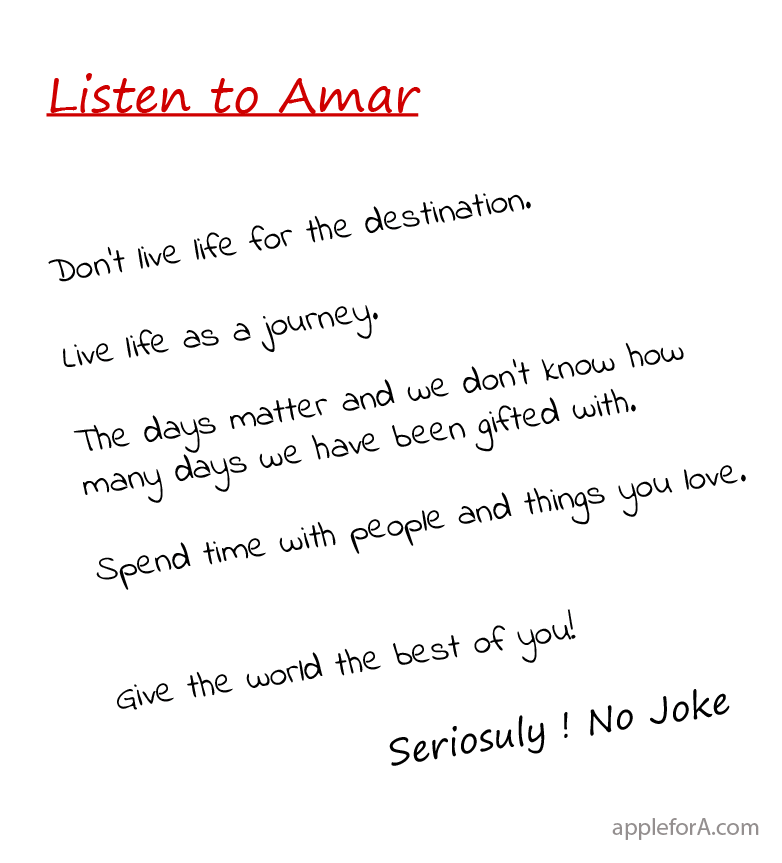 What is your purpose? How different are you from an 18 year old you?
My purpose is to make the world an inspired and visibly happier place.
The 18 year old Amar was lost, confused and why. He didn't know what he want. He didn't know what he did and why he did.
Now I am extremely different. The 36 year old Amar is much clearer about life and what he intends to do with it.
What do you wish you knew before you started preparing for this career?
I knew nothing before entering this area of work. I entered because, I love the stage and the feeling that I can make people happy. It has turned out to be tough. I have failed a lot and have got used to failure.
Therefore, I have become a tough guy. Today I am able to take failures and disappointments. I enjoy my wins and don't let the failures bog me down.
Stand-up Comedy is an amazing art form. It keeps you surprised and rooted. You never know how a show will go and you are always on your nerves. I love it!
What things would you do differently in preparing for this career?
I would ideally dedicate all my time for it. However, I can't do it now, because I have to ensure that I keep making money while I am getting better at it.
Money is fuel. We must have it to keep going in life. The route to get better at anything is to do it more and more.
What do you love about your current role?
I love the freedom that my work allows me. Everything I do now is independent. I have no boss and therefore, I plan my days and am responsible for everything. Sometimes, I miss the monthly salary, but I won't give up my freedom for it. Ideally, I don't ever want to get back to a job.
What are the challenges you face in your career? How are you dealing with it?
Lack of consistent income is one of the biggest challenges. I overcome it by working as hard as possible.
I plan my time in terms of activities I can monetize vs. those I can't. The ones I can monetize generally come higher in the priority list.
Can you please summarise your career journey?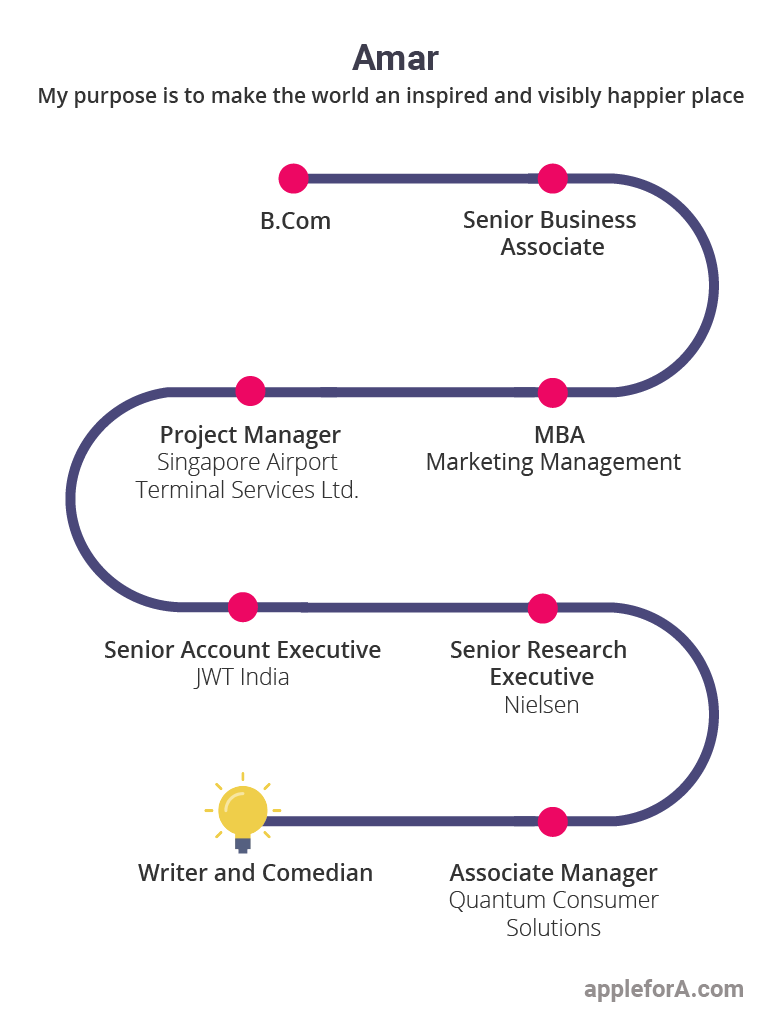 Delivered Managed a team of associates with an objective to provide high quality post sales customer service for client lastminute.com
Post Graduation  –  MBA, Marketing Management, S P Jain School of Global Management.
Project Manager, General Management  –  Singapore Airport Terminal Services Ltd. Singapore/Delhi
Senior Account Executive  –  JWT India (Jul 2010 to May 2011)
Senior Research Executive (Quantitative Research)  –  Nielsen (Jul 2011 to Jun 2013)
Associate Manager, Qualitative Research  –  Quantum Consumer Solutions (Jul 2013 to Jan 2015)
I worked for 6 years post MBA and then quit my job. Currently I am an independent writer and comedian, as well as a Freelance Qualitative Research Consultant (Feb 2015 – present).
What sort of experiences helped prepare you most?
MBA did help me become a more thorough professional. However, the best step you could take for your life is choosing work you love.
How do you like to spend your free time?
I don't have any free time and I don't understand people who have free time. I plan all my days and have always things plugged in my calendar and schedule. Whenever I can I write books, posts, jokes, perform as much as possible and make content and videos to inspire and entertain people. I also work as a market researcher with leading market research agencies.
There is no 'free time.' If you are excited about life, you will have to 'make time' for things and people.
I am 17 and I am planning for a similar career path like yours. What advice you have for me?
Jump into it. Do it. Work hard and never give up. To start with, you must love it.
What are some resources you use to keep yourself updated about the industry?
I use YouTube to see other comedians and learn about the art form.
What do you think everyone leaving higher secondary school should know?
Understand yourself.
You are an unique individual. Don't compare yourself with your classmates. All of them have different talents and interests. Do what you enjoy doing. Ignore your weaknesses and go after your strengths.
---
Thanks for reading! 🙂 If you enjoyed this article, leaving your 
comment 

below would mean a lot to me and it helps other people see the story. And you can say hello to us at 

hello@applefora.com
If any of your friend is considering a career in a similar area 
share 

this with him/her.
You can 
read 

more real and inspiring (not really typical motivational stuff) career stories here.