I am Srivinay Salian, a multidisciplinary writer and filmmaker, with a flair for conceptual and layered storytelling. I write for both television as well as films and has numerous animation and live action projects to my credit. I have written shows for channels such as Star Plus (Middle East), ZEE TV, Cartoon Network, BBC Worldwide, Pogo and Discovery.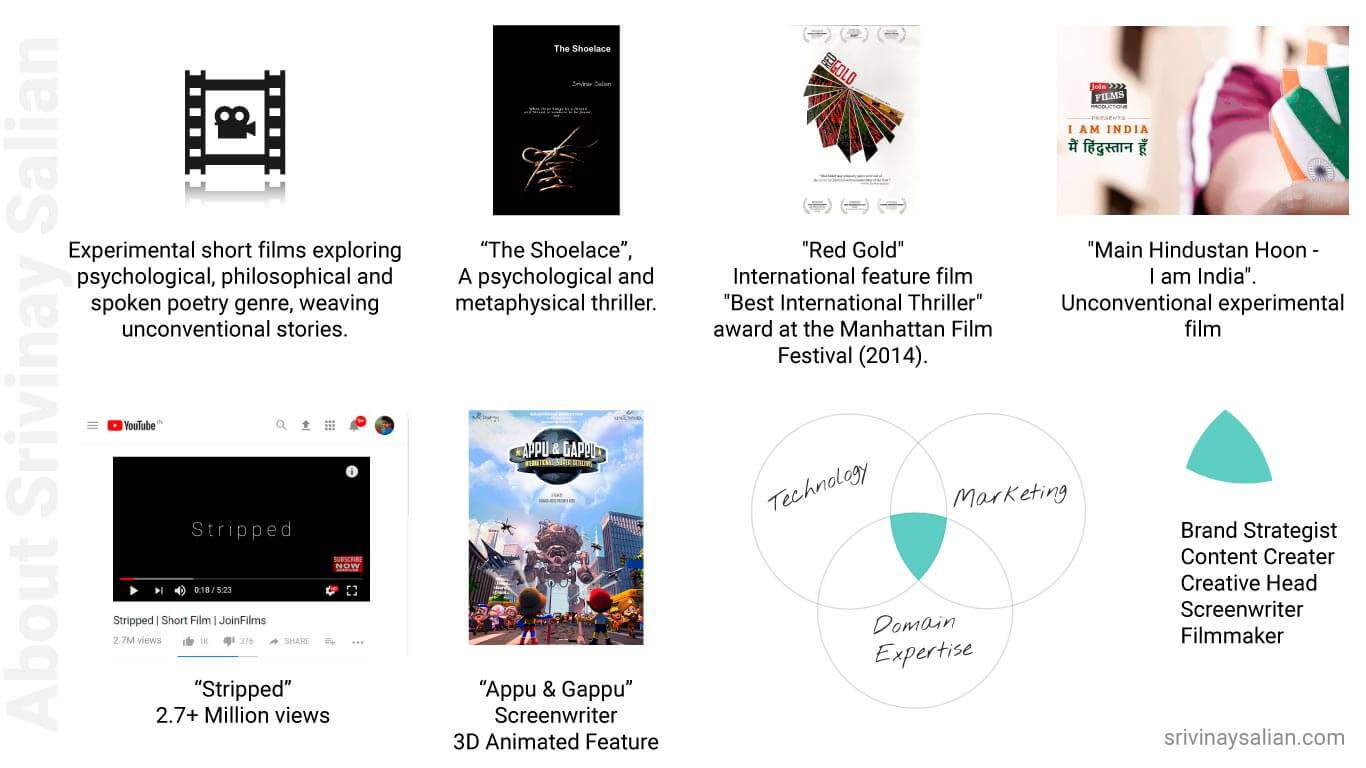 I have made several experimental short films exploring psychological, philosophical and spoken poetry genre, weaving unconventional stories. I have also authored a novella titled – "The Shoelace", which is a psychological and metaphysical thriller.
From writing, I made a natural progression towards filmmaking and has since then produced short films, documentaries and even an international feature film titled "Red Gold", which received "Best International Thriller" award at the Manhattan Film Festival (2014).
I am also the screenwriter for 3D Animated Feature which recently won the Special Mention Jury award at the Dadasaheb Phalke Film Festival – 2016.
My short film titled – "Stripped" has been a viral hit and covered by media both online and print.
Recently, I made another unconventional experimental film titled – "Main Hindustan Hoon – I am India".
With a background in Marketing and Technology and my exposure to various domains and industries has led me to serve as a Brand Strategist creating Branded Content for my clients.
I am currently juggling an independent career as screenwriter and filmmaker in Bollywood, while serving as a Creative Head for Branded Content Media Production.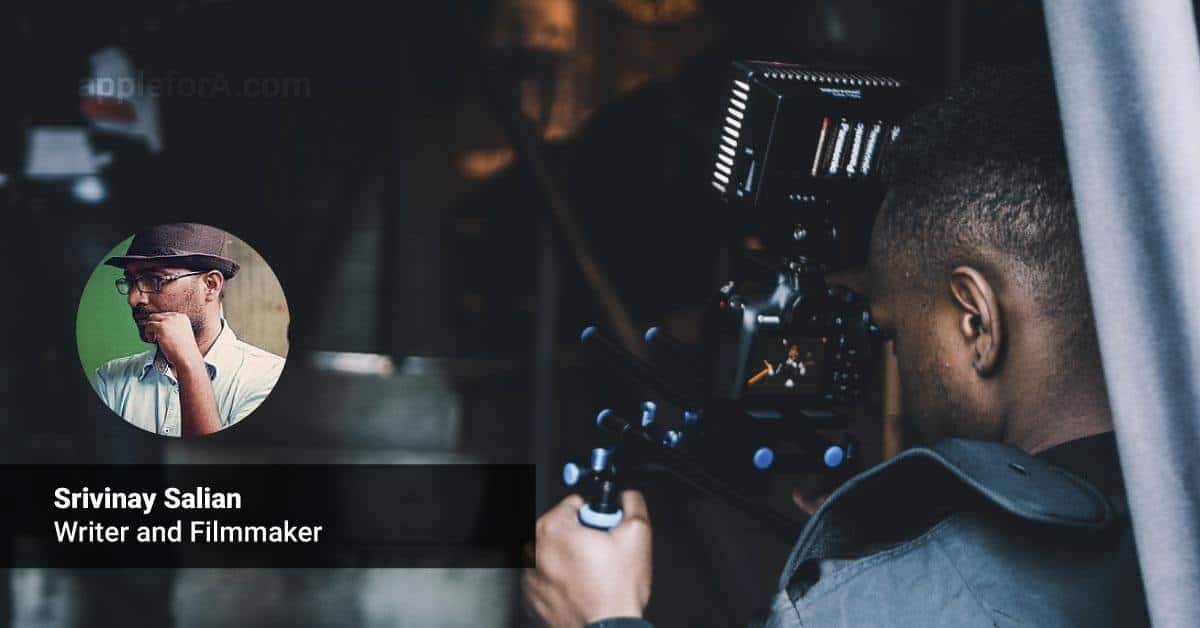 Who is a Screenwriter & Filmmaker ?
According to me, a writer and a filmmaker must primarily be a storyteller. Everything else is over and above this prerequisite.
Why did you opt Microbiology course after 12th?
My father being a multi-talented stage performer, the inclination towards creative field was always there.
However, seeing the challenges in pursuing a career in the same, I had initially opted for a stable career choice. Hence I choose microbiology, as at that time it seemed to be a rare stream of science and very few students opted for it.
What are your specific activities?
These days 40% of my time goes in video editing, then by choice I set aside 20% of time for writing. Remaining just goes in working towards future project prospects, which mainly is all about socializing and networking. In a month, I do get to shoot viral videos and short films. Therefore, overall I feel very content being able to write, shoot and edit.
How different are you from an 18 year old you?
As an 18 year old, I was pretty much a practical guy who just wanted to be settled in life with loads of cash. Now, I take projects that interest me, even if the makers can't guarantee the fair fee for my services. So, I would say, as I grew up, I have become more irrational and instinctive. 🙂
What was the best moment in your career?
The release of my short film "Stripped" and response it garnered.
To my surprise, this being an experimental short film and being rejected by many, when it was released, the short film was appreciated by so many viewers. Therefore, this was conforming the fact that nobody really knows what will work and what won't until it's tried.
For me, the short film "Stripped", was a reassurance that I should not quit on my pursuit.
What do you wish you knew before you started preparing for this career?
My very first short film titled "Retirement" turned out to be a crap and was eventually canned. I had funded and produced that just so I can have a short film to my credit. It was then I realized that, while storytelling is a natural gift, professional writing & filmmaking is a craft that needs to be honed. I then attended several workshops and read loads of books, which helped me better understand the process of filmmaking. This I would have preferred doing before I tried my hand on my very first film.
What things would you do differently in preparing for this career?
Personally, am averse to attending film schools, but at the same time, am very inclined towards one-on-one mentoring. I feel anyone who is pursuing a career in films, must first identify a worthy mentor and then for the next few years simply surrender to the mentor's coaching.
What do you love about your current role?
The perks, pay and work life satisfaction all are best compared to any other career. But the simplest fact of film industry is that – until one is truly successful in the particular field, all of this is mere a distant dream. All it takes is, one big project to make it big and then everything falls into place.
What are the challenges you face in your career?
Primarily, it's the payment and exploitation. Often the clients know that they can evade you for the final settlement and you will eventually give up. There is no legal agreement in place for most of the projects, which gives the clients an edge. After all, how long will an individual follow up for a balance payment. The dilemma is to get what is owed to you without burning the bridge.
What type of storytellers will be high in demand in the near future?
Anyone who is uninhibitedly original.
What sort of experiences helped prepare you most?
Being a self-learner, I wouldn't have survived without the internet. The amount of knowledge that is on the web is incredible. Of course it lays buried under the pile of crap, but one just needs an eye to spot the gem amidst the rubble.
How can I become a Filmmaker?
Use your mobile phone, use the default movie maker software on laptop and make films. The problem I see in most new filmmakers is, they want to make a bang with their very first film. And eventually, it goes into this never-ending loop of finding a perfect story/film. Even the artists like Picasso and Leonardo didn't always create masterpieces. Before one gets to their masterpiece, they have to go through few craps.
I am 17 and I am planning for a similar career path like yours. What advice you have for me?
If you want to be a writer, take up any intern TV writing gig, even if it doesn't pay initially. If you want to be a filmmaker, take up any AD gig that is posted online. Don't worry about the payment for the first year. Eventually, the returns are far more than the efforts you put in.
How do you like to spend your free time?
I spend most of the time working on my career, with just 3-4 hours of sleep as the only break time. When your passion becomes your profession you really don't feel a need for a break.
Who do you think should take up this Career choice?
Personally, I feel anyone who's under 25 can definitely try for this. Those above 25 are burdened by the concerns of earning a livelihood. For them, things get bit difficult.
I feel one should constantly evaluate what is at stake and what price one is willing to pay for this career. And accordingly make a decision whether to stride forward or retreat.
A career in film requires years of toiling and hardship. Usually the family, the guardians and relatives likewise all are unwittingly discouraging this pursuit. The best approach I would suggest is always find a human contact who can introduce you to an industry person and then simply latch on to the person till he/she gets you inside the door. No amount of social media interaction will help you in this, as much as a personal reference does.
What are some resources you use to keep yourself updated about the industry?
Google! If you can't use it, you will not go a long way.
How can one be industry ready?
First and foremost, attend relevant workshops. It's usually one or two days, fair fees and you will get a glimpse of what you are getting in to. Then based on the comfort level, one can see how far one would like to pursue it.
Any final thoughts?
Making a film is like building a card house. Until and unless all the members of the crew and cast are inclined right, the building is bound to fall.
---
Thanks for reading! 🙂 If you enjoyed this article, leaving your 

comment

 below would mean a lot to me and it helps other people see the story. And you can say hello to us at

hello@applefora.com
If any of your friend is considering a career in a similar area 

share

 this with him/her.
You can 

read

 more real career stories 

here

.
Get 3 months of free membership to learn UX Design!