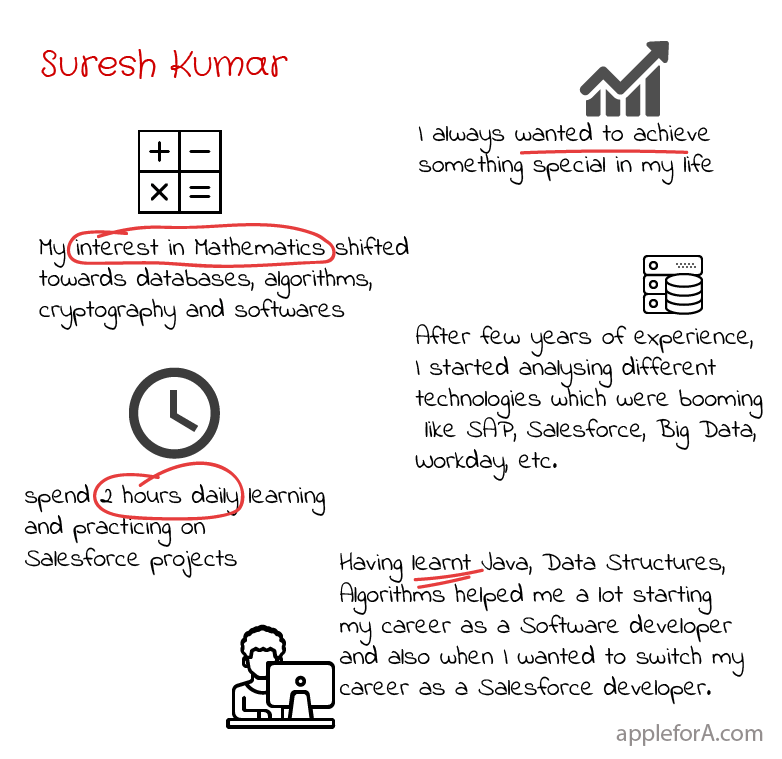 I am Suresh Kumar, and I am currently working as a Salesforce Developer in Ireland for a leading pharmaceutical company.
In January 2017, I relocated to Ireland from India with my wife for my current role. I love my family and friends and enjoy spending time with my friends watching movies and as every other Indian I enjoy my cricket.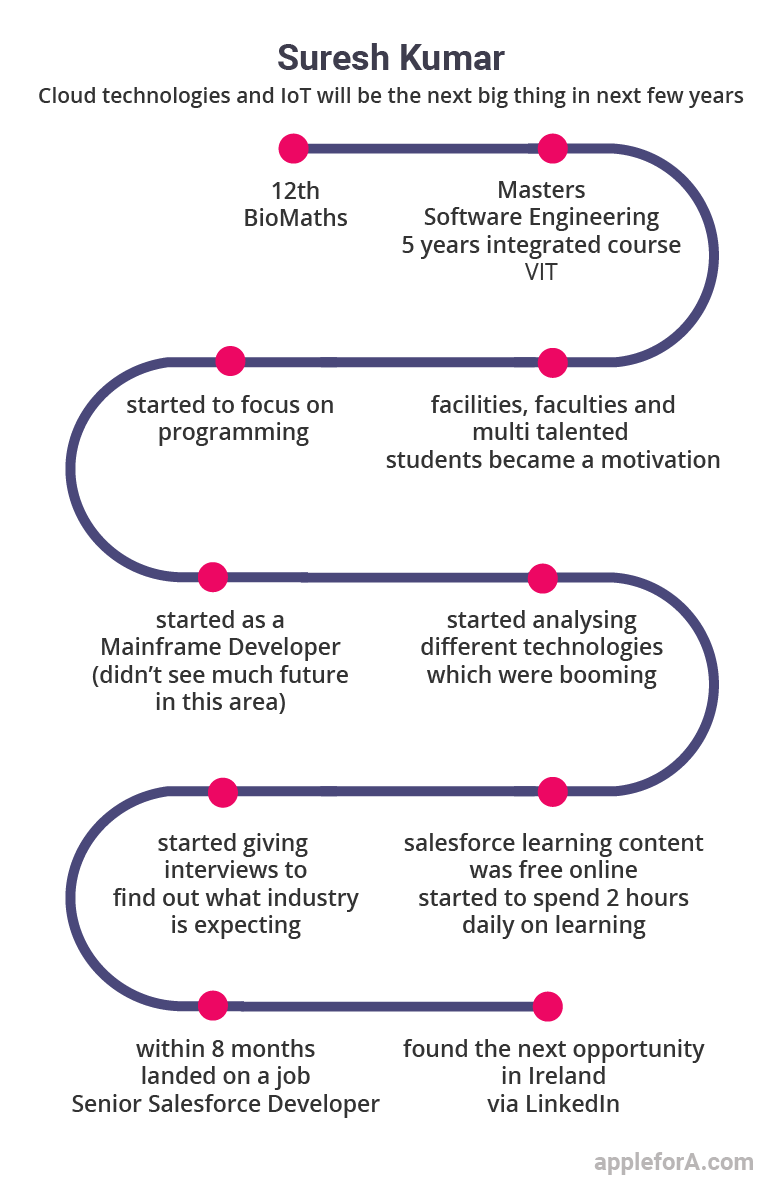 Who is a Salesforce Developer?
Salesforce Developer is someone who is ready to learn something new everyday. Technology is so challenging and upgrading itself everyday. To keep yourself up-to date with the market, you should be spending your time learning the latest updates from Salesforce simultaneously working on your current projects.
Salesforce coding heavily demands Java and Javascript skills today. So anyone who has a vast knowledge of Java, Javascript or similar framework should be able to switch their career in Salesforce.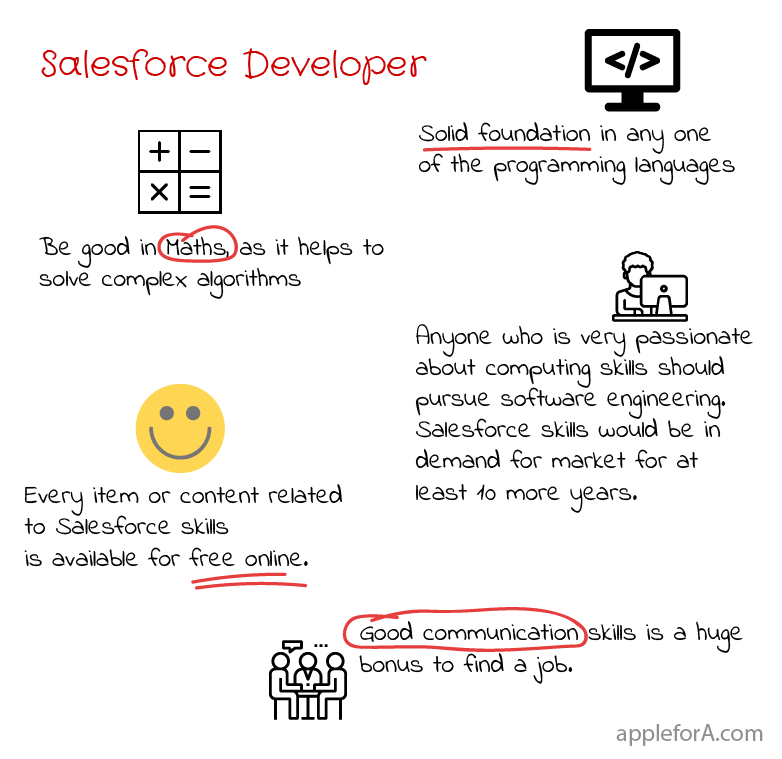 What motivated you to become a Software Engineer?
To be honest, it was never my childhood dream to be a software engineer. I should say until I finished my high school, like every other kid I had dreams of becoming a Pilot, Doctor or even a Masterchef. In my higher secondary I choose Biomaths as I was good in Maths and Biology. I was not even from a computer science background and software engineering was not even in my dreams.
Sometimes, we never know how things gets fold out in life. But, I always wanted to achieve something special in my life. So, when my parents heard about Masters in Software Engineering course which was newly introduced in Vellore Institute of Technology (VIT), Vellore, they wanted me to pursue the same. I must admit that, I was lucky enough to join such new course in a great institution such as the VIT campus which was within 2 kms from my home.
Soon after I joined the course, things changed. The facilities in the campus, faculties and multi talented students were motivating to make it bigger. Soon, something inside kept me saying you are not here just to spend time, think of something big. Then, I started focusing much into my studies, programming.
My interest in Mathematics shifted towards databases, algorithms, cryptography and softwares.
Always find a good college for your studies. It is more important than finding the right course. Continue Reading….
What is your typical day like?
My typical day starts with cycling to office and working in the agile way in office. My day would kick off with a stand up meeting of what to do today, are there any impediments affecting my work and what's the plan for tomorrow. Then we work developing components which help in building a custom Salesforce application for our organization from requirement analysis to deployment.
Videos related to work environment:
What steps did you take to land in your present job?
IT Industry in short:
In Indian IT industry we can't plan things which can work for you. Some say hard work, some say it's luck. But, in practical life there will be no difference for a gold medalist and a guy who had history of arrears in college. Most of the IT companies would treat you in the same way.
So, to stand out special you have to keep performing well and keep yourself up to date in any of the technology that could stand out for the next ten years.
My Outlook:
In the beginning of my career, I was not that lucky to get a chance to work on a demanding technology in market. I was assigned a role of a Mainframe developer. Cloud technology was booming other side, but we were working on Mainframe black and white screens which was outdated. I wouldn't say it was easy or boring but the future was dim in Mainframes. Though my roles and responsibilities kept me busy, I was working hard learning new things and developing my skills in Banking sector as well. But my interest to learn some new technology was there somewhere deep inside.
After few years of experience, I started analysing different technologies which were booming like SAP, Salesforce, Big Data, Workday, etc. Since Salesforce had free access to content online and lot of online materials to learn yourself, I created my own developer org in Salesforce and started spending 2 hours daily learning and practicing on Salesforce projects. After few months I started giving interviews for Salesforce developer to learn what industry is expecting from me.
I spent time finding the answers for the interview questions and working out on those topics learning them. This helped a lot and within 8 months of time I was able to join a leading software company as a Senior Salesforce Developer after 5 years of experience in IT. Then things changed soon after few years through LinkedIn, I was able to apply for an opportunity in Ireland and now I am a Salesforce Developer in Ireland.
What do you wish you knew before you started preparing for this career?
I always believed that, if you get good marks things will be easy for you at work and life. But I understood that was a wrong mentality when I stepped into the work environment. I was surprised to see my friends who were not good at college or studies could achieve something better or even end up getting dream job soon. In simple words, we can see our friends who were together with us 3-4 years ago have already started earning 2-3 times of what we are earning. So, in IT we should never compare ourselves with someone.
I enjoy whatever I do, I never complain about what I worked on. I regret for somethings what I could have done better myself. We can't regret for something, which we can't control. It is all about being happy, learning something new and knowing how to make work life balance.
What advice you have for your younger self?
I would say spend few hours, every week learning something new in your very own industry. As a Software developer, try to focus in one area. It is always better to be a king in something, instead of being Jack in many different trades.
For ex. If you are a Java Developer, try to compete with the best in the market. Don't try to focus or worry about too many things apart from that.
What do you love about your current role?
My current work environment is very friendly and diverse. I am working in an environment where there are about 28 different nationalities. There are quite a lot of opportunities to learn. My role has very good work life balance and my employer always supports and motivates employees to stay fit and young.
Salesforce technology demand is growing day by day, and Salesforce developers need is growing in numbers each day and that is an added advantage for a huge demand in future.
What are the challenges you face in your career?
The main challenge every Salesforce developer would accept is, technology keeps updating itself and new things getting introduced almost every day. It is very challenging to keep ourselves updated in new topics. Salesforce itself is very vast and to know everything in that is quite impossible. But the market expects you to know as much as possible day by day.
How do you like to spend your free time?
I spend my free time with my laptop reading something about Salesforce. When I am at home I would mostly spend time watching movies or web series. Apart from that I enjoy riding my bicycle, travelling, playing soccer, snooker, cricket, yoga and working out in gym as well.
What type of Software Engineers will be high in demand in the near future?
Software Engineers who are creative, innovative and who can think out of box will always be in demand.
Cloud technologies and IoT (Internet of Things) will be the next big thing in next few years.
Can you please summarise your career journey?
+2  –  Mathematics & Biology
Masters in Software Engineering (5 years integrated course), VIT – Vellore
Software Analyst Trainee in Tata Consultancy Services, Chennai
Senior Software Developer in L&T Infotech, Chennai
Senior Associate Consultant in Infosys Limited, Chennai
Salesforce Developer in a pharmaceutical company, Ireland
Certifications:
Salesforce Admin, Salesforce Developer, Salesforce consultant, Scrum Master
Future Aspirations:
My aspirations are to become a Salesforce Architect, designing complex applications in cloud which could ease life for day to day activities in many and also a Project Manager.
What sort of experiences helped prepare you most?
Your +2 stream should definitely be helpful for you in your degree. Being good in Mathematics helped me a lot compared to my friends who struggled to understand few topics in college.
Degree should definitely be a foundation for your career if you end finding a job related to your degree. Having learnt Java, Data Structures, Algorithms helped me a lot starting my career as a Software developer and also when I wanted to switch my career as a Salesforce developer.
Certifications helps you a lot, all those hard work and extra efforts could take you closer to your dreams.
What are the skills and education required to be a Salesforce Developer in 2020?
Education:
A solid foundation in any one of the programming languages would be great. I would strongly recommend to be very good in Maths because it could help to solve complex algorithms.
Skills:
Communication is very important when you work in a Global environment. Everyday you have to interact in english with your emails and calls.
Communications (90%)
Listening and understanding the discussions (90%)
Databases (90%)
Leadership (75%)
Data Structures (75%)
What does a Systems Engineer do?
A typical Systems Engineer solves a business statement and then develop the solution for the same, test it and deploy it.
There are various career options for Systems Engineer down the line they can switch their role as Business analysts or Test engineers.
I am 17 and I am planning for a similar career path like yours. What advice you have for me?
I would keep it simple like M.S. Dhoni. Keep a dream in mind, but take one step closer by keeping it simple focusing on each day. Enjoy your day and invest sometime each day to learn something that helps you to achieve it.
Please keep in mind the word which I used for time (Invest), so you should use that time wisely is most important.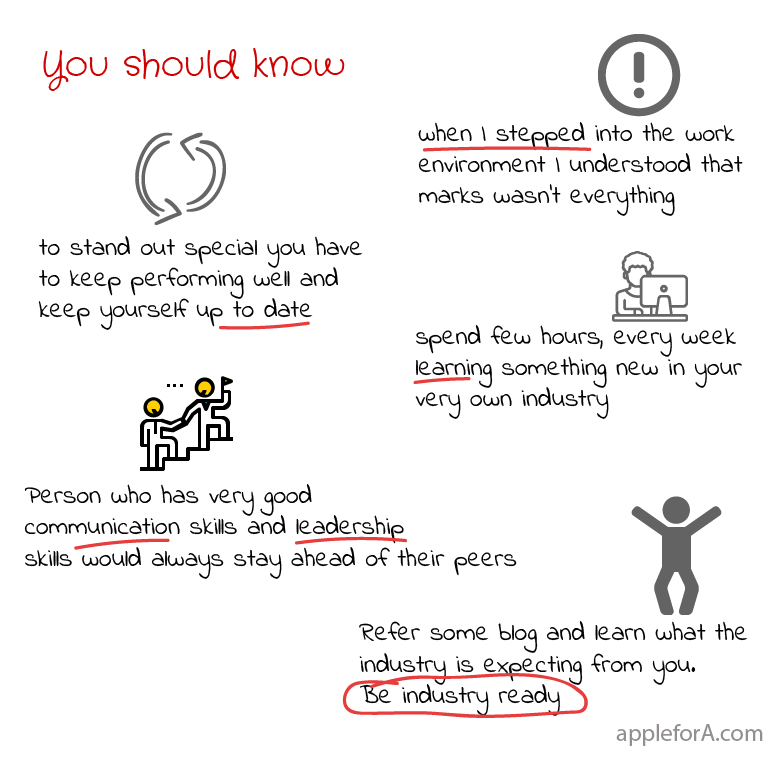 What do you think potential recruiters look for in a fresh graduate?
Recruiters would look for candidates who can think out of the box for a solution and also who has commitment.
Person who has very good communication skills and leadership skills would always stay ahead of their peers.
I think my current organization hired me for having the additional commitment to learn something demanding apart from my role and responsibilities. Good communication skills was a huge bonus to find this current job.
How do I know if a career in Software Engineering/ Salesforce is for me?
Someone who has huge interest in programming skills or developing applications involving complex user interface should choose a career in Software Engineering or Salesforce engineer.
Anyone who is very passionate about computing skills should pursue software engineering. Salesforce skills would be in demand for market for at least 10 more years.
Any recommended resources for students who are interested in Salesforce?
Trailhead is a very interactive way to learn salesforce. There are trails, modules, projects, badges and super badges available to choose from. Each new topic will be introduced interactively by having some questions or exercise to practice and earn points which could motivate an individual in their learning curve.
What do you think everyone leaving higher secondary school should know?
Should refer some blog and learn what the industry expects from any individual, for them to be market ready.
Be updated with currents trends and ground breaking technologies in general.
Try to get inputs from the seniors or friends regarding similar organizations and their day to day work life and what they do.
What are some important considerations for a student to select a course and an institution?
Students should personally know someone who is studying or passed out from the institution, or invest some time to visit the campus and take a look at the facilities available there (Wifi, commuting, Computer Labs, etc.)
What has been the campus placement percentage in the last few years for the institution? Where did they get placed? Which profiles?
Is the course you wish to opt in the institution has good reputation among the top industries, what are the future options when you consider this course like higher studies or research options.
Any final thoughts?
Never lose hope, whatever happens always stay positive. Your hard work will always pay off. No matter how much you struggle, if not today it will pay off down the line.
One personal message is to spend your own personal time learning something especially Salesforce.
Don't end up spending too much money on a Salesforce course from any of the training centres or fake people online.
Every item or content related to Salesforce skills is available for free online. So, don't end up spending money and time on some illegal or fake courses which could ruin your peace of mind.
---
Thanks for reading! 🙂 If you enjoyed this article, leaving your 
comment

 below would mean a lot to me and it helps other people see the story.
If any of your friend is considering a career in a similar area 
share

 this with him/her.
You can 
read

 more real career stories here.