I am Belal Khan, founder of Simplified Coding. I educate my students about application development for web and mobile. We work in a team and develop web and android apps, as well as make tutorials for our different websites, so that people can learn application development online.
Who is a Software Engineer? Who is a Blogger?
Blogger could be anyone who has an idea of their field, some creativity and a good writing skill. To become a blogger you need only the basic knowledge of computer, smartphone or tablet.
A Software Engineer is one who creates software. To become a software engineer you need to learn a lot of things related to the internal functions of computers and software, like programming and coding, data structure and everything which together comprise to develop Software.
The only common thing between a software engineer and a blogger is that, both have to be updated in their respective fields and learning can never end for both.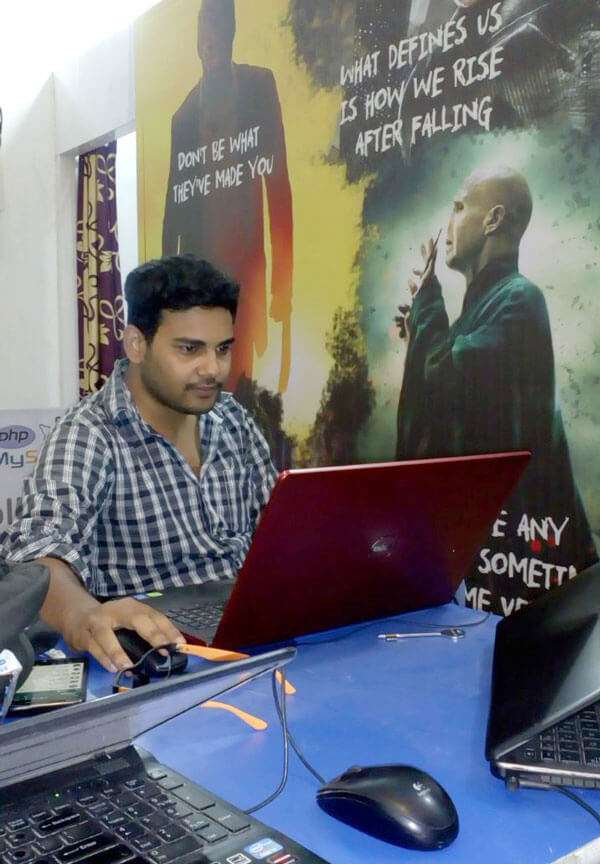 What did you want to be when you were in higher secondary school? How it all got started for you?
I was a good student in my high school and I scored around 80% in my 10th grade. Although I was good in studies, I was very fascinated towards painting and sketching. I had a dream to become an artist but for some reasons it didn't happen. Finally, I took science and after 12th like every other science student, I also had to pick my career from only two options, either Medical or Engineering and I chose Engineering.
To be honest, I myself don't know why I chose it. But, God had some other plans for me and because of some financial crisis, I couldn't do engineering also. I had some interest in computers and BCA was an option for me, so I picked BCA for my graduation. During my graduation period I got to know that 60% or above marks in 12th is compulsory to get the placement, which I didn't have. It made me realize that, I have to find some alternatives as I cannot get placed in any company. Hence, I started blogging and this was the beginning.
What is your typical day as a Blogger and Coder?
I am an entrepreneur, a coder, a blogger, a developer and a teacher. My day starts at 8 when I wake up and commences  with the classes in my college from 10AM to 3PM. After that I head towards my office, where I work with my team on our projects. Beside application development, my task is to look for new ideas and contents along with handling the digital promotion. We work together till night around 8 or 9PM depending on the work. Teaching also runs parallel with all other works.
When I get off in college, the only change in my schedule is that I directly go to office at 10am and do the same what we do at office till night.
What steps did you take to take the Simplified Coding where it is today from scratch?
To be honest, I had 2 failed websites before Simplified Coding. After being failed two times, I realized that I should do what I love and programming was my only love, hence I started Simplified Coding. I was in 3rd semester when Simplified Coding came into reality.
I started with writing about java and everything I was learning at college, but then my site got hacked and everything had been erased from that. Again I had to start from the scratch, but I took it as an opportunity of making my ideas to take shape.
Just before my site got hacked I had attended a 7 days free workshop on android application development which took my interest towards android and I started learning and writing about android application development at Simplified Coding. In my learning period, I found that there was a big crisis for quality content about this particular subject on internet. So, I focused on the quality and uniqueness of my contents. I started writing about all important things about android app development which were required but not easily available on internet.
What do you wish you knew before you started preparing for this career? Any regrets?
The only regret I have is that, I was very conscious about meeting with professionals. I was an introvert and that prevented me from meeting new people in this domain. Therefore, I learnt everything slowly.
But things have changed, as I have got over of this flaw. I am a part of the bloggers community and trust me being involved in the community helps a lot in grooming yourself.
What things would you do differently in preparing for this career?
Today when I look back and see myself in that position, I just think and advice others that, choice is very important. Choosing your path at the right time and focusing on that particular path, reduces your struggles and leads you to the success.
The second thing is that, you need to learn from others. I'll mention it again, that being in touch with other people and being involved in the community is very important.
What do you love about your current role?
The most exciting thing is that, I am doing what I love. We work in a very friendly environment. The amalgamation of coding with fun is the thing I like the most about our work.
What are the challenges you face in your career?
The first challenge was finance. When I started, I didn't have money at all, not even to buy hosting and domains. The second problem was the pressure of making career as I had taken a risk and wasn't sure where it would take me. Moreover, as I had below 60% marks in 12th, search for earnings was complicated and not getting family support made everything worse.
My parents wanted me to get a job as any other typical parents do. But, I was working whole day and sometimes whole night to make my decision worth. Today when I see myself at Simplified Coding, I feel like I made it. The challenges have got their end but there is still a long way to go.
How do you earn from your website?
Google adsense, android projects, consulting others and teaching are some sources of earnings from my website. Talking about newbies (an inexperienced newcomer), there are no limits or statistics for earning in this field. It just depends on how dedicated you are and being on right track is most important. You should work on what you feel you are best in, so that you can give your 100% on your work.

Can you please summarise your career journey?
+2 – Science stream.
Graduation – BCA
Now pursuing MCA (final year)
I am the CTO at my organisation.
Other than this I run around 10+ blogs and a couple of Youtube channels.
What sort of experiences helped prepare you most? Why BCA and MCA instead of Engineering?
Actually BCA and MCA was not my choice, it was the only option for me. My failure helped me the most to get me where I am today. I have faced it at each and every step of my life. Failure being my companion through my journey, it taught me how to rise after downfall. It removed the fear of itself from my mind and helped me decide the motto of my life, "Never give up".
What are the skills and education required to be a Software Engineer?
Education:
Take science in 12th
Getting good marks or at least above 60% in academics especially in physics, chemistry and mathematics is essential.
This will help to get into good college and a good placement.
B. Tech CS, BCA and MCA are the academic choices to become a Software Engineer.
To get admissions in these streams, clear the entrance examinations conducted for the same.
Skills:
Start learning coding as soon as possible after high school.
Keep yourself updated with the latest trend as softwares are developing day by day.
Getting to the top is not difficult, the more difficult thing is to maintain the success and for this purpose you need to polish your skills.
Possess never-ending passion for learning.
What are some alternate career options for a Software Engineer?
There are lots of options for a Software engineer to choose as an alternate career.
Blogging
Youtubing
Freelancing
UI Designing and many others
What do you think potential recruiters look for in a fresh Software Engineer?
Recruiters will look for your past projects, as that takes the place of work experience for a fresher. Work on your skills along with the academic results, as it matters the most for the recruiters.
How do you like to spend your free time?
Laughing and cracking lame jokes. Trust me, I really laugh a lot. According to me laughter and being happy, both are very essential in our stressful life. It is a tool to distress yourself and increases the productivity.
Apart from it, I spend time on YouTube by watching other people's work, their creativity inspires me. Gaming is another time killer for me. And when I don't get any of these options my creative mind starts working and being a tech freak, I think about how I can contribute to society through technology and this is how I get my new ideas.
How do I know if a career in Blogging/Software Engineering is for me?
Anyone can be a blogger if you possess some basic skills like, good command on your writing content and writing skills.
If you have interest in computers, if you are fascinated about how softwares are made and have a tendency of learning, then you should take software as your career.
Any recommended resources for aspiring Software Engineers?
are some sites which will help a lot in polishing your skills.
What do you think everyone leaving higher secondary school should know?
Firstly, they should decide what they want to do in future and start working for it at an early age.
If they are interested in technology they should choose science to explore the world of technology.
Those who seriously want to be a Software Engineer should start learning programming. Software Engineering is a field in which one can start learning long before they take admissions for this.
Any final thoughts?
Work…work…work.
---
Thanks for reading! 🙂 If you enjoyed this article, leaving a comment below would mean a lot to me and it helps other people see the story.
If any of your friend is considering a career in a similar area share this with him/her.
You can read more real career stories here.