I am Ankit Dasgupta, a Social Media Content and Television Strategist for Times Network (BCCL) handling a newly launched English General News Channel 'Mirror Now'.
I manage/handle social media presence of 'Mirror Now' using social media platforms like Facebook, Twitter, Instagram and YouTube.
We are a young news channel launched on 23rd March, 2017. Mirror Now's mission is to demand accountability from the government authorities.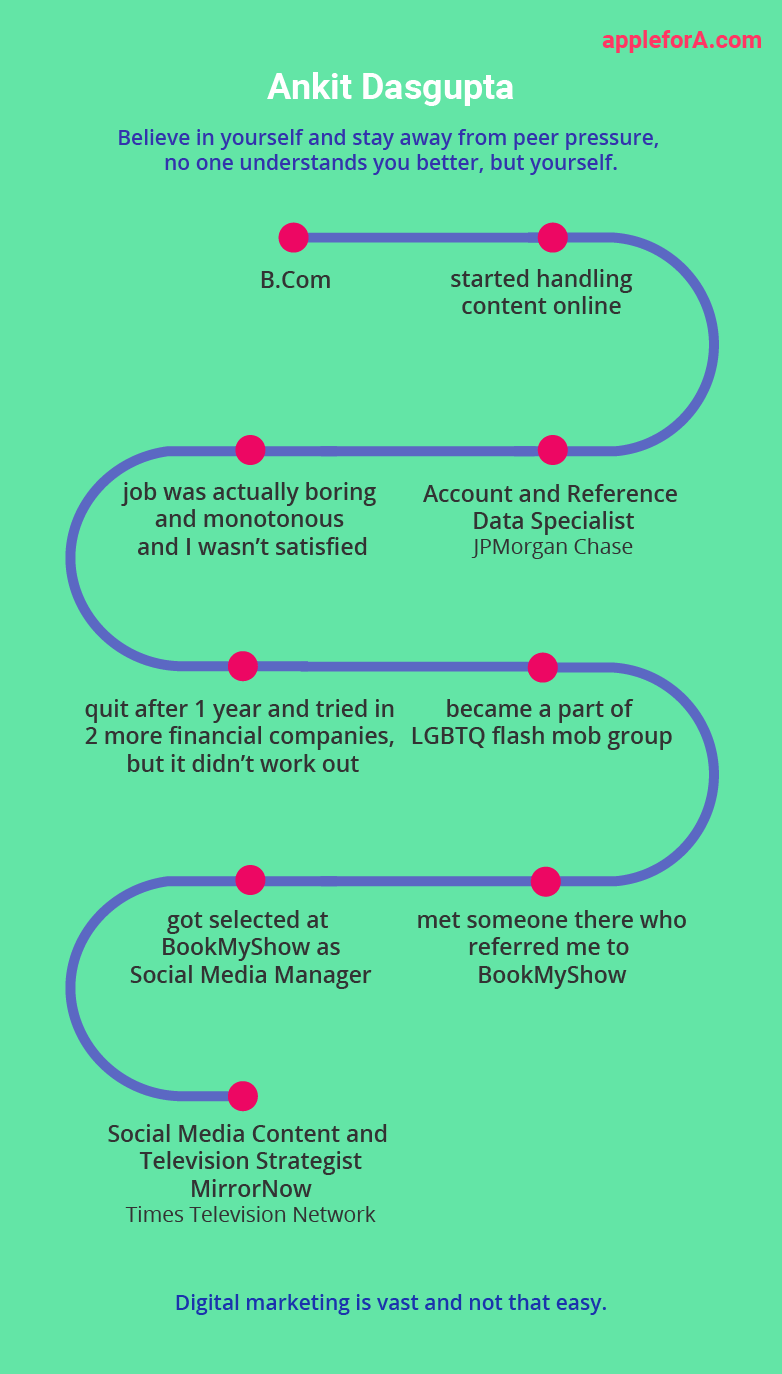 Who is a Social Media Content and Television Strategist?
A Social Media Content person handles social media platforms which are Facebook, Twitter and Instagram for a brand.
A Television Strategist is one who keeps an eye on the content that is creating buzz in social media and share those content/stories with the news desk or the Executive Editor of the channel. Also, this includes sometimes advising the Editor of the channel on what stories should be picked up on the channel.
As I work for broadcast media, being a Television Strategist feels like an added bonus in my career graph.
What does a Social Media Content Strategist do?
Key tasks include, posting content of the brand on the SM platforms frequently to garner traffic on your social media assets to get more page/post reach. Pick out the content that will work the most on social media and sometimes promote it too.
Keep a tab on what worked the most for the brand and what did not. Share that with your subordinates in due time. Make a plan on how to run a campaign, using the correct creatives, videos and posts to boost page reach.
What motivated you to become a Social Media Content Strategist?
When I was in school, I was very confused and naive. I had no idea what to do with my life. Though I was interested in Biology, I hated Physics and Chemistry. Hence, I chose to do Commerce after passing Secondary School back in 2009. I knew now, that my sole focus was to spend 5 years in college and get a job in an amazing financial company that will enhance my CV and create more brand value.
During those 5 years, I started binge watching a lot of American/English TV shows. I used to follow all the updates on Facebook & Twitter especially the one which I loved so much. Therefore, I decided to create a new fan page on Facebook and a Twitter page for the TV Show.
I started handling content, sharing relevant and legit articles for the TV show and guess what? That worked! People started engaging more, followers and page likes grew over the years. I understood and learned how to tweet within those 140 character limits. Learned how to write a catchy post on Facebook and also using the correct hashtags.
What are your specific activities as a Social Media Content & Television Strategist?
My workplace is an amazing place to be. The best one actually which I have come across. The environment is such that it will keep you pumped up for the entire day. You learn something new everyday, because it isn't monotonous.
My usual day starts with posting articles, listicles, creatives and videos on the social media platforms. Then live tweeting our primetime show, 'The Urban Debate with Faye D'Souza' from 8pm to 10.30 pm.
During those 150 minutes, there's a lot of tweeting and posting happening. You really require a lot of energy for those many minutes, it's a rush because anything can happen.
What steps did you take to land in your present job?
I started my career with J.P. Morgan back in 2014. The job was actually boring and monotonous and I wasn't satisfied. Therefore, I left my job after 1 year and tried in 2 more financial companies, but it didn't work out. During those days I had no idea that, Social Media as a career bares fruits.
In 2015, I came out as a homosexual and later that year I joined a LGBTQ flash mob group. Things changed, ever since.
In 2016, in the flash mob team I met someone who was working for BookMyShow as a Communications Trainer, I asked him if there's an opening for Social Media. He called me up later and I went for an interview and I got selected, that was the first breakthrough in Social Media.
How do you like to spend your free time?
I love dancing and cooking, so whenever I get free time on weekends I go out dancing with my friends or cook a lovely Italian food at home. I also indulge myself in binge watching a lot of English content with my mom.
What did you learn about the career after you started it?
Let me confess, it wasn't easy.
I consider myself very lucky getting what I wanted. I am glad I joined the LGBTQ flash mob group in 2015. Because of that my life took a turn for the better and I was confident. The start with a career which had lot to do with finance and then landing a Social Media job in BookMyShow and then currently for Times Television Network is very liberating and refreshing.
I learned how to handle a brand name on Social Media. Nowadays, audience don't have that much time to switch on their TV's. Alternative to that, is a smartphone and what specifically a person browses on its phone? That's right, his/her social media pages. I got to learn how to strategize content, how to use character limitations without changing the meaning of a post and how to check analytics on Facebook and Twitter. I got to learn, post reach, insights and impressions.
Do you have any advice to your younger self?
You need to believe in yourself. No job is small.
I follow this principle in life, 'Everything happens for a reason'. So I don't regret what choices I took back then. I surely gained an experience. I cherish those time spent.
What do you love about your current role?
Work life balance and demand in future.
What are the challenges you face in your career?
Working hours, sometimes working on a Sunday or a complete weekend.
What are your future aspirations?
I still have to learn a lot of things. Digital marketing is vast and not that easy. Too many analytics are involved.
This career is huge but you need knowledge of different things as well like SEO, SMO and Google Analytics. So, I have plans to take a course on those aspects that will help me grow more in my career.
What sort of experiences helped prepare you most?
J.P Morgan helped me to know more about finance in practical world. I also learned how to save money and invest in things that will help in future. Saving and investing your hard earned money is very important to survive in the long run.
When planning personal finances, the individual would consider the suitability to his or her needs of a range of banking products (checking, savings accounts, credit cards and consumer loans) or investment private equity, (stock market, bonds, mutual funds) and insurance (life insurance, health insurance, disability insurance) products or participation and monitoring of and- or employer-sponsored retirement plans, social security benefits, and income tax management.
What are the skills and education required to be a Social Media Content & Television Strategist in 2020?
Skills:
A passion and a knack for social media is must.
A digital marketing course is important.
Know Microsoft Excel, Powerpoint.
Education:
You can pursue a career in Digital/Social Media Marketing after almost any degree. But a degree related to Marketing will be an advantage.
Believe in yourself and stay away from peer pressure, no one understands you better, but yourself.
What do you think potential recruiters look for in a fresh Social Media Strategist?
Knack for social media.
A lot of creativity to make the page grow.
Thinking of apt social media campaigns to help build the social media assets to boom.
What kind of person will be a good fit for this job?
This career is definitely yours, if you:
spend a lot of time on social media, tweeting, blogging and writing stuff,
don't want a boring 9 to 5 job sitting in one front of computer.
want to earn by working on Facebook and Twitter.
crave to learn something new and handle new content everyday.
What do you think everyone leaving higher secondary school should know?
Okay, if you've already thought about pursuing a career in digital marketing, learn SMO and SEO, Google analytics. Create and write on your blog, choose a domain where you would like to work in Digital advertising, Media in general/Broadcast Media/handling a website/handling social media and a website or a portal.
Influence yourself with creative blogs, work on your dialect, be creative enough and write cool stuff. Use words which are catchy and which are spoken by everyone.
Any final thoughts?
Believe in yourself. You don't need to be focused on one particular thing, take risks. You could land up like me and be lucky. Everything happens for a reason, so don't let yourself down, there's something better coming your way for sure.
Keep on learning, never stop. Knowledge gained is never wasted.
---
Thanks for reading! 🙂 If you enjoyed this article, leaving your 
comment 

below would mean a lot to me and it helps other people see the story.
If any of your friend is considering a career in a similar area 
share 

this with him/her.
You can 
read 

more real career stories here.