My name is Rajesh Jagadish Bhattad. I am a Sales Operations Specialist at Plivo Inc.
We are a telephony startup with customers like WhatsApp, Netflix, Zomato and Adobe.
Rajesh is a perfect example of someone who accepted things that came to him and then made use of the opportunities.
Key Points
Considering a career in Sales Ops? Start with figuring out how various businesses around you operate. 

Required key skills – Communication Skills (English), Knowledge in Business Operations, Reading habit, Independent Thinking.

Nice to have skills – Basic coding knowledge (you don't have to love coding), Statistics.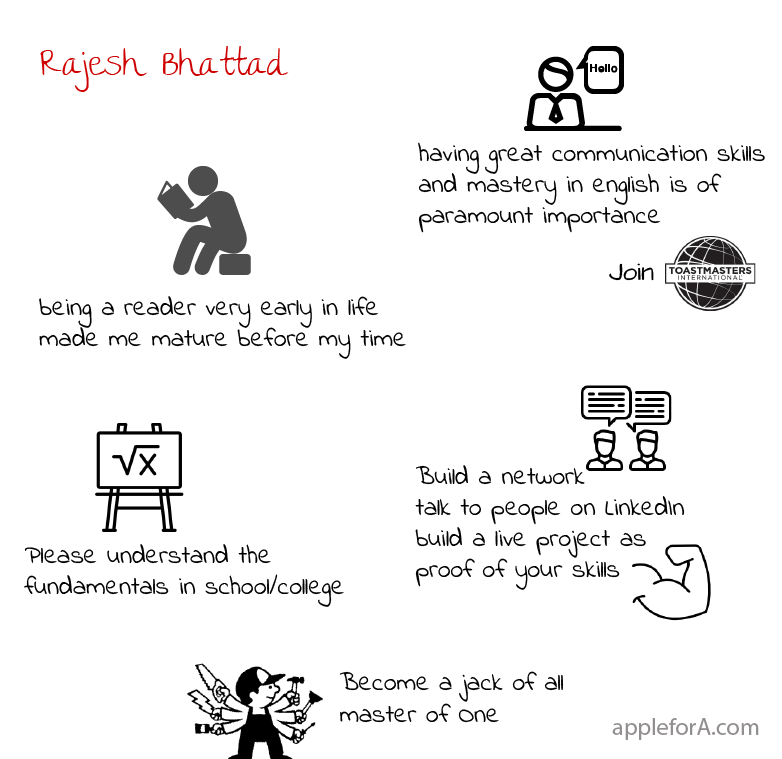 Who is a Sales Operations Specialist?
Every organisation these days has a digital footprint (I mean presence on the web). And that means there is a lot of data that comes in – from customers signing up (from where they sign up, what product are they interested in, which Sales Rep at my org is talking to them, etc) and this humongous data is a literal gold mine.
So, in a nutshell am the miner of this mine – someone who seeps through this data to find patterns, which country gives us most business, which product is making losses, who is my best performing Sales Rep, etc.
How it all got started for you?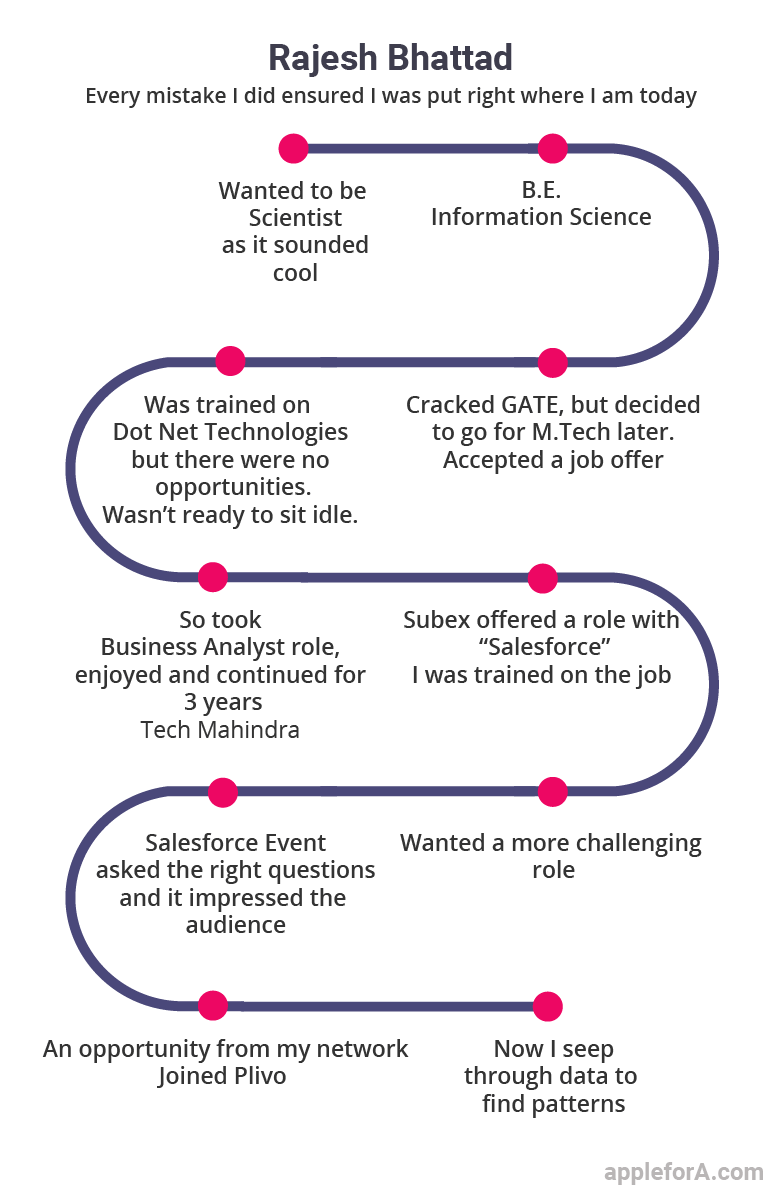 Back in school on being asked what I wanted to be I always answered "Scientist", because everyone answered "Doctor/Engineer". Hence I wanted to be different and "Scientist" sounded cool. But deep in my heart I honestly wanted to become a Postman. I was influenced to be a postman watching Malgudi Days back then.
Post college – I took Information Science – because I did not have any other choice (other than "BDS – Dental Surgeon" – which I being ignorant man back then told myself 'I don't want to spend my life staring into people's mouths!').
Post engineering I did a lot of things at a whim. Gave up the offer of my first job to go prepare for GATE. Cracked GATE and had a seat for M.Tech., and then took an offer for a job because GATE is valid for 2 years and I wanted to get industry experience for a year and then go back to college.
On the job I was trained on Dot Net Technologies and was put on "bench wait". I asked to be trained or given an internal project for which I was told there were no opportunities.
Realizing that my abilities would drain anyway without practice, I desperately called my manager who was in Business Operations. He gave me two choices – "Join my team with the commitment of a year or wait in the bench for at least 6 months". I chose joining the team. I prepared, interviewed with him for the role and got selected. First week in Ops I panicked and was at the verge of breakdown. At the end of the year I loved the job so much so that I never went back to Dot Net nor did I go back to pursuing M.Tech.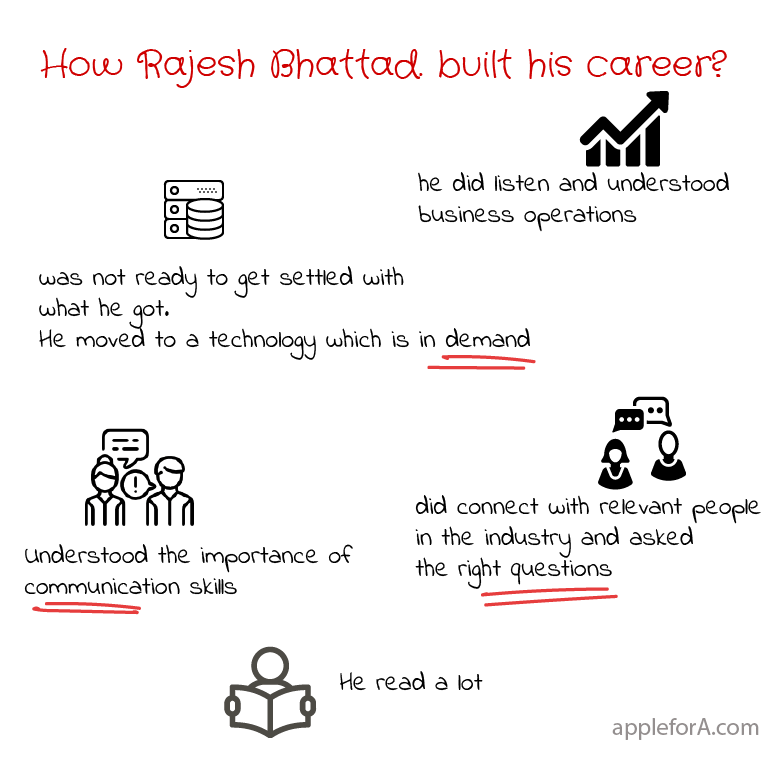 What steps did you take to land in your present job?
Once I started to work in ops, I loved the job and continued for 3 years.
Doing the same thing better and best – I got bored and looked out for new role. When Subex offered a role with "Salesforce" – I did a little research and realized it was another goldmine and I had to learn the technology. Subex found me suitable for the role and I learned Salesforce on the job and things went good. When I realized there is only so much I can do with my knowledge of Salesforce at Subex, I started looking out for a new role.
While I did have a couple of offers from job portals, I did receive open offers for three different roles from a CEO of one of the organizations I met at a business conference. He seemed to have liked my questions to the Solution Engineers from Salesforce at the event. (I was the only guy who had so many questions to ask there. I went doing my homework and it worked for me).
Joining Plivo was an opportunity come in at the right moment from my network again.
Did you know over 3000 startups die every year but no one talks about them! Everyone wants to talk of "Unicorns – the billion dollar enterprises". In such a scenario – Plivo's story is an incredible one. An organisation that only raised money once and they are in business "with profit". (Amazon and Flipkart are yet to make profit after all these years).
Plivo's Sales Operations Specialist role has two things I was looking out for: "1. Salesforce's knowledge that I can put use to 2. Something I hadn't done before – owning the whole SalesOps dept at Plivo. I am the only member in the team". And here I am.
What is your typical day like?
The best thing about my role is – while I have a broad timeline of things to do in SalesOps, most days I go with an open mind not knowing what new problems will my users bring up or what new feature requests my users would ask me to build for them. Plivo is still a startup and the SalesOps just took over with me. So we are in the process of building processes and that means I am open to new ideas and encounter new problems every single day. It's fun most days (when am able to fix it) and some days it is frustrating (when I have to crack my head to fix after tinkering around multiple possibilities).
Workplace is fun. We don't have cabins, that means my boss sits next to me and my CEO right in one corner of an adjacent row. A transparent culture – reachable leadership. Workplace has food and beverages all day round. Xbox and Table Tennis and Foosball etc.
What do you wish you knew before you started preparing for this career?
I think, if I am given a chance to change something in the past – I better not change anything.
Every mistake I did – small or big – ensured I was put right where I am today. Assume if my manager back in my first job said – "You got to wait 6 months. No choice". Or if I had not taken his offer for a role which I had not prepared myself for, I wouldn't be where I am today. In the hindsight it all looks logical but the fact is – life goes on.
So don't bother about fixing things in the past.
What do you love about your current role?
The independence to experiment.
What are the challenges you face in your career?
Since I am the only guy in the team (I like to tell: I am the team! :D), it means most days stretch out late into the night since I support both India and US teams. But yeah, with great roles come great responsibilities!
What are your future aspirations?
I believe too much of foresight makes a man blind. While I do have long-term goals – I plan rigorously from week-to-week. That way am filling in my hours better with goals in my sight and not blinded by a wish.
What are the skills required to be a Sales Operations Specialist in 2020?
Knowing a Customer Relationship Management (CRM) tool is crucial. Salesforce is the market leader.
In my role there is a lot of talking involved. And this means I am talking to my Sales reps, Sales Development Reps, leadership team in the management, to lot of application developers out there who want to sell their apps to us (I evaluate).
So having great communication skills and mastery in english is of paramount importance.
The job involves seeing numbers even in your dreams and business logic day-in and day-out, so keen listening and understanding of the business is of crucial importance. Don't be fooled by the thought that if you are an expert in maths or statistics, you can perform wonders in this role (though that is helpful).
How do you like to spend your free time?
Reading. If not reading, writing. Weekends I spend at Sarjapura Road Toastmasters Club which I preside over. Also as an Assistant Area Director for Club Growth, I help with my Area's membership growth at Toastmasters.
I am 17 and I am planning for a similar career path like yours. What advice do you have for me?
Look at the businesses around you and dissect them inside out. See how they operate. What makes them what they are business-wise. You would then truly appreciate why Sales Operations is at the heart of any business.
What are some alternate career options for a Sales Operations Specialist?
With this experience you can be a –
Business Operations Executive
The experience is crucial to land in Sales roles and Account Management roles.
What do you think potential recruiters look for in a Sales Operations Specialist?
Your exposure and understanding to Salesforce, understanding of business operations, communication skills. And most importantly – are you capable of thinking independently?
Who do you think should take up this Career choice?
I never loved coding. But then I am learning to code basics now, because it's a requirement of my job and coding means opening your mind to a whole different way of thinking. For me that is cool.
What am suggesting is – if you are not passionate about coding and love engaging with people (an extrovert) and are a voracious reader (I think this is absolutely important, because what would you talk to someone you meet at a networking event or with a customer when you don't know what's happening in the industry), and understand business – this is for you my friend.
What are some resources you use to keep yourself updated about the industry?
Most importantly I follow folks on Twitter who are industry leaders to understand what's happening around (like Mike Quindazzi).
What do you think everyone leaving higher secondary school/college should know?
Please understand the fundamentals in school/college.
This is not some gyaan coming from me but something Elon Musk thinks super-important. If he says it you might as well blindly believe! Be an average guy who understands fundamentals and is a jack of all trades and a master in one particular skill – and I think you have a great chance at shining in this wonderful profile.
Nobody hires you from resume anymore. Build a network – talk to people on LinkedIn – build a live project as proof of your skills.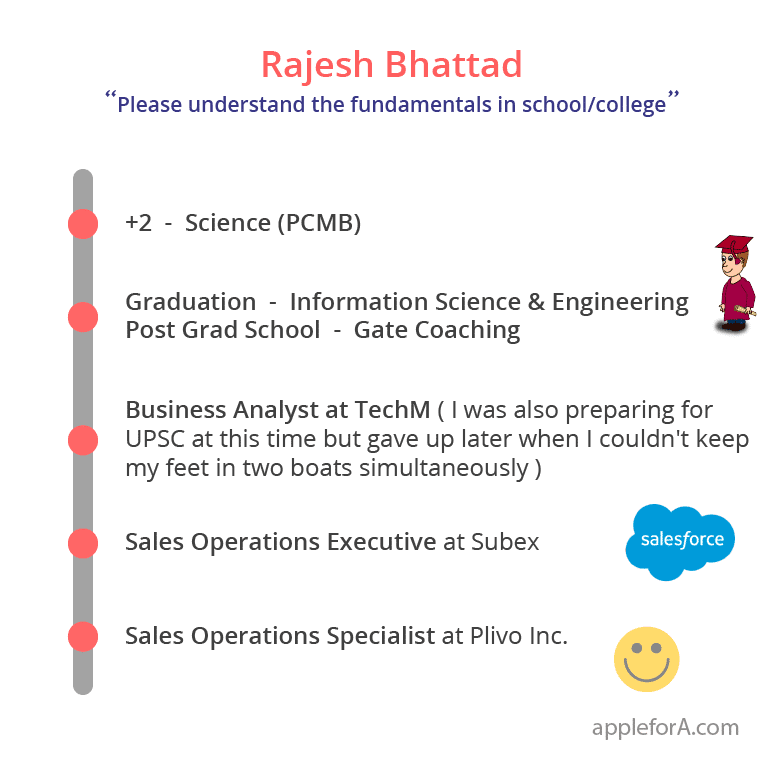 Strange question, but lets hear him out. Why do you never celebrate your birthday in the same place?
I once read that Maureen couple (founders of Lonely Planet) never celebrated their anniversary in the same place and I got inspired and started traveling solo to a different place on my every birthday since the last 3 years. I only realized last year that I had misread the article about Maureen couple. They never did anything like that!
Some mistakes are good 😉
Any final thoughts?
I am glad of what appleforA is doing. Honestly.
I myself felt the need of educating the younger generation of what actually happens out here so they come prepared and are not in for surprises like I was. And hence I thrice wrote to my HOD at my alumni this year, if I can somehow help. He never replied. And with you I have my chance of being helpful again. Thank you and know that if I can be of any help in my capacity – I would do it.
Good going team appleforA.
Icon made by Freepik from flaticon
---
Thanks for reading! 🙂 If you enjoyed this article, leaving your 

comment

 below would mean a lot to me and it helps other people see the story.
If any of your friend is considering a career in a similar area 

share

 this with him/her.
You can 

read

 more real career stories here.