I am Vaishali Jain, founder of getmyresumes. By qualification I am a Computer Science Engineer and MBA in HR & IT. Eventually, I moved from technical to human resource domain. After gaining experience as a prominent recruiter in Management Consulting Industry, I moved to Start-Up industry and then later to self owned writing services.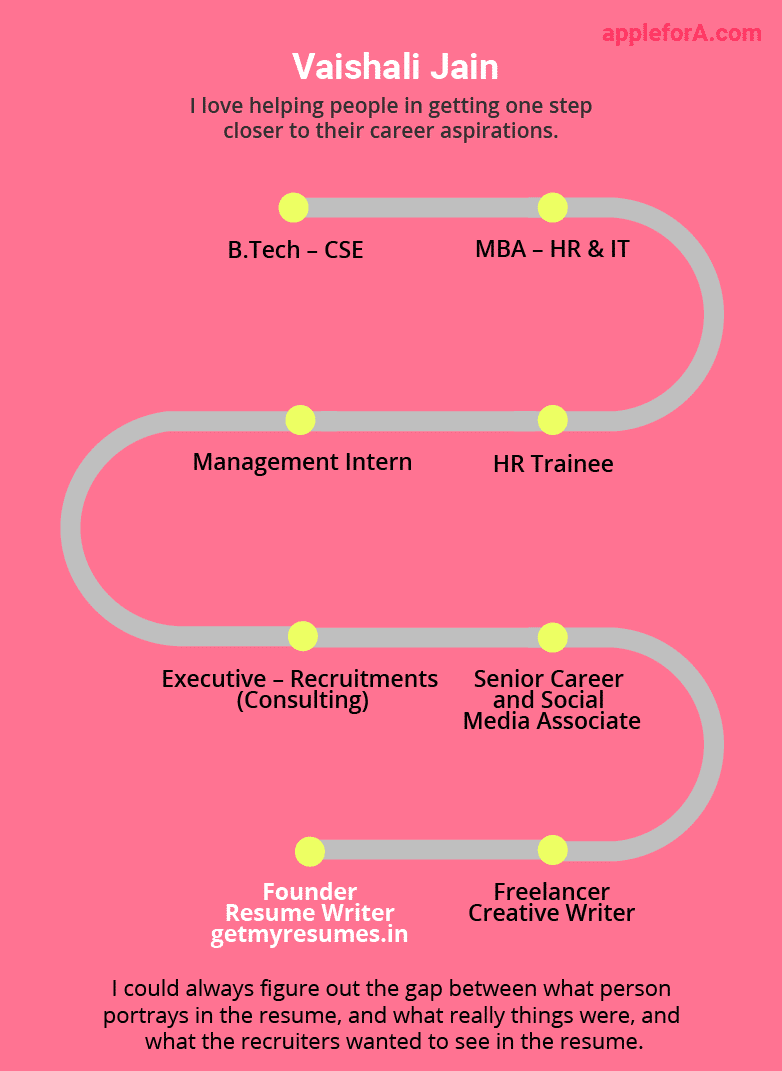 Who is a Resume Writer?
A person who articulated the competencies, capabilities and accomplishments of a professional, aiming to address a category of people for a particular purpose.
What did you want to be when you were in higher secondary school?
In high school, I had no specific ambition. I have been a person who goes with the flow and a believer in destiny. Being a scoliosis survivor, I understand there are many things in life that we have no control over, and so was my education choices.
Doing CSE, was purely because I had no other choice. Later after B.Tech, my parents didn't want to distance from me and accept my placement offer at Oracle Financial Services in Pune. As I didn't want to opt for M.Tech, I went for MBA. The choices I had was between Marketing and HR.  Finally, I choose HR as I thought it would be more interesting, and IT was just complementary to my engineering background.
How it all got started for you? Why resume writing?
After my stint as a writer with RVCJ, my sister insisted me to try resume writing (maybe it works for me) as I didn't want to work for someone else anymore. I had been a recruiter, therefore my professional network on SMW (Social Media Website) have been people in jobs, and there I got my first client as a resume writer.
Coming to the next question, WHY – As a recruiter for Big four consulting firms, handling 100's of resume was a daily task for me. And as an analytical person, I could always figure out the gap between what person portrays in the resume, and what really things were, and what the recruiters wanted to see in the resume. Hence, it was by experience, that I could judge the areas that are needed to be worked on in the resume.
What is your typical day like?
My typical day comprises of certain activities:
Checking mails for new queries, on-going interactions and assignments
Designing few resumes
Process – As a process, I first do a review of the existing resume of the person, followed by a discussion on the profile the person might be willing to pursue further. Based on the same, the pricing is decided.There are 3 services I primarily provide at getmyresumes.in namely,

Tailor – made Resume
LinkedIn Profile Development
Cover Letter

Once the payments are done, I deliver the first draft within 4-6 working days. And then iterations, if any.
Writing process – This includes detailed study of the profile, understanding the person's target jobs and identifying the gaps. The process also includes what all details need to be highlighted based on his accolades, level of profile and requirements of the next job. Further leads to choosing the suitable format based on the industry and profile. And then finally writing the resume in the new format. At times, some details need to be fetched from the clients, other than what is available in the existing (old) resume.
Iterations, as received by the clients
Linkedin responses
Social Media Content sharing (based in time availability)
What makes me special:
I have been a recruiter and seen and reviewed thousands of resume and also understand what recruiters look for in the profile. Also, there is no change of hands for the client, in terms of interactions, information sharing, writing and iteration.
Why someone needs a writer:
The need mostly happens when the person is unable to convert job applications to interview schedule. They want to know where they are lagging. Many a times, people fail to understand what all details need to be incorporated, and what all is avoidable, to what extend they need to be elaborated and how to incorporate their achievements. Plus the length of the document is another concern.
What have been the most surprising elements of this career?
The most surprising element has been the humongous response for the services. I learnt that it's important to engage the clients in the process.
What do you love about your current role?
Work-life, love the freedom I get, I love helping people in getting one step closer to their career aspirations.
What is the future of the career as a resume writer?
As a Resume Writer, there is a huge market. Because lot of CVs generally lack articulation and understanding the importance of the resume as document.
Handling the demand is the greatest demand faced by a resume writer.
Can you please summarise your career journey?
12th  –  Non-Medical Science Student | Ryan International School |  2005
Graduation – B.Tech – CSE | APJ Abdul Kalam University | 2009
Masters – MBA – HR & IT | Jagan Institute of Management Studies (Sector-5), Rohini Delhi | 2011
HR Trainee – Annik Technologies, Gurgaon | Apr – Aug 2011
Management Intern – Mafoi Randstad, Delhi | Dec 2011 – Mar 2012
Executive – Recruitments (Consulting) – ABC Consultants, Delhi | Apr 2012 – Apr 2014
Senior Career and Social Media Associate | FreeJobOpening.com (startup) | May 2014 – Feb 2015
Freelancer – Creative Writer (with RVCJ) | Resume Writer | Freelance Blogger | Apr 2015 – Sep 2015
Founder  – Getmyresumes – Oct 2015 – Present (officially launched in Jan 2016)
What sort of experiences helped prepare you most? Did CSE help you?
I always strive to learn. So yes, everything that has happened to me has given me experiences (both good and bad) and each has its own learnings and takeaways.
CSE helped me gain the analytical approach I have towards things, and the problem solving ability.
What are the skills required to be a Resume Writer?
As a writer it's not just enough to be good with words, the person needs to be good at reading people, their accomplishments and identify their pain areas, even if they are unable to explain in the best possible manner.
What are some alternate career options for a HR Professional?
HR is a huge domain. HR firms also hire Resume Writers. Other career options include Talent Management, HR Business Partner, Compensations and Compliance, L&D, HR Analyst, and many more…
How do I know if a career in HR is for me?
It's important to understand other person as a HR. Because people approach you mostly when they are in some problem. So it's essential to have the skills of being in other person's shoes and understand his pain points.
Any recommended resources for aspiring HR Professionals?
What do you think everyone leaving higher secondary school should know?
Who want to be a HR:
It's a domain where you might not receive lot of gratification, as people are not much thankful to the jobs done by HRs.
Who want to be a Resume Writer:
Needs writing skills, need to be updated with the changing resume patterns, standards and formats.
Any final thoughts?
Life should be full of experience, be it good or bad. Never fail or hesitate to experiment anything.
Don't stop at one point, be it job, career or anything – you are not a tree.
Learn to let go – To reach somewhere you need to leave something behind. It's best to leave things at the right time otherwise you are left with too many regrets and complaints !! (Kahin pahaunchne ke liye kahin se nikalna zaroori hota hai). That's the essence of life.
---
Thanks for reading! 🙂 If you enjoyed this article, leaving your 
comment 

below would mean a lot to me and it helps other people see the story.
If any of your friend is considering a career in a similar area 
share 

this with him/her.
You can 
read 

more real career stories here.