I am Anurag Singh. I've completed my Post Graduation in Video Game Design and Production Management from DSK. I have a work experience of 3 years+ as a Game Designer and currently working at Axis Entertainment
Who is a Game Designer?
Someone who understands the system of a game and have the desire to improve those systems to make the game more fun and interesting.
How it all got started for you? Why Game Design?
My dad brought home an Atari 2600 when I was in my KG's, since then I've been playing games. I was an avid gamer since my childhood. I always dreamt of joining the industry and make something of my own, which millions of people can enjoy and most importantly I can enjoy.
Thus, I started my research on how to enter the gaming industry during my college days.
One day my dad sent me the link of this college DSK and I found the course of Game Design which perfectly suited my passion. So that's where the journey started.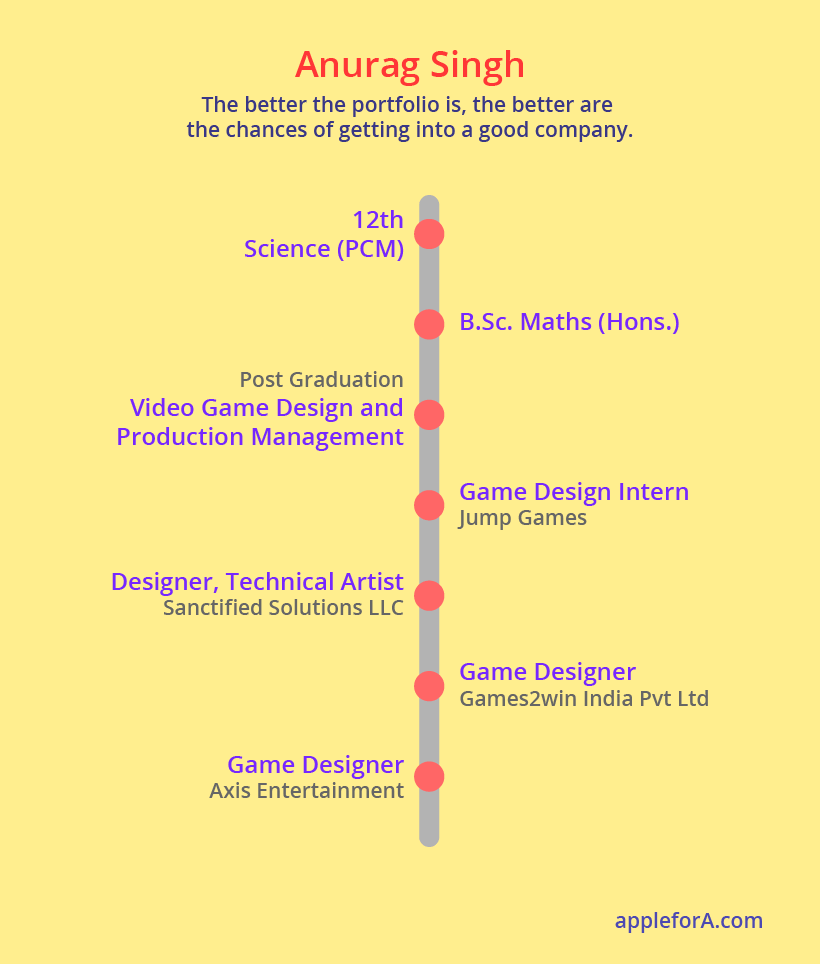 What are the challenges you faced when you were preparing to become a Game Designer?
I had to clear the entrance for DSK. The hardest part for me was the interview session with HOD of the college as he was asking for previous knowledge of Game Design and I had none.
Fortunately, I had made a couple of prototypes in my part time which I showed to them. I believe that helped me a lot in clearing the entrance.
So anyone who is applying for any college, should either analyse a few games or create a demo of a small fun mechanic before applying.
Working hours could be the only challenge for designers, as they need to work closely with the whole team. Therefore they are the ones who are suppose to stay till everyone is done with their work and sometimes it could be a bit hectic.
What do you do as a Game Designer?
As a Game Designer one gets to do the following major tasks :
Make a Game Concept.
Expand the idea and create mechanics and systems for it.
Create a complete GDD (Game Design Document).
Explain your game to artists and programmers.
Work closely with them throughout the process to iterate (repeat) the game for the best possible outcome.
What do you love about your area of work?
Work on video games.
Stay close to video games.
Freedom to create something you desire.
How do you think they helped you or not helped you ?
Mathematics helped me a lot in my journey as it's used in every mechanic design or level design or monetisation done by me. It helped me reach heights quite quickly when compared to other designers.
Every subject will help the person in his designs. He just needs to apply it properly and that's what you'll be taught during your college days.
What are the skills and education required to be a Game Designer?
Skills:
 have a vast knowledge of video games.
 have an eagerness to create something new in those games.
Understand Human Psychology
Education:
A Graduation degree is must to join any company. For UG and PG go for DSK, as this will give you the proper platform required in your journey.
How do you like to spend your free time?
Playing games and watching gameplay videos.
What do you think potential recruiters will look for in a Game Designer?
A good knowledge of:
games
mechanics design
creating concepts
systems design
creating full fledged GDD's
monetisation (very important)
good communication skills
creativity
As a beginner Gamer designer should have the knowledge of :
Mechanics Design
Level Design
GDD writing
The rest of the skill can be learned slowly while improving your designs.
Game designers are also suitable for these 2 jobs :
Story Writer
Monetisation Designer
What is the future of Game Design in India?
Many companies from all over the world are opening their branches in India and Indian companies themselves are growing at a very fast rate. Therefore, this designation has a very strong future.
How do I know if Game Design is for me?
These 2 qualities are must, if you have it then go for Game Design:
Passion to play games (I mean a lot of games).
Constant thinking of how to improve this design and how to add more fun to the game one is playing.
A person should have knowledge of analysing games and if possible should make a small demo of their mechanic or a level of a game before choosing a college program in game design. .
What do you think everyone interested in a game designing career should know?
Don't just play games, try to make games as there are so many free engines out there which can be used to make games at the comfort of your home.
Analyse every game you play. Think of what the designer must  have been thinking while designing while making each stage.
If something in a game is fun then question it, "why is this fun?" and try to find the answer for it. This will add more interest towards the game and it will help you bring fun to your games.
Creating a portfolio is necessary for a designer, as they can show their work to the people very easily.
The better the portfolio is, the better are the chances of getting into a good company.
Any recommended resources for an aspiring Game Designer?
This website is like a bible for Game Designers, you don't need anything else.
Any final thoughts?
This field is very fun and interesting to work in. To learn and grow along with this industry, you not only have to play games, but also study and analyse it.
Try to create games on your own, this will help you to learn everything very quickly.
---
Thanks for reading! 🙂 If you enjoyed this article, leaving a comment below would mean a lot to me and it helps other people see the story.
If any of your friend is considering a career in a similar area share this with him/her.