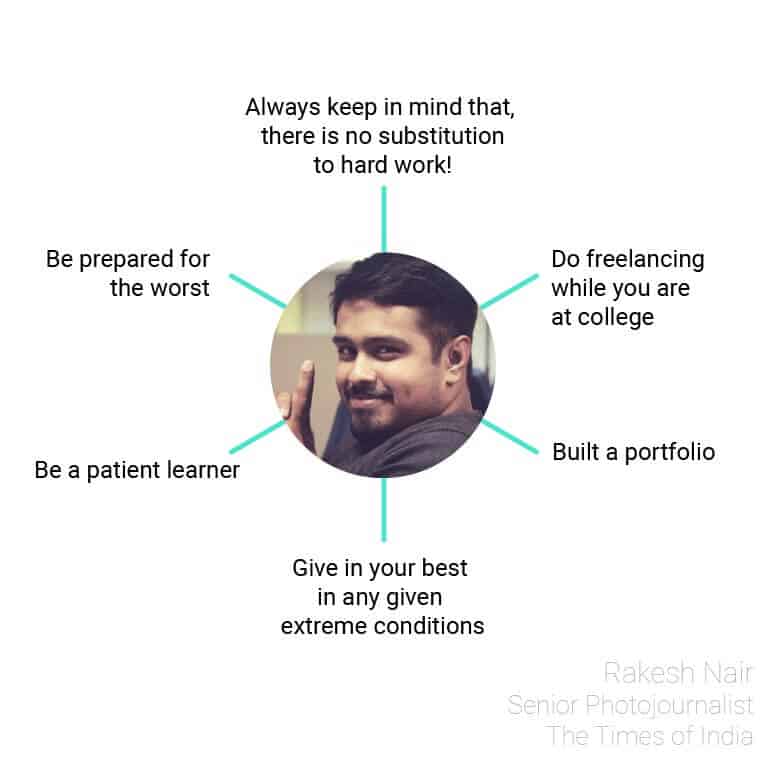 Hi, I am Rakesh Nair and I work with The Times of India as Senior Photojournalist, at Trivandrum bureau for the past six years. I click pictures for the main edition of TOI wherein I cover stories which are political, cultural and civic in nature. Apart from that I do multitask by reporting as and when I come across an interesting story.
I am passionate about camera, travel, music and food. Love gathering new perspectives by interacting with people and highly optimistic in nature and open to new learnings. I am happy to have the opportunity of contributing back to the society through my work. You can check out my work on flickr.
Who is a Photojournalist ?
A photojournalist is a visual storyteller. He/she freezes a frame to convey news or a message to the society. It is through these frames clicked by a photojournalist which provides a visual element to the story.
Can you imagine a newspaper or a new portal without photos? While a story can get you facts about the situation or news, a picture gives you a relatable face to the story and at times goes on to magnify the gravity of the issue or news in question.
What motivated you to move from BBA to Journalism to Photojournalism?
Clear Future
I was pretty clear about the fact that I wanted to be a journalist by the time I finished my 12th grade.
Just when I was about to finish my 12th, I had approached TOI Baroda office to find out if I could freelance for them. I was asked to submit sample writing and then I was asked to join the team as a contributor for a city supplementary.
Played it safe
I did search for colleges which offer journalism at graduation level. During my search I realised that there is hardly any college which provides a good journalism course at graduation level. Also, I wanted to play a bit safe by keeping a backup plan for a situation wherein I can't fulfil my dream of getting into journalism. In such a case "marketing" was something I was interested in, hence I decided to go for a BBA degree and kept my journalism course for Post-Graduation.
Lesson : It is not a bad idea to have a Plan B for most people. Some people advice to have just Plan A and go all in, while it can work out for some of you, not all of you have the patience to wait. So have self awareness before taking decisions. 
Advantage of Freelancing 
So while pursuing BBA, I continued to freelance for TOI for three years. I used to interview the celebrities visiting my city, contribute feature stories and also used to report crime from the city. This freelancing came as an added advantage when I started applying for my journalism post-graduation.
My Love for Cameras
I decided to pursue a journalism course from Indian Institute of Journalism and New Media (IIJNM) Bangalore, because I found their practical approach towards the course very interesting. We had no books or exams. We used to be in the field reporting for the college magazine/portal/news bulletin. It was here that I fell in love with cameras and I have been loyal to my love ever since☺. I graduated at a time when the county was gripped in the hands of recession, hence not much placements happened from the college.
Initially, had to get into jobs which did not interest me much, but I was always on a constant look out for the right opportunity.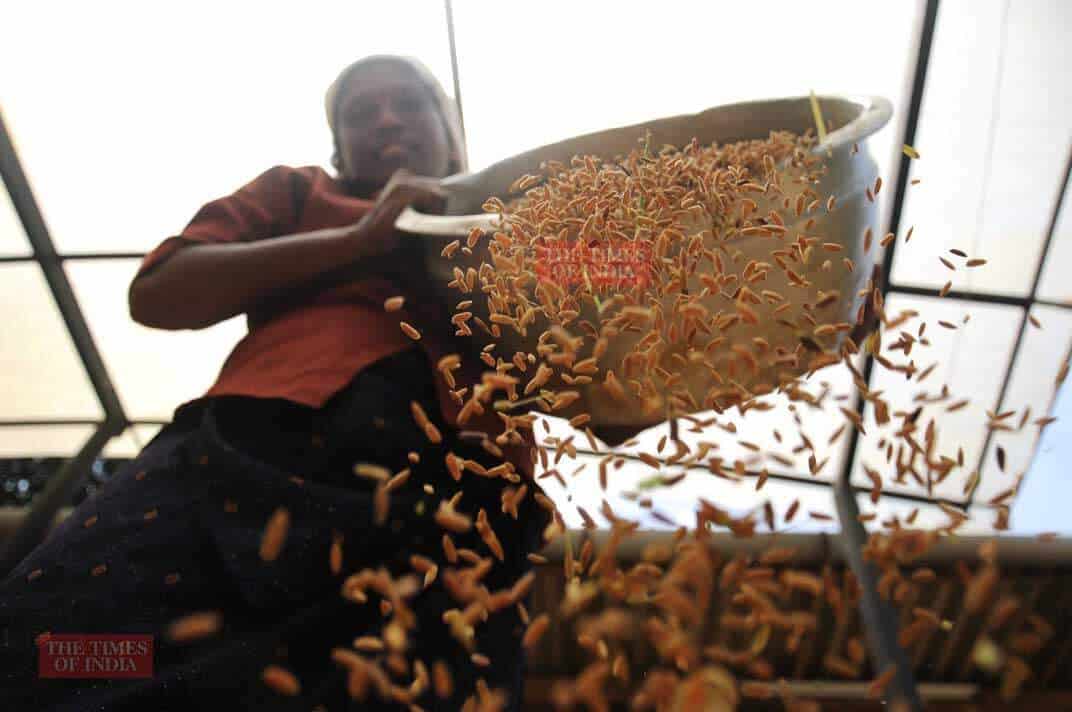 What is your typical day like?
The best part of this job is, no two days are similar. If today is an eventful day, it might so happen that the next day would be even more eventful or sometimes not as happening as the previous day.
A normal day starts with me scanning through the newspapers and updating myself with the news/events happening in and around the city. I have to prepare a photo chart and coordinate with my fellow colleagues about who would click what. Another important part of the job is to interact with the reporters and learn about the story they plan to do. If the story needs a visual element, we discuss the photo opportunities with the reporter.
Once back to the office in the evening, we process the photos as required and caption it properly before uploading it onto the photo library of the Times network. This photo can then be accessed by any TOI office across the country.
What drives you?
The inquisitiveness to explore the unexplored is what keeps me going in this job.
In this competitive job, one has to perform well to survive the race. This can be done only by producing different and interesting frames. I am clear about the fact that this is an opportunity I have to make a difference with my work. Working ahead with this focus, helps in exploring new frames.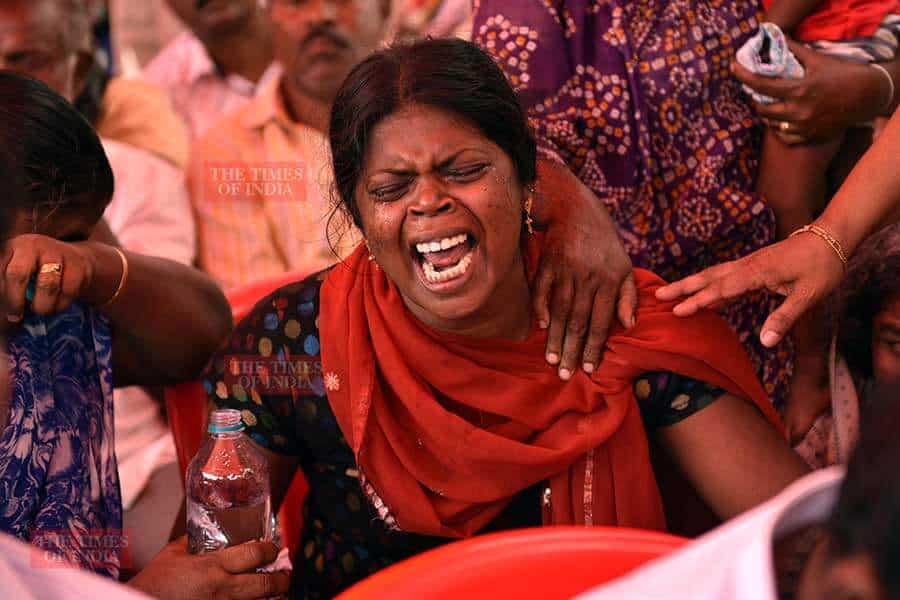 What steps did you take to land in your present job?
I was constantly in search for a job where I could put into use my photography skills. That's when I heard from a friend of mine about a new TOI edition starting in Kerala. I grabbed this opportunity and sent in my application. After few rounds of interview I made it into the organisation.
I believe, it was my portfolio which I built over the period of time helped me get an edge over the others.
What did you learn about the career after you started your career?
This is a job with great responsibility. You are the messenger of the government to the society and you are the voice of the society.
With real journalism you can actually be the agent of a change/movement in the society. There would be many situations where you would have to fight with yourself and see to it that you stick to the ethical path. It will be very easy to be carried away with the freedom the press enjoys, but the beauty of it lies in how responsibly you make use of this freedom.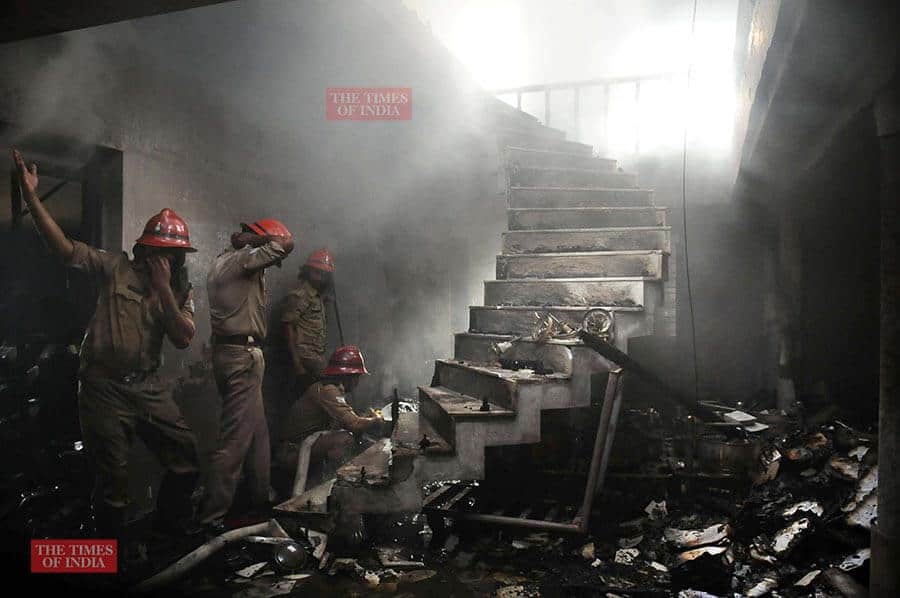 What do you love about your current role?
The ability of being instrumental to a change in the society through my work

, is what I love about my job.

I get to work with interesting people and meet people who motivate me with their work

, also get to learn from them about various aspects of life.
I strongly believe that

this job has made me more socially responsible

and vocal about addressing issues in the society.
What are the challenges you face in your career?
The work is pretty hectic and will demand a lot of your time. At times I do have to compromise with my personal life because of the requirements at the work front.
Just to give you an idea, it was my third wedding anniversary when the new government was to be sworn in. I had no option but to give a miss to my anniversary celebration as I was required to cover the government formation event which was scheduled for that day evening. So yes, you got to be prepared for the worst ☺
This job is clearly not for those who can't be out in the sun/winter or rain. Be prepared to give in your best in any given extreme conditions. There have been times when I have had to work for crazy hours without having breakfast, lunch or dinner. So yes, it's not that rosy out there always ☺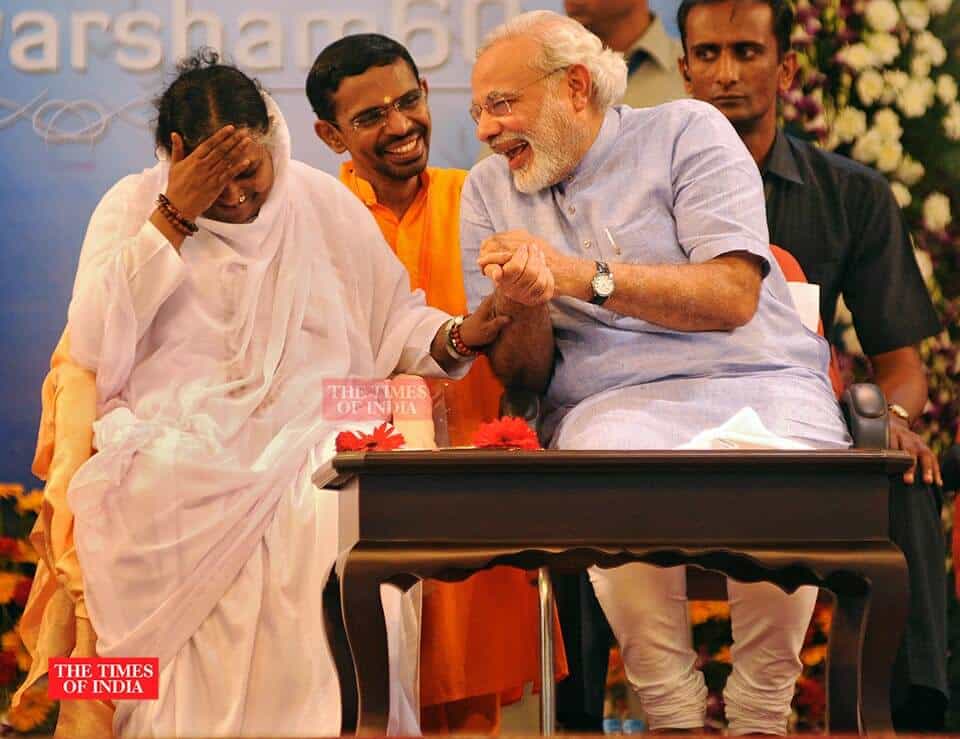 What type of Photojournalists will be high in demand in the near future?
One would need to make his/her work stand out amongst the numerous shutterbugs.
If you can multi-task that would be an additional benefit.
With the widespread use of Mobile for clicking pictures, there is a shifting trend in the need for a photojournalist. If X person is at the right sport at the right time and manages to get a fair enough click on his phone, a paper would not mind publishing that picture. But all said and done, nothing can replace a well thought journalistic frame.

There is a slow shift to engage freelance photographers, so in the coming future that might be the way forward. It would all depend on how you position yourself.
Can you please summarise your career journey?
What are the skills and education required to be Photojournalist in 2020?
Get a camera (don't go for a very fancy one, a basic point and shoot camera would do)
Go out and start shooting pictures. The more you click, the more better idea you would have about the basics of photography.
Try to shoot on manual always, if you really want to learn the art.
I would not suggest a particular institute for learning photography. If you are really interested about it you can read up on the basics online.
For gaining further knowledge, it would be a nice idea to intern at some newspaper or under some photojournalist to see and learn from their work.
You can also follow the work of photojournalists on the social network to learn from their work.
You have to be a patient learner.
I am 17 and I am planning for a similar career path like yours. What advice you have for me?
Finish your graduation and Post-Graduation.
Try for an internship to acquire the skills on the job.
What are some alternate career options for a Journalism Graduates?
Public Relation
Corporate Communication
How do you like to spend your free time?
The job profile I am in, seldom gives me free time but when I have some, I prefer spending some quality time with my family and fooling around with my two and a half year old daughter. I love exploring new places, trying new dishes, meeting new people. Off late, I have dedicated Saturday evenings for myself to learn Kizomba which is a form of Salsa.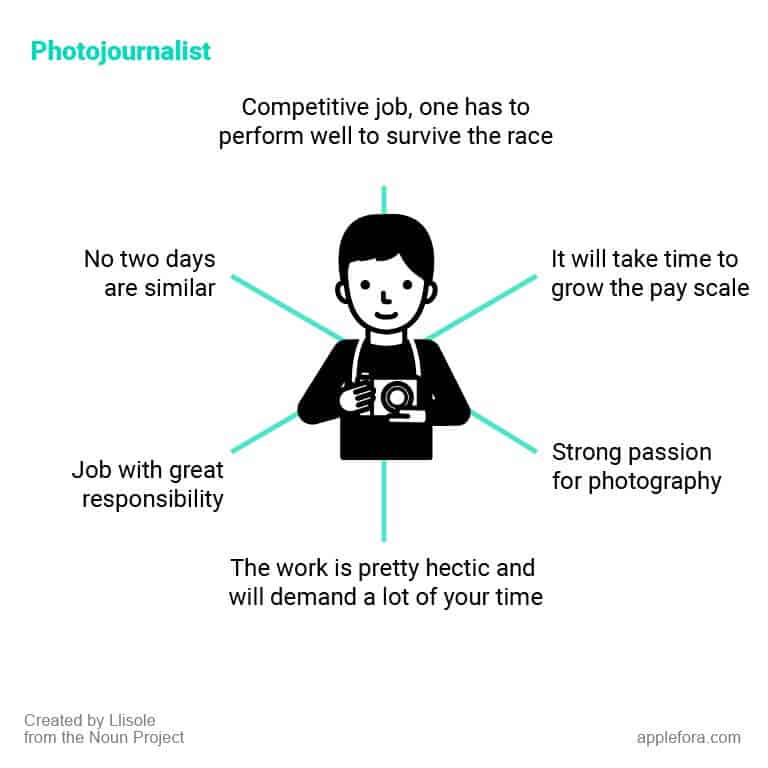 How do I know if a career in Photojournalism is for me?
If you have

an eye for things around you and you can't resist capturing the beauty around you

in your camera, well you are a shutterbug!
Consider photojournalism as a career, if you feel you

have a strong passion for photography.

If pay is what motivates you, don't look at this career as an option,

because it will take time to grow on the pay scale. Not that photojournalism does not pay well, but you gotta earn it with experience.
Any recommended resources for students who are interested in your area of work?
Try to follow international photo agencies like AP, AFP and Reuters to see quality works of Photojournalism.
Follow the work of a photographer who you think inspires you. This is for sure a great way to learn.
What do you think everyone leaving higher secondary school should know?
Have a clear idea about what you want to do in life by the time you are about to finish your schooling.
You can start looking out for colleges where you think you can realise your dreams. It would be a nice idea to talk to some pass outs of the college where you wish to apply, so that you get a better idea about the course and the acceptance of the course in the industry.
What do you like to say to the parents based on their child's career?
Parents have become very ambitious and tend to force their interests upon their kids. Every child has a skill set and knowingly or unknowingly he/she would excel in that field, if let free. Parents should support the dreams of their kids.
At the same time it's dangerous to see some youngsters who are clueless about what they want out of their life and are absolutely without any ambition. On the other hand, some youngsters want fame and money without gaining it the hard way.
But to all the youngsters out there, always keep in mind that, there is no substitution to hard work!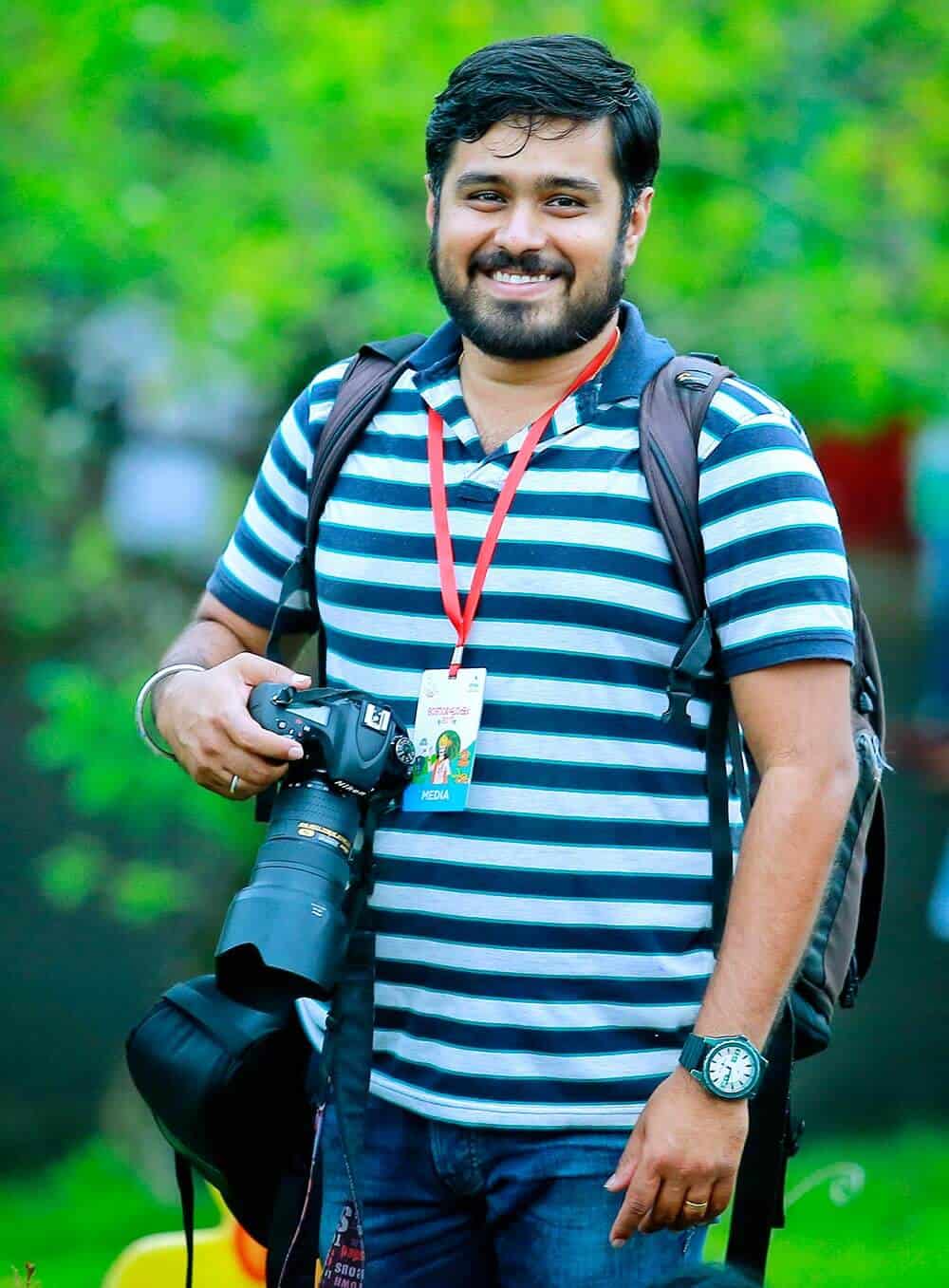 ---
Thanks for reading! 🙂 If you enjoyed this article, leaving your 

comment

 below would mean a lot to me and it helps other people see the story. And you can say hello to us at

hello@applefora.com
If any of your friend is considering a career in a similar area 

share

 this with him/her.
You can 

read

 more real career stories 

here

.