I am Archana Ray, a Management Graduate from National Institute of Technology specialized in Marketing. I am working as a Sales & Marketing Manager in Justdial Ltd. – India's No 1 Local Search Engine, since last 3.5 years.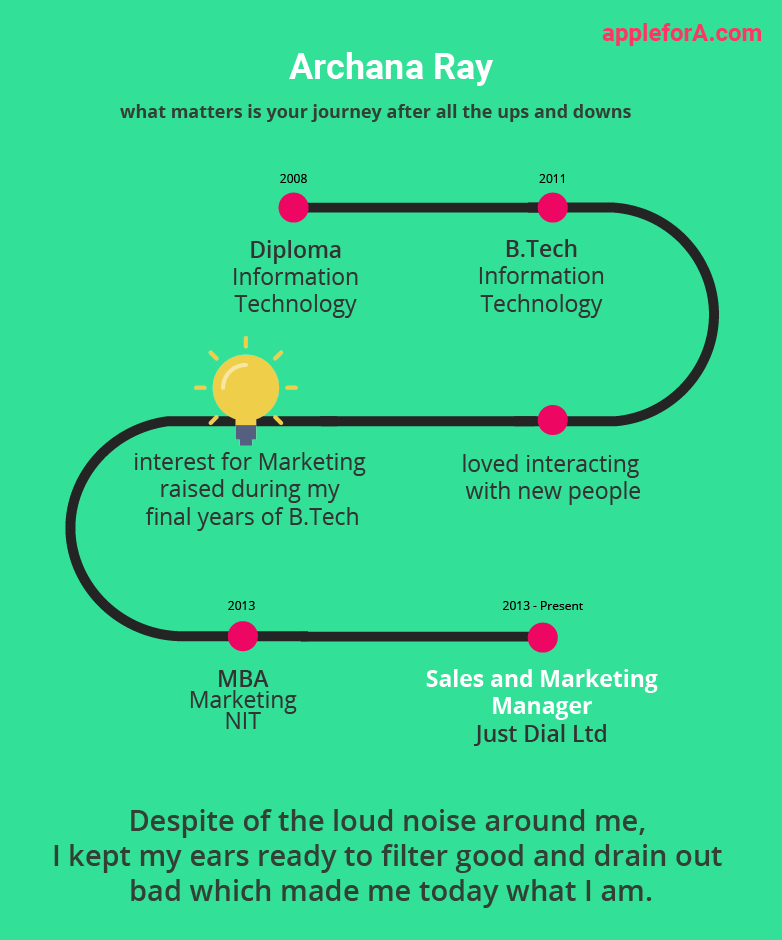 What does a Sales and Marketing Manager do?
As a Sales and Marketing head I am responsible to bring together all of my team members and work along with them to achieve a common shared goal which is indeed tough. When you work single handed, you know where and how you can go. But, when it's about a team, each team member has a different mind and different capability. It's the duty of the Sales and Marketing Manger to keep things in control.
What motivated you to become a Marketing Professional?
My interest for Marketing raised during my final years of B.Tech., when I was good enough in seminars and presentations. I had a paper called Marketing Management which always created an unseen interest in me to pursue the same as my career. I always loved interacting with new people and learning from them. Hence, I regularly got good feedbacks from my professors and peers regarding my interests and decided to apply all of it for a strong career.
Can you share with us your job role within the organisation?
My work profile consists to take care of
business development
new client acquisition
concept selling
sales
corporate selling
cold calling
client relationship management
branding
handling training and monitoring sales teams working all across eastern states.
For those clients who are unaware to do business through internet, I have to make people understand the internet technology and how they can use it to make their business profitable. I am always glad to help all my clients to use digital media for their business.
The job contains both field work and in-house work. My branch office is located in one of the best areas of Kolkata.
What do you love about your job?
My love for meeting people has always been a driving force to pursue Marketing as my career. I never get bored or irritated in long meetings with my clients regarding their market requirements and the services my company is offering.
For me each and every client is a learning story. And each story always gave a good inspiring thought which helped me for my next day. Basically it's a continuous learning process where you need to change yourself with your client and market requirements.
What challenges are you facing in your current role?
Coming to challenges I faced a lot of them and I believe without them I can never enjoy my work.
First, mainly being a girl the big question mark was, why you cannot opt for any other areas like HR, Finance, IT or Operations. According to the society (Stereotype Minds) a Marketing Career is not suitable for a girl, because it's believed that the amount of exposure, energy and hectic schedule it needs cannot be handled by a girl. Well although this kept on going all around me as I am from Eastern Zone of the country, I somehow made myself to believe that nothing can stop any person to do if he/she really wants to.
Secondly, my job basically depended on making people reach towards Internet Technology to improve their business. This was challenging as there are lot of untapped and unscratched areas still unaware how to do business through internet.
Another biggest challenge was facing rejections. When you know you are giving your best and still not getting results,it creates pressure and questions in mind. There were many cases where it was like a continuous loop for me (trying, trying and failing). But those rejections always made me more and more persistent and today I am highly persistent and don't let rejections lose my confidence. Continuous change is inevitable.
What do you think potential recruiters will look for in a management graduate?
Decision Making Skill

Strong Communication

Crisis Management

Optimum Resource using Ability

Persistence

High Confidence
What are some career options for a marketing graduate in today's world?
Market Research

Entrepreneurship

PR (Public Relations)
Who do you think should take up this career choice?
Marketing is for those people who love challenges, love meeting people, love having communication with people all around the globe and those who want to grow with challenges in life. If he/she is planning to take up marketing, they should be presentable and bold enough to face hectic schedules.
Marketing always demands exclusive people with exclusive ambitions.
Any recommended resources for an aspiring Marketer ?
Explore, explore and explore. It may be through internet, through media or through events. The more you take initiatives the more you will be confident about facing clients.
You have to sell your ideas before you sell your product/services.
What advice would you give a high school student who is considering a career in Marketing?
It's never advisable to be desperate and misguide and give miss-commitments to your client just for the purpose of selling. As its said, Marketing is always long term and a good salesperson always should go for long term relations. My advice will be if you are dedicated, both smart working and hard working, persistent and love to face challenges then go for it.
Any final thoughts?
In these 3.5 years I realized it's very important to choose your career based on what you really love to do and what makes you happy. Only then you can perform well and lead a happy life. Being happy and satisfied is very much important to prosper and to achieve. That will lead you to the position you have always dreamt off.
It is not only important to be successful, what matters is your journey after all the ups and downs. How you are able to cross the hurdles and after you are successful how consistent you are in it.
I am really happy today for what I am doing and for what I have chosen. Despite of the loud noise around me, I kept my ears ready to filter good and drain out bad which made me today what I am.
EVERY CLIENT IS A LEARNING STORY. ACCEPTANCE INSPIRES, REJECTIONS CREATES BETTER IDEAS. NEITHER OF THEM CAN BE IGNORED. YOUR MARKET IS CHANGING, YOUR CLIENT IS CHANGING SO YOU NEED TO CHANGE TOO ACCORDINGLY.
---
Thanks for reading! 🙂 If you enjoyed this article, leaving your 
comment 

below would mean a lot to me and it helps other people see the story.
If any of your friend is considering a career in a similar area 
share 

this with him/her.
You can 
read 

more real career stories here.