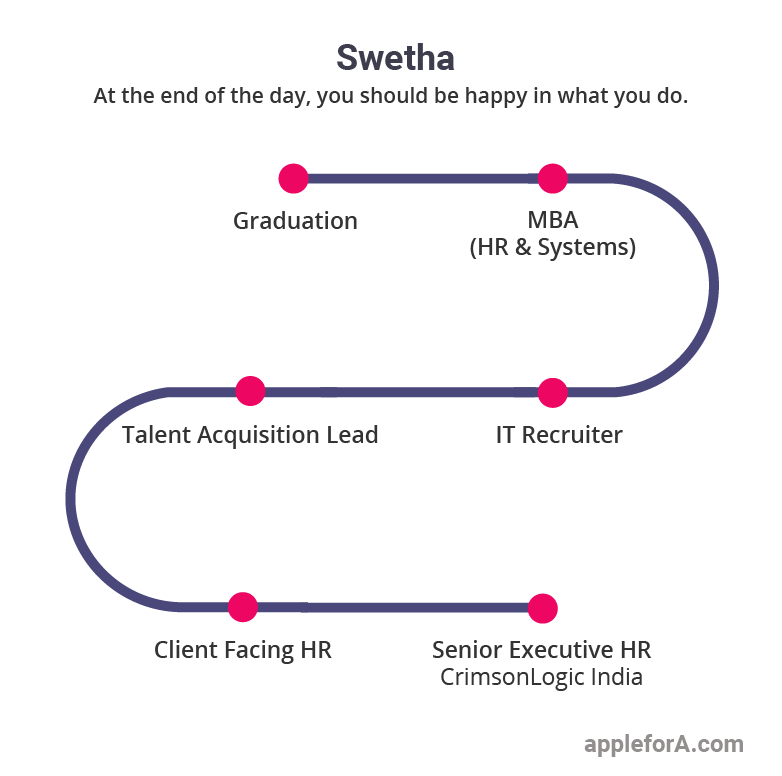 Hi, I am Swetha, working as a Senior Human Resource Professional at CrimsonLogic with 12 years worth experience. My role is to engage, enable and enrich talents and help them in achieving company goals with passion.
I hail from Kurnool, Andhra Pradesh. My parents are my strength and weakness. Life was not easy for me. My childhood was completely on medication and diet as I am a Vitiligo patient. My skin started changing and had to face many questions from my friends, neighbours, relatives for which I had no answers. I asked my mom, Why me? I still remember the answer she gave me "You are lucky enough that God has given you everything that you can live independently. Think of those who are suffering from disability or mental disorder".
This answer changed my life and I never looked back again.
How it all got started for you?
I really don't know. But I was sure that I didn't wanted to be an Engineer. I had no plans on what I wanted to be during my schooling. I developed passion towards Human Resources during my post graduation and it's just growing every day with the new challenges.
What is your typical day like?
I start my day in office at 8:00 AM. Once I reach, I write list of tasks to be completed and prioritize before I actually start my work. Meeting and greeting with a smile is part of my every day routine. It's challenging to make a workplace more fun, positive and engaging.
My current job role is –
organizing creative engaging events

resolving employee queries

reviewing policies and procedures

onboarding

resource management

training and development
My work ends at 5:00 PM. I end my day after reading HBR articles, explore LinkedIn. I recently developed practice of watching/reading Marshall Goldsmith's excellent articles/videos on various management thoughts and best practices before I sleep.
What did you learn after you started your career?
I learnt to be a Leader after I started my career in HR. Amazing journey with many challenges and I learnt that every problem has a solution. It's ok to do mistakes but should not repeat the same.
What do you advice to your younger self?
I strongly recommend to do a research on importance of human resources (or your choice of career) and their roles & impact in an organization/industry. This will surely lead to analyze the improvement areas to develop oneself.
What do you love about your current role?
I get the opportunity to meet diversified people every day and it's a two-way learning every day. Apart from that I am responsible for creating fun, engaging workplace and I thoroughly enjoy doing this part in my current role.
What are the challenges you face in your career?
I need to wear different hats every day being in HR profession. I need to act as a mentor, be empathetic, creative, people person which is little challenging.
What type of HR Professionals will be high in demand in the near future?
HR Professionals who understands the business and formulates the strategies as per the business requirements is for sure in high demand at any point of time.
Can you please summarise your career journey?
Education:
+2 – MPC, St. Joseph's Degree College, Kurnool, A.P (2000).
Graduation  –  Bachelor of Science, Sri Krishnadevaraya University, Kurnool, A.P (2003).
Post Graduation  – MBA(HR & Systems), Sri Venkateswara University Campus, Tirupathi, A.P (2005).
Work Experience:
IT Recruiter | Ambletek Solutions Pvt. Ltd. (Formerly known as SSG Global Services India Pvt. Ltd) |Dec'2005 – May'2007.
Talent Acquisition Lead |Kelly Services – Client Place: Motorola Solutions India|July' 2010 – April'2012.
Client Facing HR |Kelly Services – Client Place: Motorola Solutions India|April' 2012 – Feb' 2014.
Senior Executive HR |CrimsonLogic India |Feb 2014 – till date & May 2007 to Jul 2010.
Certifications:
Executive Program in Human Resource Management from IIM, Kolkata (2015).
Certified Trainer in soft skills.
Future Aspirations:
I aspire to be a Coach and help organizations to build legendary teams.
What are the skills and education required to be a HR Professional in 2020?
Education:
I recommend Indian Institute of Management, XLRI institutions to build your skills in Human Resources. Their curriculum is amazing with various case studies, current industry trends and experienced professors.
Skills:
Communication and Analytical skills plays a vital role in decision making. According to me, learning attitude and patience are also key factors one should have to succeed in this profession.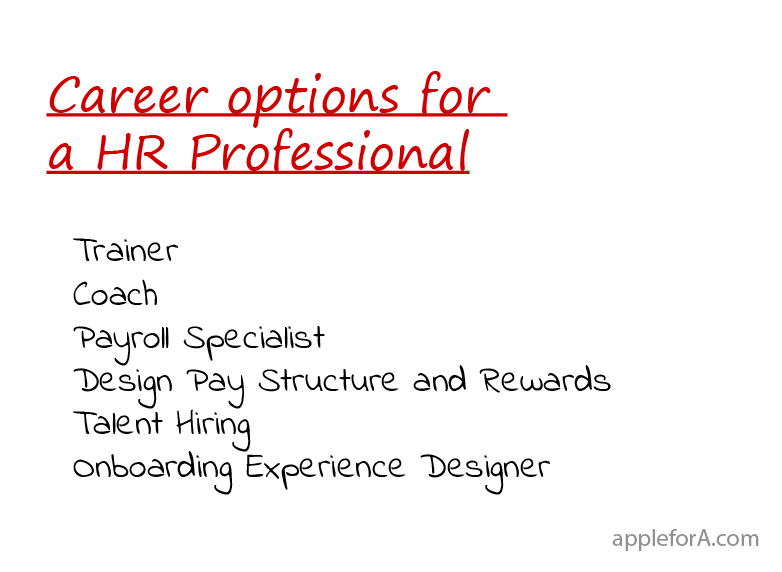 What do you look for while hiring someone, other than the role specific skills?
It's ATTITUDE which matters the lot.
How do you like to spend your free time?
I am a TV person and spend most of my time watching TV. Cooking and gardening are my stress busters.
Apart from that I love reading articles and biographies of famous personalities, which is definitely inspiring.
Who do you think should take up this Career choice?
You can explore career in HR, if you have the capability of being a,
People person
Patient and passionate
Learning Attitude
Good listener and can inspire others with yours ideas and thoughts
HR is definitely considered to be a game changing role in the future. Go for it if you are passionate in Human Resources.
What are some resources you use to keep yourself updated about the industry?
HBR – Facebook Page /Harvard Business Review
PeopleMatters – Facebook Page /People Matters
Coursera – Explore courses from top universities on various topics.
What do you think everyone leaving higher secondary school should know?
At the end of the day, you should be happy in what you do. Explore your happiness (it can be cooking, gardening, cycling, swimming, painting, maths, gadgets, agriculture, science, etc.). Choose what makes you happy and that's when you give your best.
Once you choose your favourite career, start exploring various options available for you to succeed.
You should talk to your brothers, sisters or anyone who are already enjoying success in their lives and get valuable inputs on how does industry work. You can connect with industry leaders through social networking sites and ask for suggestions. There are many leaders who are happy to help you.
Improve your communication skills, get more insights on expectations from Industries and prepare an action plan.
Ensure it's you who understand the concepts thoroughly and do your research. You have GOOGLE handy now.
Any final thoughts?
Believe in yourself, take action to achieve your goals and results will follow.
Belief has the power to create and the power to destroy. – Tony Robbins
---
Thanks for reading! 🙂 If you enjoyed this article, leaving your 
comment 

below would mean a lot to me and it helps other people see the story. And you can say hello to us at 

hello@applefora.com
If any of your friend is considering a career in a similar area 
share 

this with him/her.
You can 
read 

more real and inspiring (not really typical motivational stuff) career stories here.