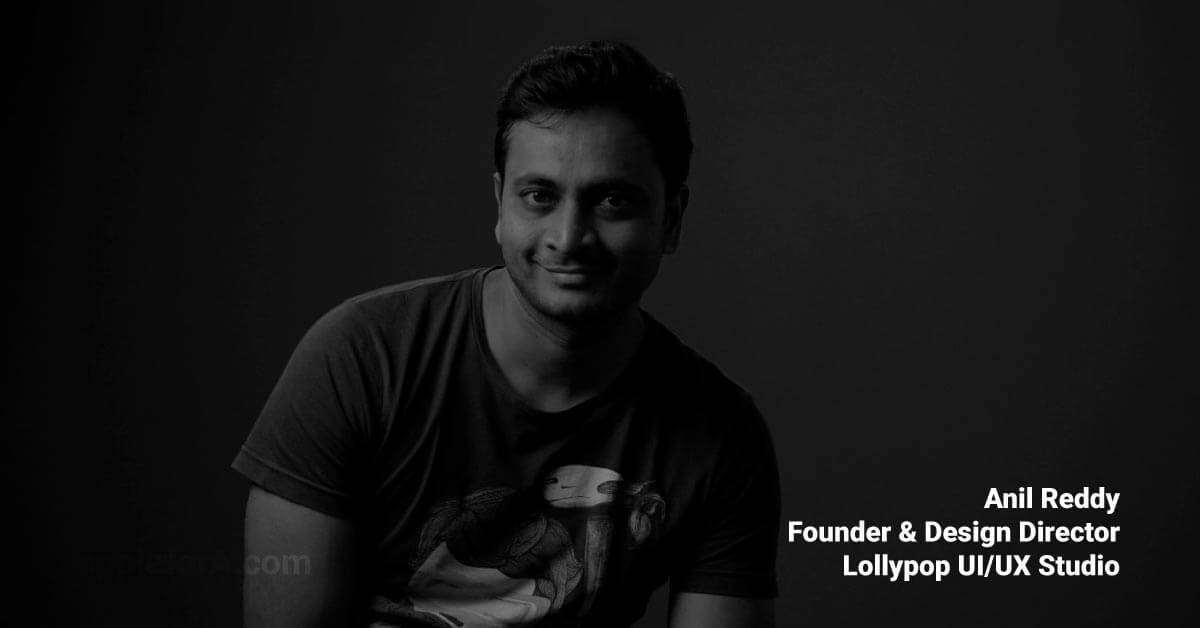 I'm Anil Reddy, founder and design director at Lollypop Design Studio. I am a Fine Arts graduate from Karnataka Chitrakala Parishat and a post graduate in Visual Communications from Design and Arts College, New Zealand.
Who is a Design Director?
Design Director is a combination of three major roles:
A brilliant designer, a great conversationalist and a people's person.
The first two skills are required to design a solution that's innovative, tech savvy and user centric. And, at the same time it helps to convey the thought process successfully to fellow designers and clients so that they can thrive and grow on your ideas.
Whereas, the third skill characterizes the leadership skills, it is quite impossible to be a good leader unless your team respects you and is ready to listen.
Therefore, a Design Director is a leader who can make the team discover their hidden potential by driving them out of the comfort zone by setting live example using oneself.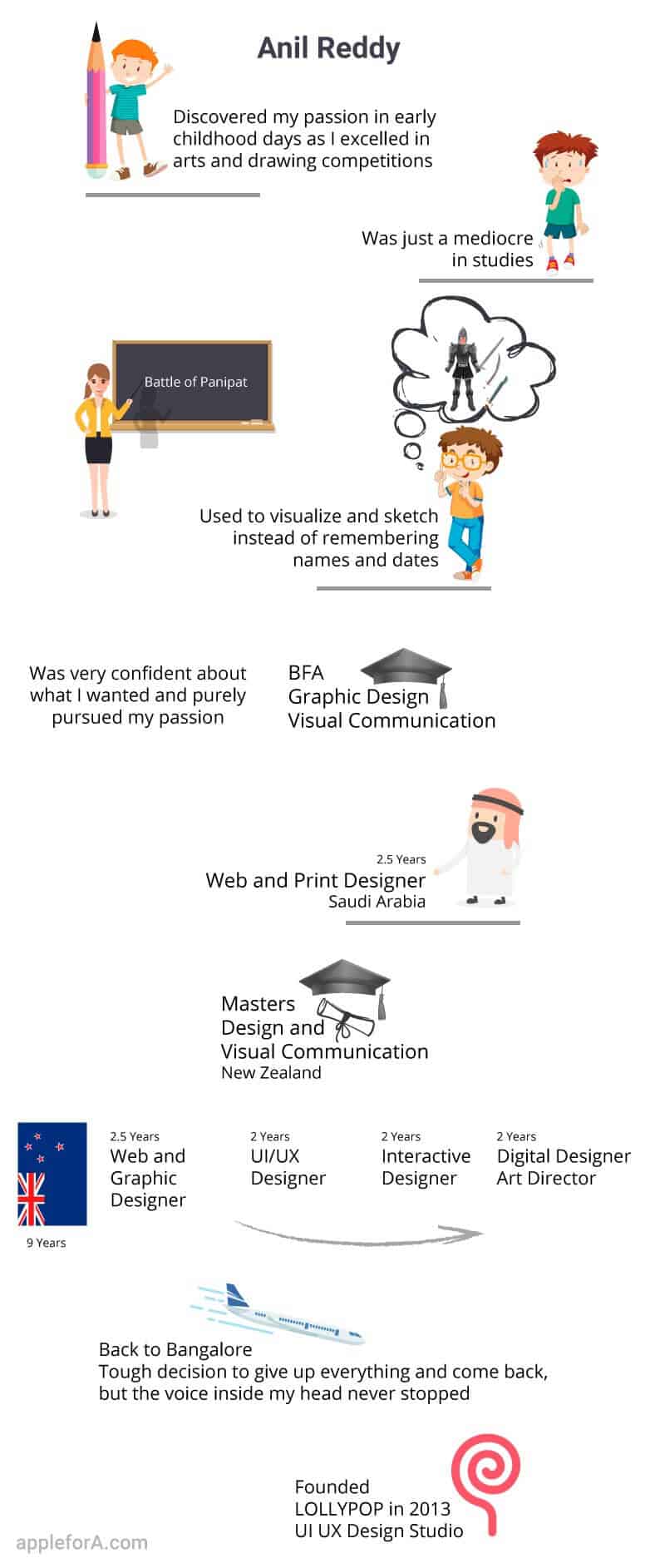 What did you want to be when you were in higher secondary school?
I am lucky to have discovered my passion in early childhood days as I excelled in arts and drawing competitions and was just a mediocre in studies. Those days are unforgettable and I still remember my history teacher who was teaching us 'Battle of Panipat' and I would be visualizing and sketching the battle instead of remembering names and dates.
I was very confident about what I wanted and I purely pursued my passion.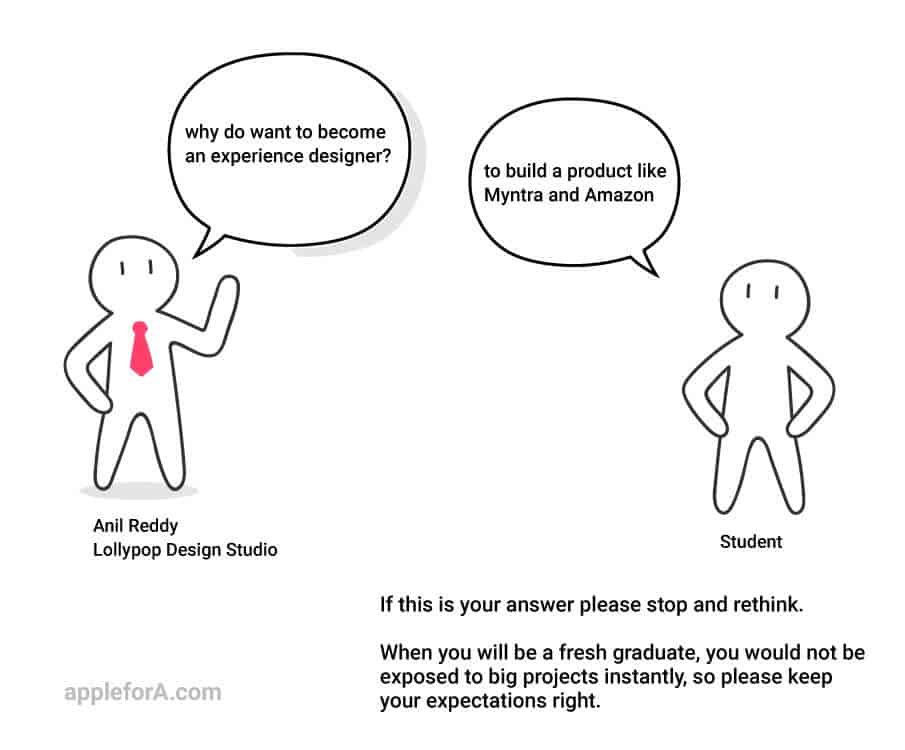 What is your typical day like as a Design Director?
My day begins early around 5 AM by hitting the gym. And on a treadmill I chalk the action plan for the day. I spend a good family time early morning with my kids and reach studio by 9.30 AM.
I love catching up with the team before getting down to the real drill. Most of my time goes into overlooking the visual design team, meetings with clients and my commitments towards design eco-system, be it helping students being a jury or being present in a design talk.
Amidst all the hustle and bustle, I definitely take out some time to design because that is what keeps me alive.
What drives you?
I envision to 'put India on a world map as a digital design destination' and this is a driving factor each day.
How different are you from an 18 year old you?
I am a more mature and patient version of me. The passion for design is still the same, but what I have learnt over the years is people's management.
Why Lollypop?
I founded Lollypop, a dedicated UI/UX Design Studio in 2013. After working for 9 years in New-Zealand, I returned to Bangalore to start my own design studio. I owe a big thank you to many designers and professionals I met during my career who always had a negative opinion towards India with regard to Digital Designing Space. This thought got stuck in my head and triggered me to take a step towards entrepreneurship, I want to put India on a world map as a digital design destination. It was a tough decision to give up everything and come back, but the voice inside my head never stopped.
What's the story behind Lollypop?
Lollypop was a complete roller coaster ride. When I introduced the concept in India, not many corporate houses were aware of the design field and none wanted to invest. Everyone would spend millions on physical office, product and its packaging but none would spend on their digital presence. I started alone and designed for various companies at exceptional nominal rates. Thankfully, I was able to get projects from New Zealand to manage my finances.
The biggest and foremost challenge was instilling an understanding about the need and importance of the experience design in digital space by corporate houses. I began with giving a workshop and this is something we have carried forward at Lollypop. Second big challenge was growing my team of designers who share equal passion for designing. This took some time but I was lucky to find few designers in my journey who were willing to learn and grow.
Today, we are a team of 70 plus designers and are ranked among the Top UX/UI Design studio globally. We have designed over 150 projects across 20 industries and have a clientele base in 11 countries. We have worked with established brands as well as various start-ups and results have been amazing. Our success stories shows that we are treading on a right path, though there is still a long way to go.
If you are given a chance to change something in the past, what will you change?
Honestly, I wouldn't change a thing about the whole experience, because every past moment has shaped me into who I am today. I never knew what design held for me and if I would ever earn, because in those days this was not a respected profession by far. But what I have learnt is that, life presents you with many opportunities, only if you learn to believe in yourself. The journey of Lollypop has been full of hardships and few tough decisions, but at the end it's all worth it.
How is the actual career different from what you initially thought about it?
Workplaces are always different from our whims and wishes. Practical space teaches you the importance of timelines, communication skills and being able to work in a team. You realize that you need to break your comfort zones and have to prove yourself every single time to drive the trust factor in you. It's like discovering a new self each day.
What have been the most surprising elements of this career?
The most surprising element of my career is my entrepreneurship stint. I always visualized myself as a designer and till date I am learning business skills.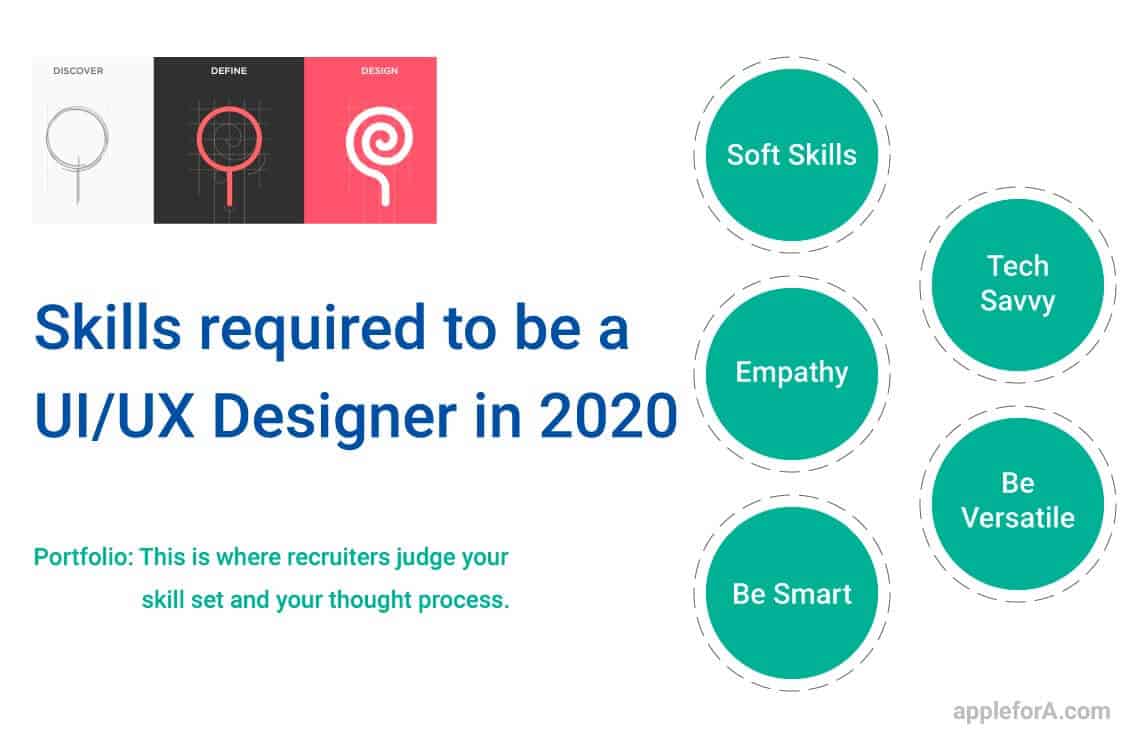 What did you learn from your career?
I learnt that there is no end for knowledge. You need to keep learning, unlearn and try out new things.
What advice you have for your younger self?
The first advice that I would like to give is, learn to respect your profession and others along with it. As designers we are somewhat rebel who do not respect timelines and are in pursuit of some novel idea that will revolutionise everything. But, in truth the improvisation of existing ideas bring in the revolution and that too when it is timed properly.
Second one is that learn soft skills along with the design skills. We as designers are never taught to have a personality that sweeps away others. We need to have a good command over the language and business etiquettes. Every designer should be taught how to communicate their ideas to others.
How do you like to spend your free time?
I am always on the run, but whenever I get time, I spend it with my family, workout at gym and sketch more.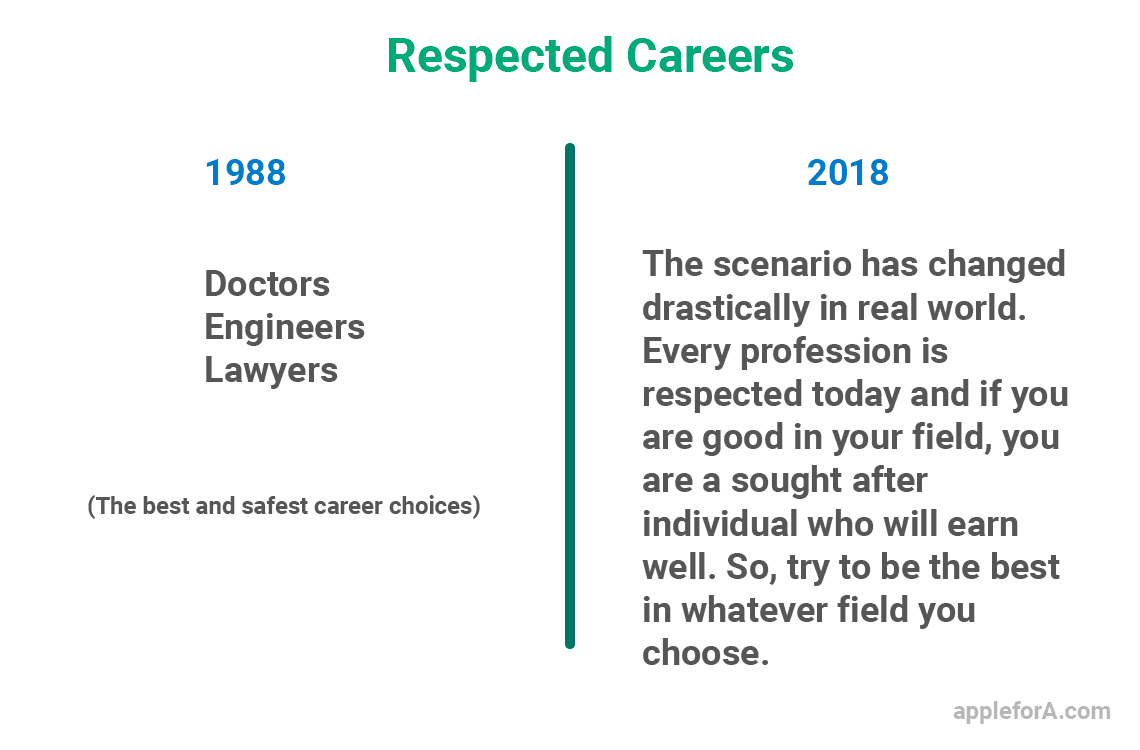 What do you love about your current role?
My likings have grown as I juggle different roles.
As a designer, it is intriguing to provide solution to some of the most fundamental problems of economy and ideate on new ways to improve everyday life of human being.
As an entrepreneur it is always a treat to come and meet my team and observe how each one of us have come together to make the vision come true.
What are the challenges you face in your career?
As an entrepreneur my life is going crazy and time is becoming unpredictable. What I truly find hard is to make everyone happy at my studio, because there are times when I have to take tough decisions and there are times when I have to intervene into petty issues which is liked by few and disliked by others.
In moments such as these, I find my energy drained but as the saying goes – 'you gotta do what you gotta do' and in things such as these I have less control. But, I definitely try and make it up by catching up with people on a personal level and fix things outside the office.
What type of UI/UX Designers will be high in demand in the near future?
In a long run there is going to be no distinction in terms of UX or UI designer. We will have one person who will be doing the research, experience design and visual design. Designers would also need to have the basic coding knowledge to ensure that their designs are in line with technology.
Designers cannot limit themselves in roles, you have to be an unicorn to emerge.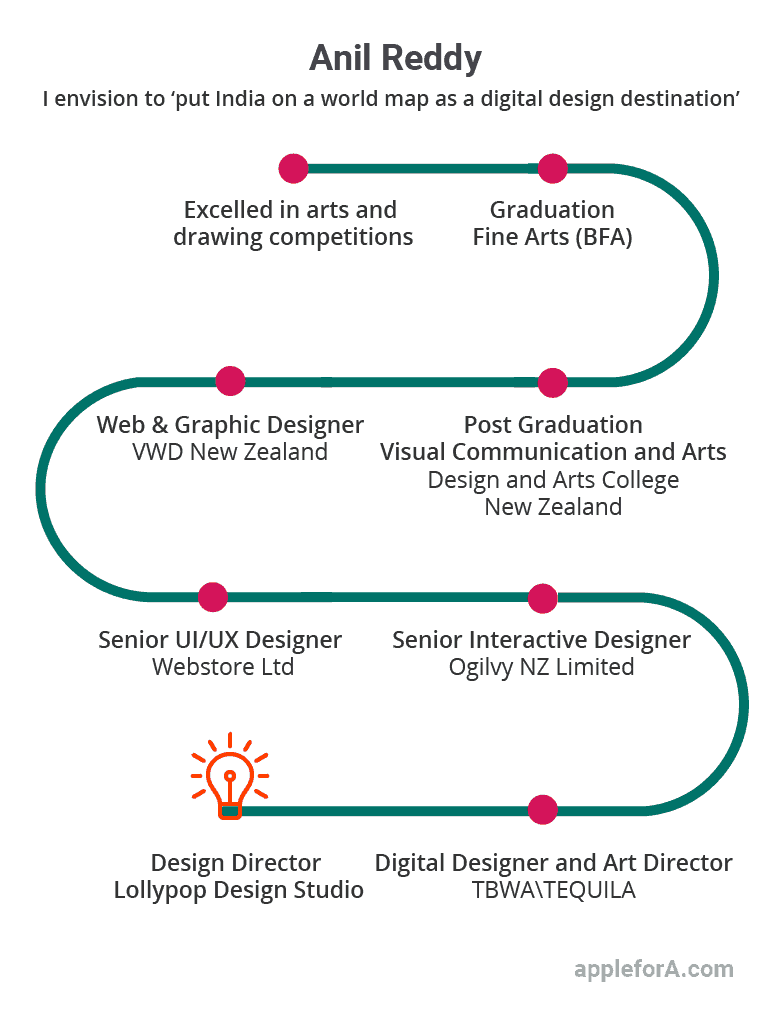 Can you please summarise your career journey ?
Future Aspirations: Put India on a world Map and teach students.
What sort of experiences helped prepare you most?
In my first company, I had very less interaction with other departments. But as I stepped up in career and joined bigger organisations, I had to improvise my people skills as I was to deal with not just fellow designers but lot many people. And, this has been a major breakthrough in my career.
While working for bigger brands, I learnt the do's and don'ts of design. Bigger brands came with lot of responsibilities and expectations. I learnt to dive deep into the brand and the product and understand the core values for designing their digital experiences and also for positioning them right. This is the time when I learnt about positioning products in the markets with a meaningful interface.
In few companies I was responsible for scaling the team. I played a key role in hiring and training which today is an asset for me.
There are many good moments, but all I can say is that every moment has got me to where I am today.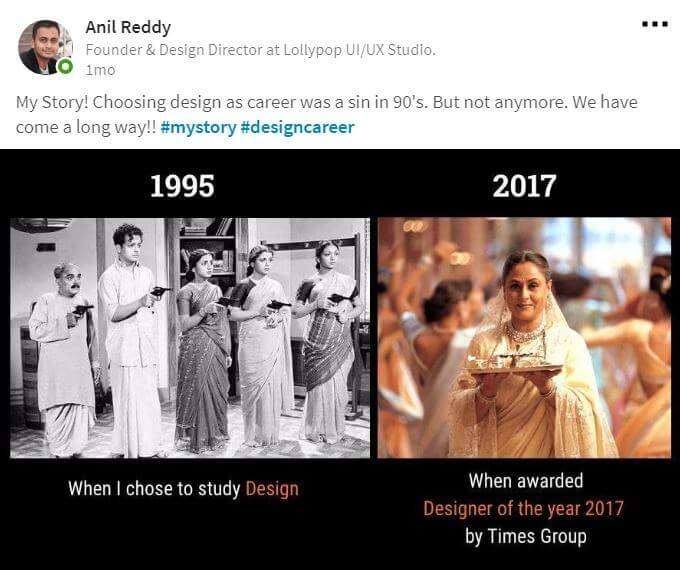 What are the skills required to be a UI/UX Designer in 2020?
Any design school will teach you the skills and methods, but what would really help you stand out is your willingness to learn and discover. In my journey, the best designers that I have met are generally self learnt designers. This is because they go beyond their regular learnings and they want to know nitty and gritty of everything that relates to design.
If we talk in Indian context, what designers really need to focus on are:
Soft Skills:

It is great that you can create designs that can do wonders in the industry. But, what is the use if you cannot communicate the designs with the stakeholders and are not able to bring them up to trust you? What good happens if the involved people cannot visualize your thought and understand your ideas? How do you expect people to trust you when you lack basic business etiquettes?

Empathy:

We designers are generally laid back lot who likes doing things their way and are extremely rebellious. But, when you are working in the ecosystem, we need to tone down and adopt to the few basic methods of the system. We designers always work with a number people of who are less acquainted with designers and let's all accept that we are poles apart. Learning and accommodating each others needs is to be learnt.

Be Smart:

Gone are the days when we used to sit and ideate on the colors and shapes. We are living in the world of startups where founders want to hit the market soon, test the product and retry another idea. To be able to sustain in such an environment, designers need to be really smart and on their toes. One should know where to spend how much time. For example, we spend most of the time in research and insight stage and later we are extremely quick on design front.

Tech Savvy:

As a digital designer one needs to be extremely tech savvy and should be aware of all the digital platforms. You have to be acquainted with the different platforms that you would be designing for, because only when you know the possibilities and limitations of the platform you can provide a feasible and beautiful solution.

Be Versatile:

With the upsurge in demand for designers, we witness that most of the designers get into the habit of limiting themselves and defining their boundaries in respect of various disciplines such as illustration, visual design, experience design and so forth. But, this practice and mindset is fatal to their career. A true designer is like a unicorn who has ability to discover any discipline of creativity. They should learn to have a balance and though they may like one discipline the most, they should be able to perform at other levels as well.
I am 17 and I am planning for a similar career path like yours. What advice you have for me?
Learn the skills by enrolling yourself into a good design school. But, at the same time work towards the pointers, I just elaborated in the point above.
What are some alternate career options for an UI/UX Designer?
Teaching

– one can try teaching and spreading the knowledge as India needs good designers adopting teaching as a profession to spread the awareness.

Illustrator

Design Author

Design Recruiter

Entrepreneur

Photography and Movie direction

– the alternative career paths of creativity.
But, why would you want to switch when you have power to improve the everyday life of the people within your hands.
What factors do you/potential recruiters look for in a fresh UI/UX Designer?
Three things that everyone look into a new talent are:
Portfolio: This is where we judge your skill set and our thought process.
Soft Skills: As we all say personality cannot be trained. So, new recruits have to gel in with the in-house culture. Many small things are noticed here like communication, etiquettes, temperament, nature, etc.
Education/ Courses: Where have they adopted their skills from. It is not necessarily a major criteria but some course in design is helpful to train them further.
Who do you think should take up this career choice?
Having a basic education is a good thing. But if you want to enter a creative field the indications are very clear. You might want to look into this career, if you are naturally wired to look for solutions and think from different perspective. Also you have to be a visualizer along with being good at some discipline of creativity, be it painting or sketching.
One should understand that creative field is not a job, it's a career. This requires extreme amount of hard work and dedication with absolutely crazy hours, are you ready for it? If the answer is yes, this field is for you.
As a designer, do not expect to climb the ladders of hierarchy that we find in different professions or job roles. You will always be a designer and would be known for it.
What are some resources you use to keep yourself updated about the industry?
I generally read few blogs on smashing portal and few design books. But, what really inspires me is the everyday life. There is an extreme amount of inspiration every second if we are open to learn from each other and just learn to observe. When you connect with new people and hear different problems, you get inspired to solve more.
What do you think everyone leaving higher secondary school should know?
I have asked many students as to why they want to become an experience designer and many answer that because they want to build a product like Myntra and Amazon. If this is your answer please stop and rethink.
Currently, designers are in demand. But, when your batch will graduate, India will have enough designers and the profession would become like any other. You would not be exposed to big projects instantly, so please keep your expectations right.
When I was working in New Zealand, for a long time I was only working on header, footer and forms. And this is exactly what India will also become, when you will be a fresh graduate, you will be given an extremely small pieces of work to design and you will not be exposed to bigger projects.
From your point of view what you do think the current generation and their parents are collectively doing wrong?
This is too biased and has no specific answer. I am no judge to tell what people are doing right or wrong. What one wants to do is completely an individual's choice. But what I have observed is, still there are many parents in India who believe that few professions such as doctors and engineers are the best and safest career choices. They consider, if their children take up any of those course they would be able to lead a healthy life.
But, the scenario has changed drastically in real world. Every profession is respected today and if you are good in your field, you are a sought after individual who will earn well. So, try to be the best in whatever field you choose.
What I can definitely suggest is be fearless and believe in yourself. Because you will be the best version of yourself only when you are in love with your everyday life. We end up spending anywhere between 8 – 10 hours every single day on our job, so why not pick something that we are good at and turn that into a living.
I can give my example here. When I started design, it was looked down upon as a career option and was not paid for at all. But, I did not lose hope and pursued my passion, today, it is the most highest paying job across the globe.
How to make a leap and grow in one's career?
If you truly want to grow in your career, as a person be open to learning. Every single situation or individual you meet throws at you an opportunity to refine yourself and add an additional skill set. You can read my article on 'Getting clients in a design Industry' to understand what I mean in depth.
You can never do everything alone. But, you can build an empire with the help of people who are expert in their respective field. The more you learn to help and focus on creating a win-win opportunity, the faster and better you will be.
Their will be many instances where you can be selfish and look for your own good, but that gratification will be momentary.  Instead, the day you learn to grow with each other, you will become invincible.
Any final thoughts?
Learn, explore and respect.
---
Thanks for reading! 🙂 If you enjoyed this article, leaving your 

comment

 below would mean a lot to me and it helps other people see the story. And you can say hello to us at

hello@applefora.com
If any of your friend is considering a career in a similar area 

share

 this with him/her.
You can 

read

 more real career stories 

here

.
Get 3 months of free membership to learn UX Design!