There is a fine line between a Qualified Engineer and a Certified Engineer.
I wish the young engineers would know the difference and bridge the gap between Academics and Innovation.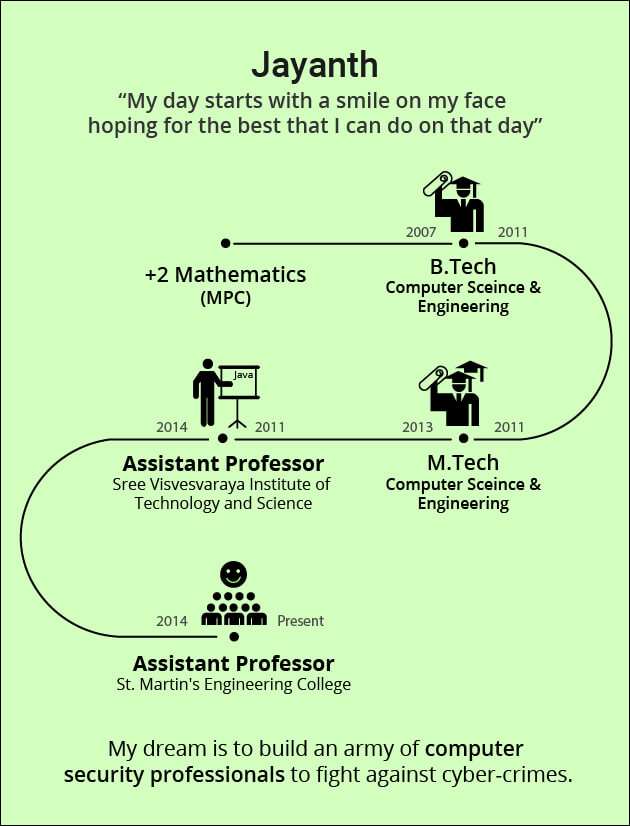 Jayanth is working as an Assistant Professor (Computer Science) in one of the reputed Engineering Colleges in Hyderabad.
A self-motivated individual with a strong passion towards teaching, with over six years of teaching experience. His passion towards teaching helps him to be innovative day by day and stay creative. As a Computer Security enthusiast, he loves to spend time researching on Cyber-security to teach and share his thoughts with people around him. Being an educator by profession, he spend most of his day, interacting with young minds.
Who is a teacher according to you?
Teaching in the field of Engineering is the process of putting young thoughts into action. According to my opinion, a person who can make students think, can be recognized as a teacher.
What is your typical day like?
My day starts with a smile on my face hoping for the best that I can do on that day.
As Assistant Professor, my regular activities include taking classes for undergraduate students of Computer Science & Engineering, preparing course plans, project report evaluation and student assessment. Apart from college academic activities, I love making space for discussions with students related to subject matters, at times career plans. This gives them the opportunity to know how people think/behave and make decisions. These discussions creates a healthy environment for students and helps them to explore more. In fact, this helps in identifying career options based on their interest, which in my case didn't happen. So, I don't want my students to act as the audience in building their own future.
I plan and execute my regular classwork in a way beyond the traditional one-way teaching learning process. I always try my best in creating an interactive classroom environment, allowing students to think and question everything. In order to achieve this motto, I keep myself engaged in learning new things every day.
I believe, that improvement in Knowledge is possible only by sharing what you know. I have trained groups of young computer security aspirants on various domains of information security.
It is my dream to build an army of computer security professionals to fight against cyber-crimes.
What do you love about your job?
It's a well-known fact that teachers are underpaid for the efforts they put in moulding students and making them lead a successful path. But, only a teacher can feel the joy of a student's success, which is more than anything that anyone can pay.
What are the challenges faced by educators/teachers?
Teaching engineering students is not always an easy task. A classroom of 60 students are from various backgrounds with different ideologies. An unified academic curriculum for all students, regardless of their ability to grasp things is a challenging task for a teacher to teach and make them understand. In the early stages of teaching it will be tough to manage. But with dedication towards work, eventually a teacher can get to know, how to handle students and create a great learning environment.
How do you like to spend your free time?
Besides teaching, I'm a self-taught Artist, Computer graphic designer, and even do creative lettering (Calligrapher). The original artworks which I did in my free time were exhibited at Art Galleries in Hyderabad. I spend my vacation to learn new technologies (Research on current trends in Information Security, Web design and development, iOS mobile application development). Later on, I prepare a simplified version for learning to present it to my students, perhaps my second family.
What did you want to be when you were in college? What motivated you to become a Computer Science teacher?
I still remember the day when I told my school teacher that "I want to become a lawyer". And yet it was totally unclear, what I was going to do after my graduation. But, people around me were very clear in seeing me as a Software Engineer. I thought and decided after graduation, that teaching profession is the best fit for me.
I'm so blessed that my parents never made any restrictions in planning my future. Thus, strong passion towards learning new things made me choose teaching, as a career.
Does the career fit you as you thought it would?
Yes, I am delighted with the decision I made. " The Best Teacher Award " which I received from college management is a proof. This always motivates me to put my best for years to come.
What are the skills and education required to be a lecturer?
It is compulsory to hold a Master's degree to start a career as lecturer. But along with that, one must be strong in knowledge in the concerned domain with a willingness to upgrade the existing skills. 
Required Skills:
Presentation & writing skills (40%)
Communication skills (30%)
Ability to simplify concepts (20%)
People skills (10%)
Who do you think should choose Teaching as a profession? 
It is obvious that teaching is a recognizable and respectable profession in the society. An individual who feels responsible for student's overall growth, is the one who can choose teaching as a profession. When compared to Computer Science graduates working in IT organizations, the pay that a teacher with a higher degree in Computer Science can get is relatively low. A Computer Science graduate can hold different positions in the current tech savvy world.
My advice to young computer engineers is, choose this profession by choice but not by chance.
The teaching profession is the best fit for those who are passionate about teaching and not concerned about pay.
It is important to note that a teacher can only earn for living.
What are some alternate career options for a teacher?
A candidate with a passion towards teaching can also choose to work as:
Corporate Trainer – for IT companies
Full-time lecturer – conduct online courses through Udemy, Khan Academy, YouTube
Trainer –  Institute with courses in their expertise.
What do you think everyone leaving higher secondary school should know?
A candidate with interest towards creating innovative things and to simplify digital life can choose Computer Science. A student leaving higher secondary school must be aware of Colleges that can provide quality education (preferably IIT's, NIT's). A candidate must be very conscious about choosing the best college and put efforts to secure admission. Computer Science is a creative field of engineering. Thus, a candidate choosing CS must train himself to develop creative problem solving skills.
Any final thoughts?
The most common problem with students who join engineering is that, they have no idea of what they want to be after four years of the degree course.
It is mandatory, that parents should make sure their child acquires a significant exposure to various career options. Allow them to choose freely the career that best fits for them.
A student with no proper plan for their future goals, will constantly struggle to score marks, leaving knowledge behind which results in unemployment.
---
Team appleforA congratulates you for being such an amazing teacher. Your students are lucky to have you.
---
Thanks for reading! 🙂 If you enjoyed this article, leaving your 
comment 

below would mean a lot to me and it helps other people see the story.
If any of your friend is considering a career in a similar area 
share 

this with him/her.
You can 
read 

more real career stories here.