I am Siddharth Dey, working as a salesman. People like me make or break companies.
Who is a Salesman?
Someone who brings revenue for the organization. We are the ones who are responsible for everybody's salary, which can be late or on time.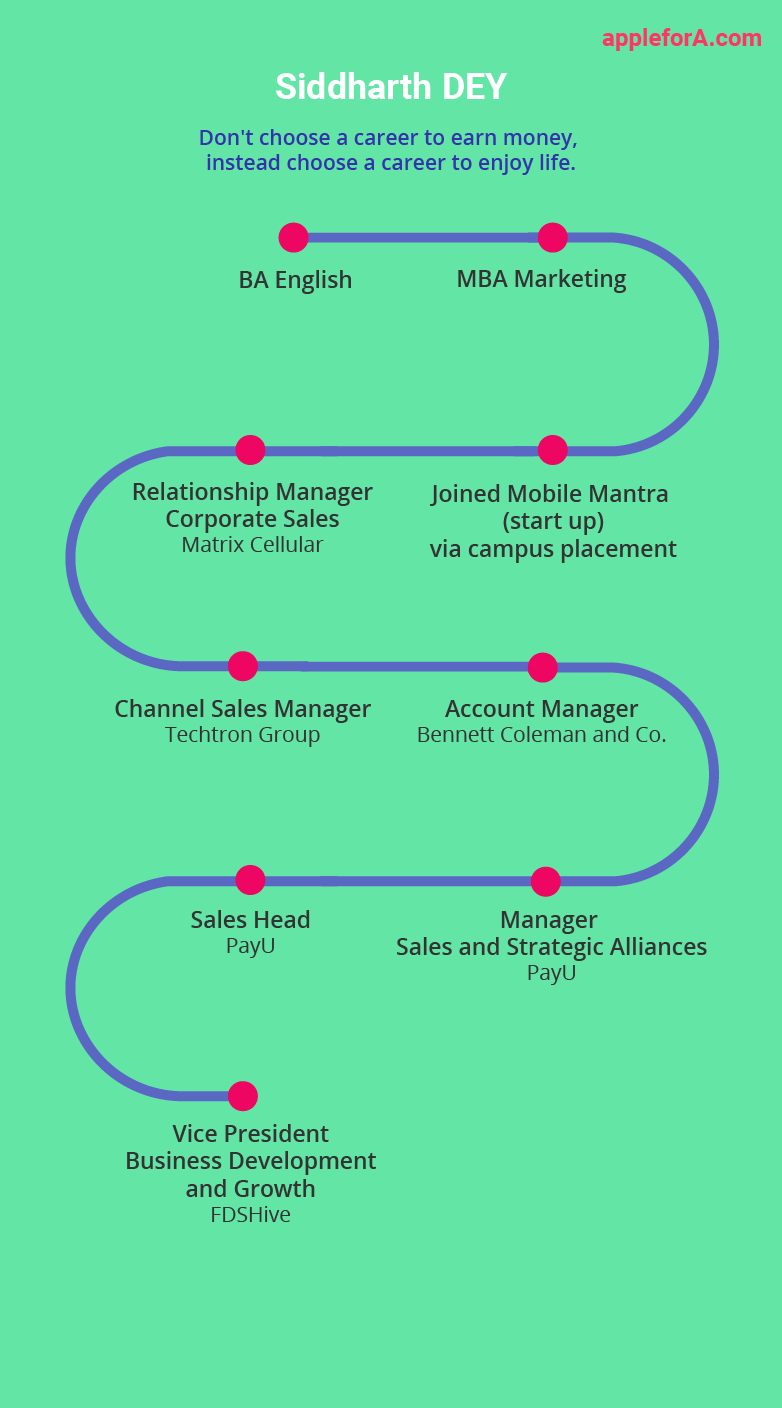 What did you want to be when you were young?
I always wanted to be in the army. I was a directionless kid who did not know what to do even after graduation. Somehow, I got to know that Delhi is a place where I can prepare for CAT. I prepared for CAT in Delhi, but failed to make it to IIMs. But that preparation paid off well for Bharati Vidyapeeth, Pune.
What do you do and how do you do it?
Being a salesman I don't believe in push sales.
I do consultative sales and believe in strong relationship before even talking about my product.
I use different techniques to build relationship. I don't sell my product/service in the beginning, rather I sell myself to the prospects. Prospects should always believe in you first and then only they will believe in your product.
What steps did you take to land in your present job?
God has been extremely kind that I met my ex-CEO who believed in me and gave me the opportunity to work at PayU. Rest is history. I was loyal to myself and to the job I was doing, nothing else. Most of the employees these days work for salary, they keep switching for 30% or 40% hike. I have always believed that if I work properly, my hard work will get me money.
Do you have any advice to your younger self?
Be more humble and learn to be calm even if you are not at work. Don't get hyper quickly because good people have great temperament. Look at Virat Kohli who I believe is a better player than Sachin, but Sachin's humility has earned him more respect.
What do you love about your current role?
Traveling, meeting people, learning something new every day and of course pressure.
What are the challenges you face in your career?
Sales is always challenging. You have the pressure of targets, but then that pressure always keeps you on your toes. We are responsible for the profits of an organization. We are the most important people for any organization.
Sales is the most thankless profession of all. On top of it, uncertainty, pressure, lack of control, long hours and competition makes it even more demotivating. No one is going to say thanks to you for bringing in sales but everyone will question you for not bringing cheques. Staying motivated all the time is the most important factor here.
Always remember, no one can demotivate you but yourself. Everyday is a new day for us, forget what you achieved in the past and remember how can you learn from the mistakes. Our wins become history in one day. We are the only breed of people who never win and who never loose.
What type of employees will be high in demand in the near future?
Employees with immense industry knowledge would be in high demand as far as Business Development is concerned.
Competition tracking is the key.
Knowing about all the players in any particular industry , their movement, their work force, etc., is the most important factor.
What sort of experiences helped prepare you most?
In professional world you will have people who would demotivate you a lot.
I have had some bosses who tried to dismantle my career. During those situation you need to learn how to stay motivated and how to overcome those challenges.
One of my bosses asked me on 16th June that how much business can I get him in the next 14 days. I said 1 lakh having already achieved my target for the quarter. He said, "email your resignation to me, if you achieve 1 lakh I will delete this email, but if you don't I will forward it to the HR". As per his order I wrote my resignation to him. On 30th June, I gave him a cheque of 1 lakh 20 as well as my resignation.
How to choose a career option?
It all depends on your likes and dislikes. Don't choose a career to earn money, instead choose a career to enjoy life.
Most of the people today complain about work life balance. It is because they chose wrong career option.
I had no one to guide me, so I kept doing things the way they came. But ideally, any individual who is taking up any career option should understand his likes. If you are a painter, take painting as your career option. You surely will succeed.
For me, it's just God who got me here.
Your career should be inline with your interest. Don't choose something which does not interest you.
For example, those who are talkative and good at building relationship should take sales and marketing. Those who can not sit at a place should not take up operational job. So your behaviour and interests should decide your future.
I have seen people who have no interest in coding(example mechanical engineers) take up developer roles just because they get similar option at campus. These people end up doing MBA after 2 years and then possibly end up becoming consultants. The same thing was explained nicely in "3 Idiots".
Any final messages?
Love yourself. Love you life. Enjoy it at as much as you can. Don't worry about what people have to say.
Remember three things, I, me and myself.
---
Thanks for reading! 🙂 If you enjoyed this article, leaving your comment below would mean a lot to me and it helps other people see the story.
If any of your friend is considering a career in a similar area share this with him/her.
You can read more real career stories here.