I am Saurabh Toshniwal, a qualified Chartered Accountant (CA) and a qualified Management Accountant (CMA). I currently work at Deloitte Haskins & Sells, Bangalore and I hail from Ichalkaranji (Kolhapur, Maharashtra) a small town, known for its Textile industry.
After completing my schooling from Ichalkaranji, I pursued Chartered Accountancy course (CA, ICAI) and Cost & Management Accountancy course (CMA, ICMAI) as higher education. Securing ranks at all levels of CMA, I completed all levels of both courses in the first attempt. Meanwhile, I completed my graduation from BMCC College (Pune University).
Who is a Chartered Accountant?
While traditionally, Chartered Accountants have been seen as Accountants & Tax Experts, our basic premise remains to be Auditing – reviewing or inspecting, in simple words. However, I personally see Chartered Accountants as keen observers. Irrespective of expertise area, all Chartered Accountants are good observers of businesses & related activities. Watch-dogs as we are known as, Chartered Accountants can understand & analyze your business and guide you by addressing the possible loopholes, suggest improvements, highlight opportunities for tax savings & review the legal compliance status. Basically, they are your first go-to person, for all your business needs.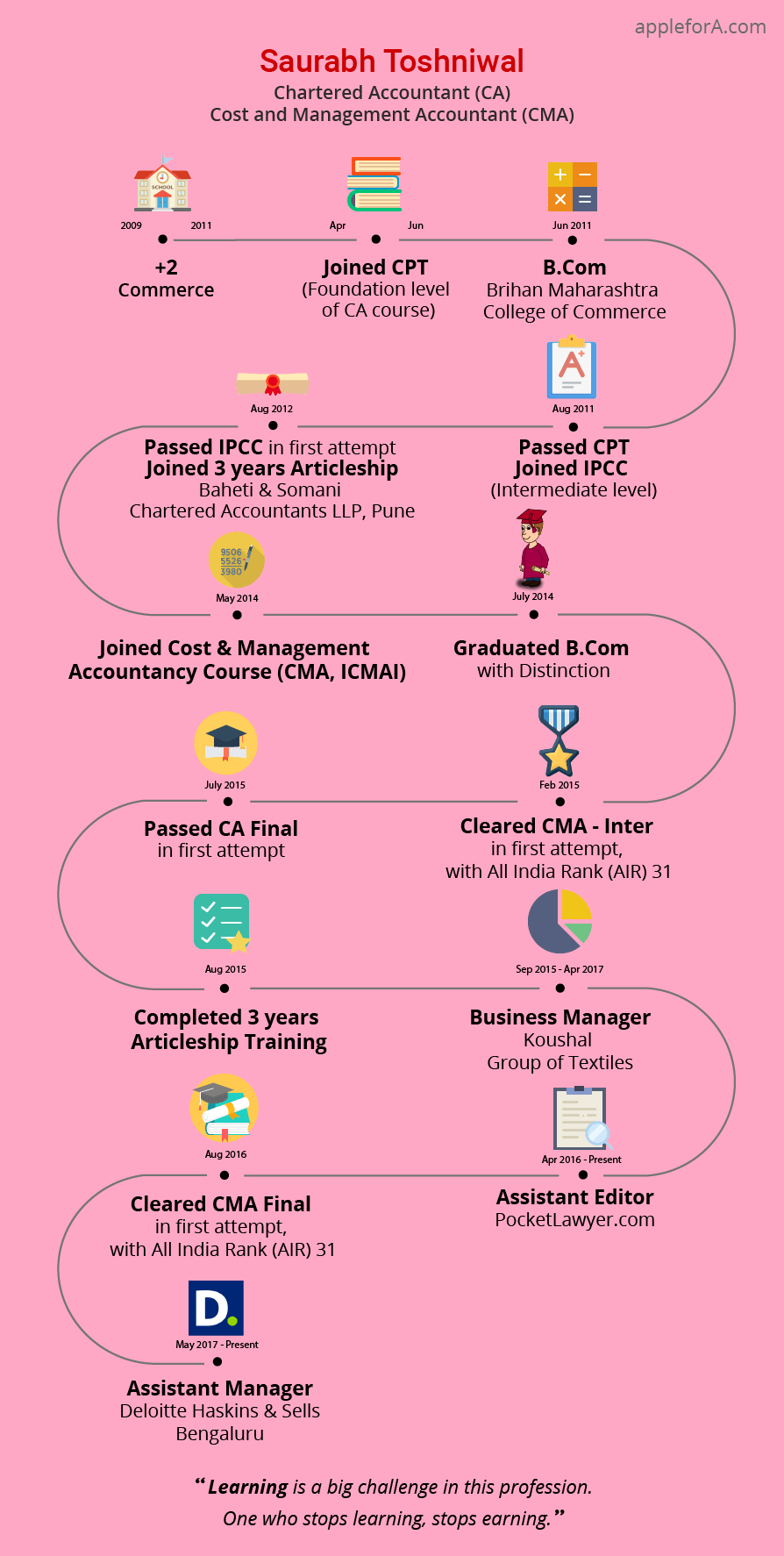 What motivated you to become a CA? Is there something in your teenage that influenced you to be a CA?
Although it doesn't matter for the course, but for the record, I was a bright student, which in eyes of family & relatives meant, "He is up for a challenging career." CA course, since the most of challenging course in Commerce stream, thus, became my career. However, that wasn't the sole role reason. My family & deep inside, me too, were concerned about my creative & unsettled nature which craved for new things & learnings each time, to be able to settle for a career of fixed nature and that's where, CA course turned to be a perfect solution for the same!
CA as a career gives you versatility, a wide range of options to choose from or switch amongst. You can choose to be in Corporate Job, Private Practice, Consulting or Entrepreneurial roles. In this profession, you have a new business to analyze everyday and therefore, you always get to learn something new, while doing your daily job. The course is challenging, and the career as well, as it requires continuous learning, throughout career.
What are the challenges you faced when you were preparing for CA?
The first challenge, like any other courses in India, was information – right information, to be precise. Back then, internet wasn't so developed as well as the institute (ICAI) wasn't good at disseminating information. However, for current students the situation is far better, as ICAI is now focussing on distribution of information, but a student must also stay away from random advises on internet.
The second challenge, is self-studying, as the course expects you to. CA course is a distant learning, self-study course. It doesn't has any colleges and no class room teaching. Therefore, it becomes difficult for students who have studied in classrooms till yesterday, to self study all new concepts on their own. That's the reason why coaching classes are playing a dominant role in this course. In my opinion, they are doing more harm than good, because of their techniques. It is important to join coaching classes, only if there is a need.
What is your typical day like as a CA?
I work in Statutory Audit Department of Deloitte Haskins & Sells, Bengaluru. As a part of Statutory Audit, our role is to conduct an audit (examination) of the Financial Statements of the clients and provide an opinion whether they are true & fair i.e. reasonably correct on a macro level.
To do this, we usually visit the client's office and verify their accounts, documents & procedures they follow. Depending on the size of client's business, this may take around a week's time or as long as 3-4 months. So basically, our 90% time is spent on client's location, while we visit our company office only few days in a month only for discussions & final reporting. Since we work at client's office, our working style, timings, location, routine, etc., are all according to the client's business.
What do you love about your area of work?
The best thing about the profession of Chartered Accountant as I mentioned before, is Versatility. You have choices and you can switch between the nature of work you do, even at a later stage in career. This option isn't available in most other professions. Owing to the difficult course and demanding nature of work, the average pay in this profession is also higher than all other professions.
Further, as long as businesses exist, this profession will also exist. So overall, from Career point of view, this profession is perfect – good pay, switch options and perpetual demand. However, on the contrary, it also affects personal life a lot, owing to routine travelling, long working hours and demanding work life.
What challenges are you facing in your current role?
Learning is a big challenge in this profession. Unlike other professions, the work in this profession keeps changing. The recent developments like New Companies Law, Demonetisation, GST Law and various other laws are changing every day, which require us to update our knowledge on ongoing basis.
If that's not enough, then there are new and upcoming businesses and ways of transacting developing every year which means we have to work on a completely different set of activities, not the ones that we have experienced in the past.
The increasing role of Technology in Business Environment, also adds to the learning that we are required to do. So the challenge is to keep ourselves updated with the current changes. One who stops learning, stops earning.
Another challenge in my work are the due dates. There are legal due dates for each work that we do and hence, there is a lot of pressure to do it within time. Therefore, our work timings very often extend to midnights and work pressure always exists.
How do you like to spend your free time?
Writing is my passion. I write technical articles for various websites as well creative articles and poems for social messages or sometimes personal satisfaction. As my piece of contribution to society, I mentor students. Over the last one year, I have helped over 2000+ students in Education & Career. Public speaking has also been my interest and I am always keen about such opportunities.
What advice would you give a high school student who is considering Chartered Accountancy?
Hear it from Saurabh Toshniwal here. Continue reading.

---
Thanks for reading! 🙂 If you enjoyed this article, leaving a comment below would mean a lot to me and it helps other people see the story.