I am Adithya Bharadwaj. I am a Chartered Accountant by profession, a writer by passion and a teacher for the love of teaching.
What motivated you to become a CA?
To be very frank, I never thought I would do CA. In fact, I didn't want to. I wanted to be an economist. But sadly, I fell short of St.Stephens cut-off by one mark. And I still wonder why I hadn't applied anywhere else.
MBA was not something my parents could very easily afford. I wanted something that made me more versatile. So, the only option left was to do CA, moreover that was more the next best logical choice than a destination I wanted to land in.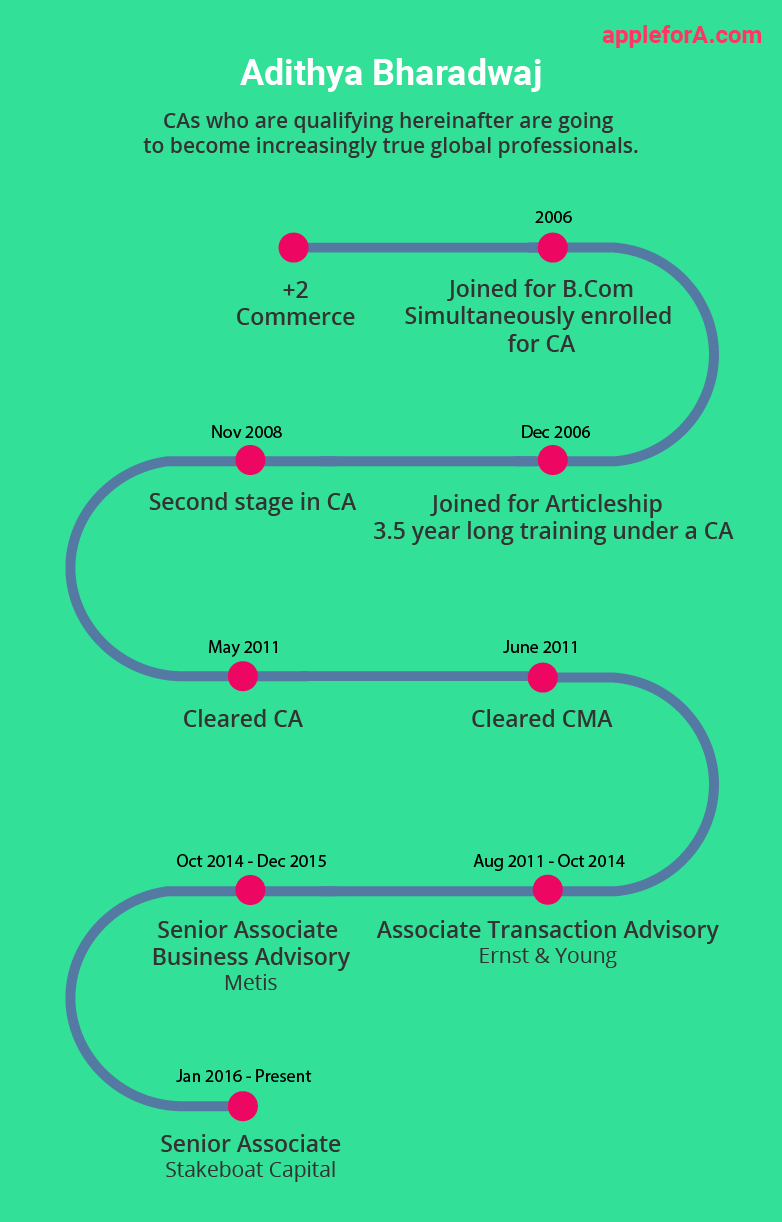 What were the challenges you faced when you were preparing for CA?
The toughest part about CA was juggling between articleship (internship), college and studies. All of this happened just after school when I was hardly 17 years old. I was just lucky to have accommodative bosses who would let me work flexibly. I was also lucky to have brilliant teachers who would teach me a few extra minutes after classes in case I had missed classes due to work deadlines.
Needless to say, the effort was worth every bit of it. Today, when people talk about work-life balance and pressure, it reminds me of what one of my articleship bosses had said -"pressure is as much as you take in".
What is it you do during articleship period?
In articleship, you are required to work under a practicing Chartered Accountant for a specified period, generally 3-3.5 years. You could eventually specialise in the field of core practice of the CA under whom you do the articleship.
Who is a Growth Stage Investor?
A person who looks to invest in startups that have cracked the business model and are looking to scale. He or she looks to invest in startups that look for capital to scale the business. It involves understanding the industry, reading the business and the model in depth and making a recommendation to the investment committee.
What are your activities within the organisation?
I started off as an auditor, progressed to do due-diligence work for private equity funds and now I am working with a private equity fund based out of Bangalore and Chennai. Most of my work day goes in understanding new businesses/business models and evaluating worthy companies. It involves a lot of interaction with investment bankers and promoters.
My work is all about numbers, numbers and numbers, topped with some ratios and a little bit of common sense.
The workplace atmosphere is friendly. But, it can get a bit lonely since PE funds tend to have very lean teams.
What do you love about being a growth stage investor?
The best part about being in a PE (Private Equity) is that your track record talks for you. If you as an individual are able to source a deal, execute and get a bumper exit, then that will be a standing testimony to talk of how good you are.
This is not a place where you can live the rest of your life not performing.
Working hours can be hectic, but what is good about it is the dynamism it brings with it. One doesn't get tired knowing new businesses (although mind sometimes switches off).
Pay is nothing I can complain of, although everyone is bound to feel they are paid less for what they do.
What are the challenges you are facing now?
Initial days at any PE fund one should struggle to source and execute deal and that is what kept me really busy and on my toes, which is still keeping me busy. The biggest challenge up against me is that I do multi-tasking a lot and that is only because I am a CA.
Due to that I become, "Jack of all trades, master of none".
What things would you do differently in preparing for this career?
Well yes, experience is the best teacher and hindsight is the best lecturer. I would have perhaps picked up a CFA (Chartered Financial Analyst) instead of CWA (Cost and Works Accountancy), although I don't regret what I did.
There were times when I thought that running a business is what I liked. But, I had no clue that I would perform better in  a private equity. Perhaps, I would have topped it with a MBA from Ivy League but that is very debatable.
Can you please summarise your career journey?
+2  – Commerce stream
Under Graduation –  B.Com, Vivekananda College, Chennai. Simultaneously enrolled for CA under the CPT scheme. Incidentally, I was the first batch of the CPT scheme and completed successfully.
Joined for Articleship  –  At HLB International affiliated firm in Chennai, 3.5 year long training under a CA.
2 years later, in Nov 2008  –   The second stage in CA, called PCC (Professional Competence Course), which is now called as Integrated Professional Competence Course.
On clearing PCC, I had to give my Final exams. I cleared my final exams in May 2011.
Incidentally, I also enrolled for CMA (Cost and Management Accountant) course from the ICWAI and cleared in June 2011. Of course, this is purely additional.
Associate, Transaction Advisory – Ernst & Young
Senior Associate, Business Advisory – Metis
Senior Associate – Stakeboat Capital
What sort of experiences helped prepare you most?
My initial days attempting for CA:
I started my CA journey in Dec 2006 after clearing my CPT exam (Common Proficiency Test). Incidentally, it was the first CPT exam that was held. Prior to CPT, the gateway exam for CA was called PE-1 which was supposedly more difficult than CPT mainly because PE1 was descriptive while CPT was objective. Generally, the pass percentages in CA exams PE1 is only about 10–15%. But, the first CPT exam pass percentage was really high (>80%) that it suddenly seemed to demystify the hype around CA and debunk the myth that it was one of the toughest exams to crack in the country. Therefore, when I remarked saying I cleared entry exam for CA in first attempt, they would remark "Ohh…CPT is it?" in a very condescending tone.
Articleship Period:
Later I entered the phase of articleship (internship), which is the learning ground and not considered smooth. A student is put through a rigorous regime involving classes at 5 or 6 in the morning, followed by 10 hours of work a day and almost no weekends. Apart from that, you have to deal with clients who look at you as a kid while you are supposed to carry a corporate etiquette, understand their business, their financials and ensure they have accounted properly.
In this phase, my very first audit was in a company that manufactured medical devices. To be honest, at that point I didn't even know what audit meant and its literal meaning. I had a senior named Anitha who guided me and guarded from the boss's/seniors' scolding and to her I am still indebted. The audit lasted for more than a month. Around the 2nd week, I had a grip on several accounting issues in the company. Although I didn't possess commanding knowledge, I was "good enough".
Audit process as a trainee:
During the audit process, I found some malfunctions committed by an employee, who had resigned and was serving the notice period. When I went and questioned him, he arrogantly replied, "you can disallow it if you want to, I can manage with your boss". I brought it to the notice of my seniors and on their advice I quantified the penalty and interest which alone amounted to a few ten thousands. The employee was warned by the finance manager. A couple of days later, in lunch, that particular employee and his friend mocked at me since I was eating with my hand. "All these tiny tots who don't even know how to eat on the lunch table come and question us" he said. Amidst several people, I felt ashamed for the first time for what I was. They also said "if you work too much, you can never clear CA". It affected me so much that I used to bogged down with the fear of not clearing CA till the day I cleared.
Audit process as a senior:
Two and half years later, after having cleared PCC (Inter and the second level in CA exams), I audited this company again but now as a senior. The person who mocked me had recognized me and so did I. And he asked "have you cleared Inter?", I said "yes". From then, he maintained a distance from me and respected me for what I possessed. There was no bullshitting while he spoke to me
All these toned me into what I am today.
What are the most critical factors for being successful in the career?
You need to:
be a number person
have a flair for understanding finances and laws
have good communication
Recently a quick survey in the ICAI told us that, those candidates who pass CA and have exceptional communication skills earn 43% more than those candidates who are not very good with communication.
What do you think potential recruiters will look for in a CA?
First and foremost requirement that any organization looks for is the track record. You need not be an exceptional CA but at the same time, your track record with articleship and previous employments talk a great deal.
Next, communication skills – how concisely can you articulate and put the point across, makes a major difference.
Finally, attitude – nobody knows everything. But wanting to know is everything.
What are some career options for a CA in today's world?
Auditing

– I think this is the best and the basic place a CA can land up in India. It is almost a recession free industry.
Accounting

– There are millions of opportunities in the accounting arena across the globe. And CA is one of the best qualifications to possess if one wants to be in this field.
Tax

– Tradition says it all, I guess. This is one field where CAs have dominated and will continue to perhaps.
Investing

– The comprehensive nature of CA syllabus helps in donning the investor's hat as well. The only challenge is that there is stiff competition from MBAs on this front.Guys like Mohandas Pai have donned the hat of a HR as well.
So, I must say CA teaches you a lot. A lot!
What is the future for CAs in India? How valued is CA outside India?
For CAs in India:
I will say the future is bright. With the advent of GST and multiple other reforms that is streamlining the economy, the future is promising. CAs must buckle up to be updated with various avenues and take CPEs (Continuous Professional Education) more seriously as well and that will be an icing on the cake.
For CAs outside India:
Traditionally, Gulf has been the money spinner. I think times are changing with companies like Olam recruiting from ICAI campus, CAs are playing a global role. There are opportunities in Singapore, Hong Kong and Australia as well. Any additional qualification is only going to steer them closer to that respective country. Also, the global accounting literature is becoming unified, except US-GAAP (Generally Accepted Accounting Principles, is the accounting standard adopted by the U.S. Securities and Exchange Commission).
With India adopting Ind-AS (Indian Accounting Standard ), we have moved a step closer to IFRS (International Financial Reporting Standards, is a set of accounting standards developed by an independent, not-for-profit organization called the International Accounting Standards Board (IASB).
Hence, more specifically, CAs who are qualifying hereinafter are going to become increasingly true global professionals.
How do I know if CA is for me? Who do you think should take up this Career choice?
There are two characteristics that any student should posses to crack CA.
Rest of the other things will follow, like;
being a number person
studying laws
What advice you have for someone who did try his/her best, but still couldn't clear it?
CFA is another choice as well.
What advice would you give a high school student who is considering Chartered Accountancy?
I recollect something which was once told by a great man who is a CA himself.
He said "Life has been too easy till 12th. Do CA and it will teach you life itself". I think it is a humbling experience to do a CA.
Choose commerce stream – there are enough engineers in the country for the next 50 years.
Enrol into CA – If the course permits, I would suggest a person to take up college and articleship simultaneously. This teaches multi-tasking and stress management early on.
After college – focus only on completing CA. Nothing else.
If you want to be in PE, I suggest you pick up a CFA along with your CA early on. Most subjects are mutually inclusive and that is a good runway to have.
If not, try to do articles in a Big4 and try to shift to transactions advisory as early as possible. Then, you would be working with lot of buy-side deals and it is only a question of getting the right shift to break into a PE role.
Any recommended resources for an aspiring CA?
Just follow the Institute's material religiously. That's your Gita, Bible, Quran, Granth and everything. Additional textbooks are fine but follow just one additional book.
Note: The interview have been duly edited by appleforA team at appropriate places but facts have not been changed. 
---
Thanks for reading! 🙂 If you enjoyed this article, leaving your comment below would mean a lot to me and it helps other people see the story.
If any of your friend is considering a career in a similar area share this with him/her.
You can read more real career stories here.