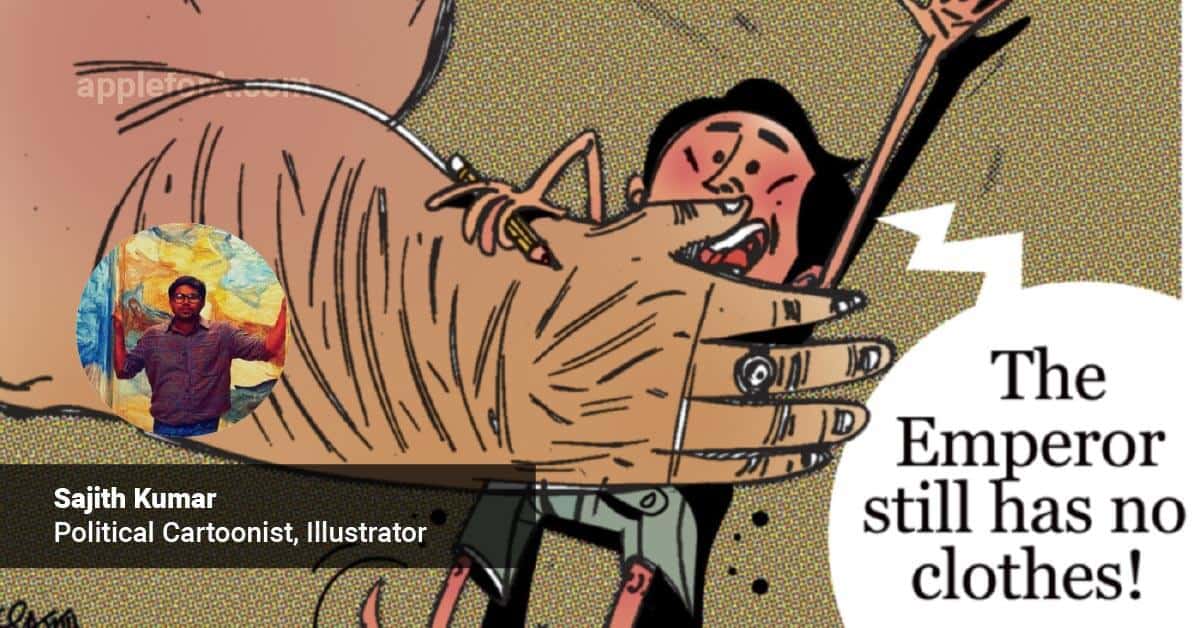 I am Sajith Kumar, Cartoonist and Illustrator based in New Delhi. In a career spanning 10 years, I have worked with major media companies in New Delhi. I have a postgraduate degree in Journalism and I am keen on contributing to graphic/comic journalism.
My Behance profile.
Who is a Cartoonist?
That curious kid who says aloud the 'emperor is naked'.
How it all got started for you?
I had the flavour for drawing from my childhood. And the constant encouragement I received from my parents nurtured that passion. I was not that bad in studies and my father wanted to make me a doctor when I had some other plans (of course to be a cartoonist). As it was a norm those days I took science stream post 10th. And continued completing BSc in Chemistry and then I realised Chemistry was not I wanted to do and took a post graduation in Journalism, which I thought would help me in becoming a cartoonist.
Journey towards being a cartoonist:
I used to read a lot of non-fiction novels in my school days. Newspapers, magazines, even a tiny bit of paper I wouldn't let go without reading it. Reading at dining table was my favourite time pass (which I now realise, one should not do- as it is not good for health! ). In a way I was socially aware of things happening around and I used to keenly observe people and politics of my locality. Having born in Kerala was a blessing as people are educated and politically active in that part of India. My house was no different as we all discussed local/state/national politics at home.
As far as cartooning is concerned, Ajit Ninan was the one who inspired me to take up political cartooning. His works then used to come in India Today, which we used to subscribe at home. Mesmerised by his art, I too wanted to become a cartoonist. Then I was introduced to Mario Miranda by my uncle and then came R K Lakshman. Their works were awe inspiring that I made a habit to read them before I went to bed each night. So there was this strong passion to do cartooning. I used to scribble and scribble everywhere. You learn it by trial and error method. Tirelessly honing your skill is a must. 
Never to fall in love with your own works as it is a hindrance for advancement. Whenever I work on an idea I would say in my mind -not this- not this, as there is always scope for improvement of an idea. 
What do you do and how do you do it?
Scanning through newspapers is what I do ritually for the past several years. I read 5 newspapers a day. A cartoonist's job is to create cartoons for the day, both offline and print and by working closely with the editor before the cartoons goes for print. Therefore, a cartoonist's has a 24 hr job.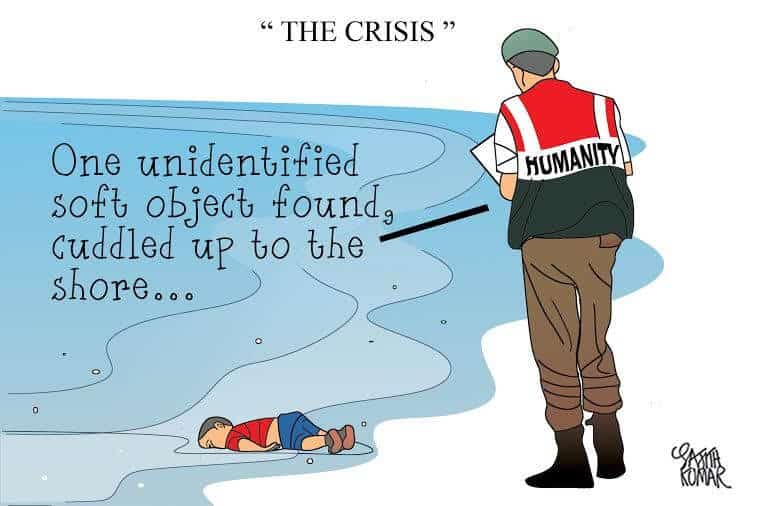 What drives you?
As I said earlier it's that brave kid in you with a strong moral compass, who wants to yell out the 'emperor is naked' that keeps the cartoonist going. And that itself is the purpose of a cartoonist.
What steps did you take to land in your present job?
Applying to the editor or art director with the best of your works is the best way to apply for a cartoonist job.
How is the actual career different from what you initially thought about it?
I was aware that it won't be an easy ride. But I made sure to land in Delhi after my studies, the place considered to be the Mecca of cartoonists.
The bitter reality about this profession is, cartooning is an endangered profession practised only by a few. Almost all newspapers have one editorial cartoonist post, which we jokingly say that he keeps till his retirement or for 200 years until death. So we need to have patience and resolve to stay focused, pursuing our passion till we get a break. It is tough.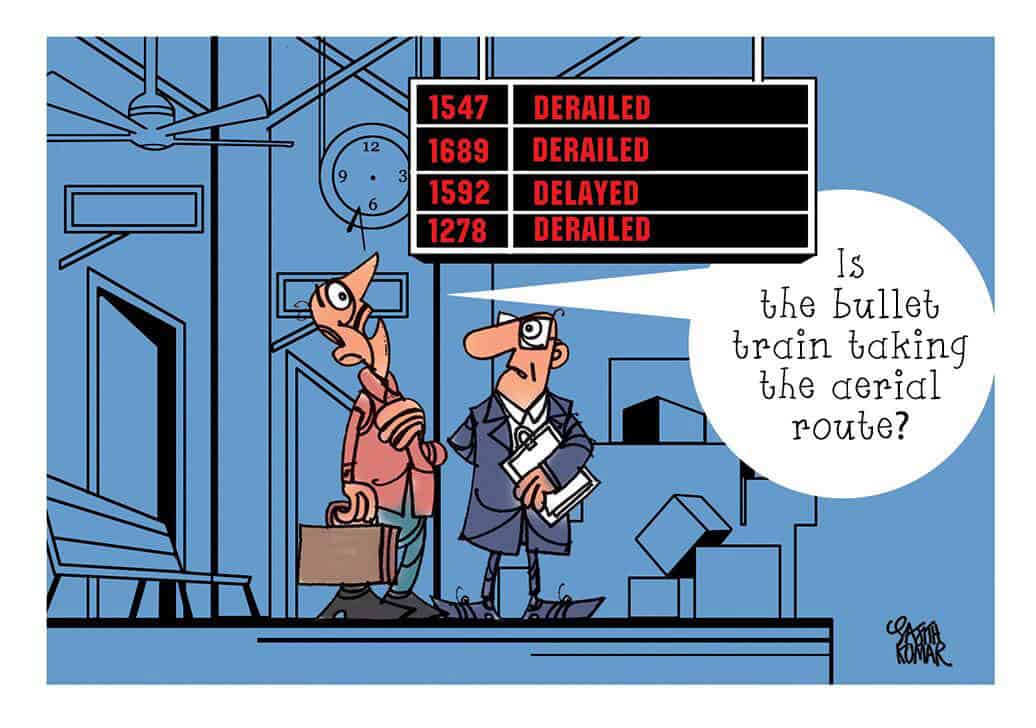 What advice you have for your younger self?
One thing about this profession is, you can't really 'plan'. What matters is how you practise your work. We didn't have social media at the time I started drawing, which would have immensely helped me. I missed such a platform in my younger days. Things we get to read and watch is limitless now, therefore, there are lots of platforms to build up one's career as a cartoonists.
What do you love about your current role?
The happiest part of my current role is, I don't consider it as a 'work'. It is my passion which I am pursuing. And I enjoy it a lot.
What are the challenges you face in your career?
The endless wait for a break is the biggest challenge. As news breaks every minute, to be informed and to come up with an idea and deliver is another big challenge.
A silent place to work is a must for a cartoonist. The mad, noisy place like a newsroom doesn't necessarily suits our need and it's the biggest challenge a cartoonist has to face in the newsroom.
Perks are better in Delhi and Mumbai, but gets marginally reduced when working for regional media.
What type of graphic artists will be high in demand in the near future?
One who can perform multitasking such as handling design, graphics, illustrations, etc.
A jack of all trades who is mastered every aspect of creative design is preferred now a days.
Can you please summarise your career journey?
+2  –  Science stream
Graduation  –  B.Sc in Chemistry
Post Graduation  –  Journalism
Internship as a reporter for 3 months
Illustrator  –  New Indian Express, Kochi (1 year)
Illustrator  –  Outlook Business (2 years)
Staff Cartoonist  –  Financial Chronicle (6 years)
Editorial Cartoonist  –  Hindustan Times (2 years)
What sort of experiences helped prepare you most?
A cartoonist's profession can never be planned, so every moment in the journey was a kind of preparation. It is just like musicians doing rias every morning.
Best moment in your career?
Getting Kerala Lalithakala Akademi award for cartooning, when my graphic story came in Guardian Comics was the best moment in my career.
How do you like to spend your free time?
Mostly reading and watching movies.
I am 17 and I am planning for a similar career path like yours. What advice you have for me?
If you are looking for a career in political cartooning you need to have lots of patience, as you learn the art by trial and error method. But with advent of social media self publication has become easy and is an advantage.
The most important things are to be at your work table and never stop polishing your skill. Joining institutes like NID, J J School of Arts would open new skies/canvas to our imagination and work.
But it is your body of work and your expertise that matters than the institute you graduated from.
What are some alternate career options for a graphic artist?
From movies to all TV programs graphic artists are in demand everywhere.
Who do you think should take up this career choice?
If you have a taste for art and design, think of taking up this profession.
There is nothing like being paid for what you love doing as a passion. It becomes never a 'work' in classical terms.
Any recommended resources students who are interested in your area of work?
Knowledge in all design softwares would be great. Knowledge at least in Photoshop is a must.
What do you think everyone leaving higher secondary school should know?
Spread your wings and fly! Because, you are doing art.
Wait for a good break in your area of work, as I said earlier, you need immense patience and faith in your ability, as your resolve to do art will be tested now and then in your journey. Be assured you will come out with flying colours.
From your point of view, what you do think the current generation and their parents are collectively doing wrong?
In my case, if I had pursued medicine as my father wanted, I would be leading a dejected life now. Because that was not what I wanted to be in life. Therefore, restricting an aspiring creative person to do 'normal' things is a crime.
Any final thoughts?
In creative jobs, no one can stop you but yourself. If you are in it , it is the most rewarding profession.
---
Thanks for reading! 🙂 If you enjoyed this article, leaving your 

comment

 below would mean a lot to me and it helps other people see the story. And you can say hello to us at

hello@applefora.com
If any of your friend is considering a career in a similar area 

share

 this with him/her.
You can 

read

 more real career stories 

here

.