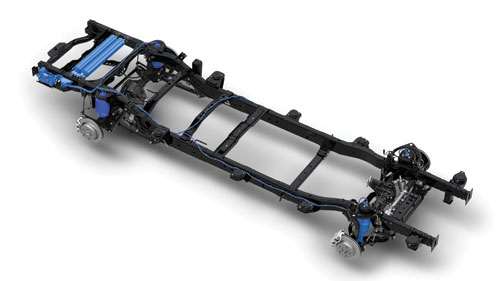 Mufadal Saifuddin works as a System Engineer at Mahindra & Mahindra.
His domain expertise is in Chassis Systems Design and Development.
His Responsibilities include:
concept design
detailed design
implementation of chassis system (frame and suspension) within project timelines.
As a mechanical engineer I apply the concepts of mechanical design, on a daily basis to solve issues and come up with new designs.
What do you love about your job?
I love designing and making innovative stuffs. I have a lot of liberty to do what I want in the way I want to contribute to the projects, of course within strict timeframes.
The kind of freedom which is available to me as a designer to explore and bring my ideas to life is interesting. The respect I get as a very highly valued member of the department is very satisfying.
What are the challenges you face in your career?
To be honest, this career suits me well and the growth opportunities are good. Most of the required avenues for learning are available. There are no issues with my job profile or the way my company treats me.
Challenges are mostly personal and things to do with my own ambition.
What are the skills and education required?
Skills and knowledge which I require on a daily basis are:
Attention to detail
Analytical thinking and Math
Creativity
Time management
Problem solving aptitude
Domain knowledge
CAD knowledge (software)
Manufacturing process knowledge
Data management
So a B.Tech / BE in Mechanical Engineering is required.
How do you like to spend your free time?
Nowadays I spend my time doing my personal projects. If not then learning new things and generating new ideas, listening to music or gaming.
What did you want to be when you were in higher secondary school?
When I was in higher secondary I wanted to be an engineer because I knew I had a liking for analysing stuff and finding how stuff works. I was a hardcore gamer. So I was interested in two fields, Computer Science and Mechanical.
My motivations at that time were not so clear-cut though. I liked computer science because I liked games. And I liked mechanical engineer because I knew it was much more interesting than other fields. Coming from a business community my long term goal is to start my own business and mechanical engineering seemed to be a good choice for that .
Finally I chose Mechanical Engineering.
What things would you do differently in preparing for this career?
First of all, I would brush up all my basics and make them thorough and sound. Math, physics, strength of materials, kinematics and dynamics of machines, fluid mechanics, thermodynamics.
I would do as many projects I can, to have more practical knowledge.
Get good at designing during my school/ college days itself.
Go for more plant visits and small manufacturing setups, mechanics and stuff.
Get good in electronics and computer programming simultaneously.
Mechatronics is the future.
How useful were the educational programs you have been through?
Some were good some weren't.
For eg. Strength of materials was excellent, Thermodynamics not so much.
Overall my college time, I mostly dependent on what I would remember during the classes, notes and of course self-learning. Education program was just sufficient to pass the exams but not something beyond that.
In terms of actual design practice, the programs were very much lacking.
I learnt CAD and designing after joining the company.
What steps did you take to land in your present job?
I knew that I was one of the best in my class although I din't get that good marks. I was good in basics. Thus got selected through campus placement.
Why do you like this career?
There are almost endless no.of points I can point out for why I love this route/field. Some are
Makes me a creator, an owner, an inventor, an innovator
Gives me skills to even handle situations in my personal life.
Gives me skills and knowledge to open a business of my own.
Why I dislike it
We are grossly underpaid even though we contribute a lot.
Limited flexibility in working hours. When there is an issue on the vehicle, you must attend and solve it as soon as possible. This is stressful but at same time develops super skills.
Due to unavailability of projects there is a possibility of saturation depends the growth of the company.
What are your future aspirations?
To open my own business in the same field.
How do I know if Mechanical Engineering is for me?
According to me these situations motivate a person to take up mechanical engineering especially design.
Looking at machines and spend a lot of time wondering how they work and how they would have been designed.
Fascinated by the marvels of engineering – Cars, Planes, Ships.
Love to think analytically most of the time, asking questions like; Why this? Why that?
Liking for dismantling stuffs and putting it back together again.
Having an urge to solve problems for rural locations and basically make life better, easier for the people you care.
Having an ambition of being an inventor.
Prefer practical aspects compared to abstract concepts of anything you are working with.
What are the common mistakes Mechanical Engineering students make?
Not concentrating on the practical aspects of mechanical engineering
Studying for marks rather than understanding.
Be thorough in your basics. This is the single most important piece of advice I would give.

Well in advance target the area of specialization. Select wisely and specialize, based on the growth prospects like solar energy, wind energy, automotive chassis, electric vehicles etc.  

Most of the engineers have some idea about a lot of stuffs, but not in depth knowledge in one particular area. That does not make you employable.
I am a student leaving higher secondary. What should I know if I am considering Mechanical Engineering?
You should be good in
Physics – Mechanics.
Math – Matrices and determinants, algebra, vectors, calculus, trigonometry.
Best sources I found are NPTEL and MIT courses. Very good content.
---
Thanks for reading! 🙂 If you enjoyed this article, leaving your 
comment

 below would mean a lot to me and it helps other people see the story.
If any of your friend is considering a career in a similar area 
share

 this with him/her.
You can 
read

 more real career stories here.