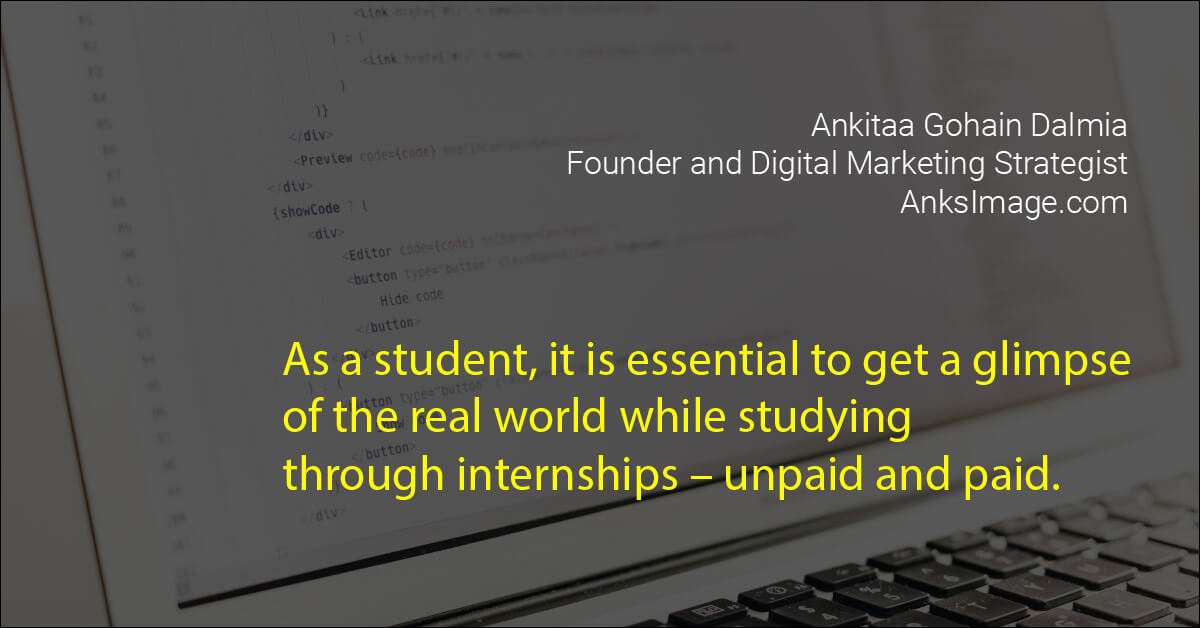 Ankitaa Gohain Dalmia is the Founder and Digital Marketing Strategist at AnksImage.com. She helps organizations worldwide achieve higher online visibility, better brand presence, and more website traffic by creating and implementing highly successful digital marketing campaigns..
Let us hear her career story and learn from it.
What do you do as a Digital Marketing Strategist and how to do it?
I founded AnksImage in 2008 to provide online branding and personal image consulting. I practiced mostly in New Delhi and Gurgaon, and was able to find many training gigs too. Then I added more modules of digital marketing to my portfolio, as I started getting more paid projects. Now I'm focused on
Web Design
Search Engine Optimisation
Social Media
Content Development
Branding
At one time, I was working 60-80 hours a week. But after having a child, I now manage to work 30-40 hours a week. I offer no compromise in the quality of work, and I can't handle rude people. I am super persistent, and that's how I get clients.
These days I want to get into mobile app development. I also want to write a book. Let's see how that goes.
How do I know if digital marketing is for me?
Digital marketing is a vast field, so I always advise people to start small and go step-by-step. That's how I started, in fact. I was passionate about web design (still am!) and writing was second nature. So when I started working from home, I started with web design and content writing through freelancing websites. Then I gradually moved onto SEO, social media, and overall branding.
So my advice would be to take one step at a time. If you're good with words, start with writing and then if you want, add other modules into your portfolio.
What are the skills required to become a good digital marketer?
Knowing programming languages is always a plus. A good control over the English language is always handy too. A Bachelor's degree (or more) assures clients they can rely on you. And communication skills – verbal and written – are a must.
How do you think your college education has helped you to get where you are now?
My story begins when I joined the Twinning Program of Computer Engineering at Manipal Academy of Higher Education (MAHE). Later I got early admission to the Arizona State University (ASU) in Computer Science. However, I transferred and finally graduated from Michigan Technological University (MTU) with a Bachelor of Engineering (B.E.) in Computer Engineering. Upon graduation, I finally joined Fisher-Price in New York in Business Intelligence Reporting. That's when I realised there was no mapping between what you learn in college and what you do at your job. My education simply prepared me to do the best I could at my job.
"Education only prepares you to do the best you can do at your job."
You mentioned about Twinning Program. Could you tell us a little bit more about it and how to make use of it?
The Twinning Program at MAHE was basically about studying Engineering in the Manipal Institute of Technology (MIT) for 2 years, and transferring to a sister university in USA or Australia to pursue the remaining 2 years of studies and graduate from an international college. It's a great opportunity to study abroad without getting stuck with humongous student loans. Many universities connected to MAHE offer superb scholarship opportunities too.
You said there is no mapping between what you learn in college and what you do at your job. How can a student reduce this gap?
Yes, that has been so in my case. While I can't really assure that this is the case universally, I do think colleges can bolster career counselling to build awareness for the outgoing students.
I started as a Technical Analyst in Cognos, so my background as a Computer Engineer helped since I did study Data Warehousing in college. But beyond that, there was no direct connection between my job and my studies. I had to train in Cognos, get certified first to land me that job. So those 3 months of Cognos training did me more good than 4 years of Engineering.
Having said that, I do believe those 4 years of Engineering really did me good in doing my job. I could understand what was expected from me, how to tackle a new programming language, work with a diverse range of people, be a teamplayer, and so on. MTU had a very good engineering program called the Enterprise Program. Students could work with companies directly on different projects. I owe a lot to that program. We need more programs like that to prepare students for the real world.
As a student, it is essential to get a glimpse of the real world while studying through internships – unpaid and paid. Even volunteer opportunities should be pursued to gain real-world experience, as well as build a nice resume.
Do grades matter?
Well, I didn't have a massively impressive GPA. It was okay, but it still didn't matter. I remember no one even asked for my GPA in my interview.
I was diligent, good at communication, and confident, which was enough.
When did you develop the interest for websites?
I started in Business Intelligence Reporting that had a healthy dose of Data Warehousing. Later, my job description changed into Cognos Worldwide Support and Consumer Relations. That's when I was able to rekindle my love for websites. I had been volunteering in website development since my college days. The web team at Fisher-Price really inspired me to get back into it. Once I moved to India, I immediately got into AnksImage for online branding and personal image consulting.
How was your job searching experience in India?
I was shocked to find that the status 'work-from-home mom' unsettled many. All wished me luck but no one offered any work. I was about to give up, but my husband pushed me. So I didn't give up. I was articulate, polite, and super persistent in networking with everyone I knew to get started. Again. Finally I found Sheroes.in a career destination for women, where I bagged many gigs. Nowadays I mentor other women on Sheroes.
What do you have to say about mentoring?
I love to help others, provide them the support I never received. So I am a mentor on Sheroes. I am also one of the Most Viewed Writers in Content Writing on Quora. So I receive a lot of messages, almost daily. I have mentored many young writers and job seekers through Quora too.
For a student leaving higher secondary school, exploring his/her course options, what advice you have?
Students should be proactive and map out their job options from an early age. And accept the fact that plans can change.
What is the future of digital marketing?
What I've seen is most business owners (especially small business owners) have barely scratched the surface of digital marketing.
So I feel there is a great potential in digital marketing, provided new technologies like AI, etc. are incorporated to make content the king of the world wide web.
---
Thanks for reading! 🙂 If you enjoyed this article, leaving your 
comment 

below would mean a lot to me and it helps other people see the story.
If any of your friend is considering a career in a similar area 
share 

this with him/her.
You can 
read 

more real career stories here.