I am Deepak Singh, an Advocate, Patent Agent, and Associate Partner at Khurana and Khurana, Advocates and IP Attorneys, as well as at IIPRD Consulting. Currently I am posted at Greater Noida, New Delhi, Capital Region (NCR) Area.
I am also a Registered Patent Agent admitted to practice in India.
Before joining Khurana and Khurana, I have worked for more than 10 years with Lakshmikumaran & Sridharan Attorneys, a Delhi based Law Firm.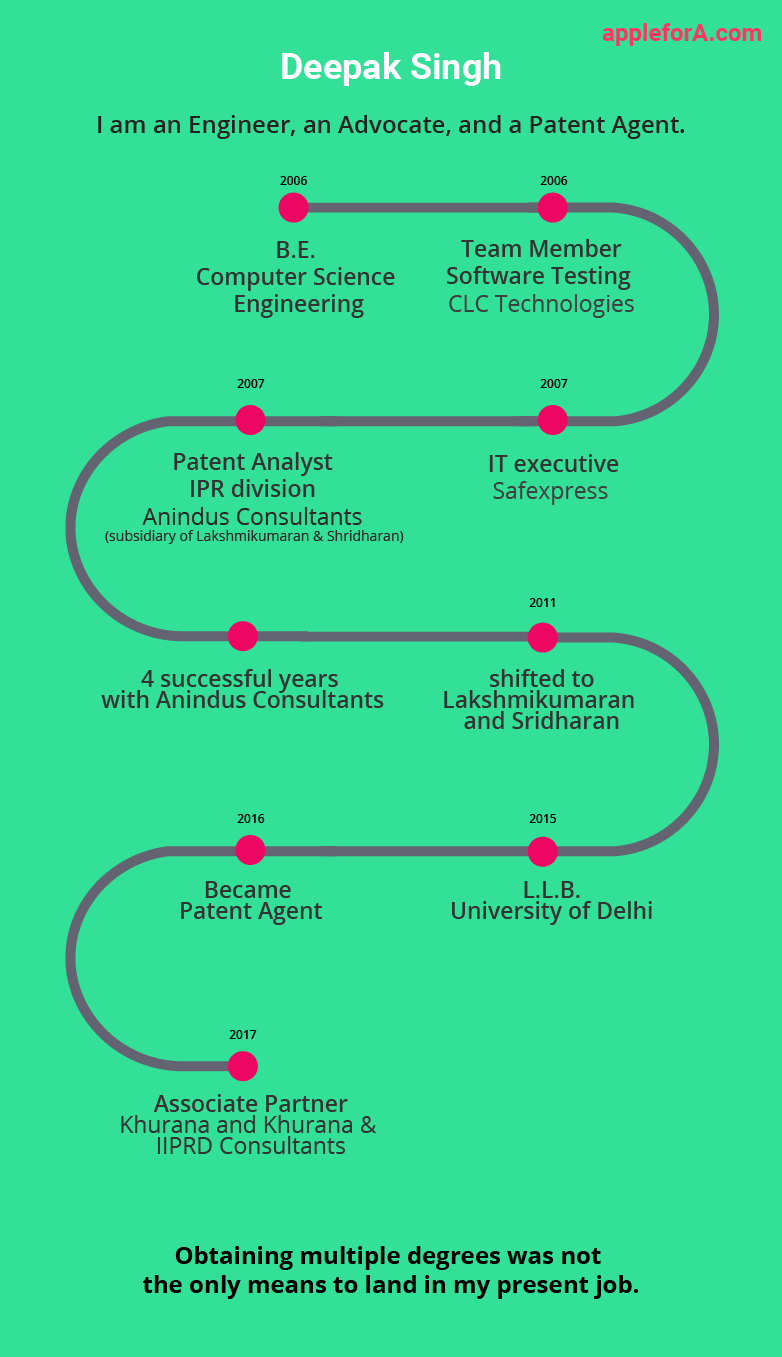 Who is a Techno Lawyer & who is a Patent Agent?
Techno Lawyer:
Is a professional individual who is having a law degree in addition to a technical degree. In my case, I am a Computer Science Engineer and a Law degree holder registered as Advocate with Delhi Bar Council.
Patent Agent:
Is one who has passed a patent agent examination conducted by Indian Patent Office, and is registered with the Indian Patent Office to practise as Patent Agent representing an applicant or client.
How students can combine Law and Computer Science and make a career out of it?
There are many combination careers available, but it's the duty of the student to research and find out or meet up with some expert professionals in order to know about those careers.
For instance, an IPR career (Intellectual Property Rights) is the combination of law and engineering. A student aspiring to become an IPR professional need to complete law degree after engineering.
What did you want to be when you were in higher secondary school?
When I was in higher secondary school, my desire was to become an engineer like my father. Not a civil engineer like my father, but a computer science engineer who generally works in an air-conditioned environment. Finally, I got my engineering degree in computer science in 2006. I had a mindset to take up any engineering jobs available in the market, as I was a mediocre student.
How it all got started for you?
I started my career as a team member of software testing team at CLC Technologies, Gurgaon. Later, I joined as IT executive with Safexpress Pvt. Ltd. During my job at Safexpress, I got a call for the job of Patent Analyst from the HR of Anindus Consultants (Formerly Known as Bluefile IP Services). Anindus Consultants was a subsidiary of Lakshmikumaran & Shridharan Attorneys.
Following that HR call, I was hired in 2007 by Anindus Consultants as one of their first employees in the prosecution team of the IPR division. In the prosecution team, I have started my IPR career with drafting responses to US and EP office actions.
After four successful years with Anindus Consultants, I was shifted to the main firm Lakshmikumaran & Shridharan Attorneys. While I worked with a law firm, I felt a need to become an Advocate and therefore joined the regular evening batch of Law Faculty, University of Delhi. After three hard years, I completed my Law Graduation.
There is no direct connection between engineering and legal graduation. But, I believe that my work profile in patents require both technical as well as legal knowledge. Later, I have also cleared a Patent Agent Exam and now I am an Engineer, an Advocate, and a Patent Agent. Therefore, now I am a complete Intellectual Property Professional.
Hence, there were no plans, everything kept on rolling from one opportunity to another.
What do you do and how do you do it?
I have recently joined Khurana and Khurana. But, when I was working as a Principal Associate, I manage some of the largest client accounts at LakshmiKumaran and Sridharan. I oversee end-to-end client engagement, delivery and operations management and resource management. The responsibilities also include interfacing with other organizational functions including management of paralegal operations in addition to technical part of the job.
My responsibilities as Principal Associate include managing a fast-growing group, defining processes, ensuring quality, maintaining client relations, and helping the new paralegal team of IPR Engineering to understand the various requirements of the Indian Patent Laws.
Within the technical team, I am responsible for mentoring fellow associates, determining and ensuring revenue targets, and creating new workflow processes. The responsibilities further include identifying training requirements of team members, understanding their personal goals, and mentoring them to achieve their personal and professional objectives.
What steps did you take to land in your present job?
Currently, I am working as the Associate Partner with Khurana and Khurana & IIPRD Consulting.
Obtaining multiple degrees was not the only means to land in my present job.
But most importantly, my 10 years of experience working with Indian and Foreign clients on projects including patent drafting, patent prosecution, FTO, infringement analysis, patent searches, invalidation searches, litigation support, and attending hearings at Indian Patent Office and Indian Intellectual Property Appellate Board (IPAB).
How is the actual career different from what you initially thought about it?
According to me, Patents were meant to enforce the legal suits for claiming royalty from the infringing party. However, later I realized that it is not that simple. For becoming an IPR professional, I had to improve my communication skills as this job profile requires an excellent communication skills.
Currently, when I see my growth chart, I feel that I could have done better if I have started my own firm way back. But now, I am currently happy with the office environment and is not planning to open my firm soon.
Do you have any advice to your younger self?
IPR professional is not a popular career among the youngsters. They generally want to do MBA after engineering.
That is because they are unaware about the combination of careers. There are many career choices out there, please do explore and select the best rather than following the crowd.
What do you love about your current role?
I like the remuneration or payment which an IPR professional receive. Also, there is a high increase in opportunities in IPR career.
What are the challenges you face in your career?
There are a number of challenges in this career. One major challenge is the work-life balance. An IPR section or IPR job opportunities prevail mainly in law firms. In law firms, there is a culture of sitting late and leaving office after set time period. So, this in return offsets the work life balance.
Can you please summarise your career journey?
12th    –  Non-Medical Science from CBSE in 2002
B.E.    –  Computer Science & Engineering, M.D. University, Rohtak (2002 – 2006)
2006  –  Joined CLC technologies
2007  –  Joined Safexpress
2007  –  Joined Anindus (formerly known as Bluefile)
2011   –  Joined Lakshmikumaran and Sridharan
2016  –  Became Patent Agent
2017  –  Joined Khurana and Khurana & IIPRD Consultants as Associate Partner
How far your degree in CS helping you now?
I believe that one must have good logical reasoning skills and communication skills, in addition to technical and legal knowledge. My degree in CS is definitely helping me to understand the various concepts present in the Invention Disclosure Form.
How is a Lawyer different from an Advocate?
Lawyer is an individual who possess legal knowledge but cannot practise before court. A lawyer can practise before court only if has enrolled as advocate with one of the respective State Bar Councils.
What do you think potential recruiters look for in a fresh Law Graduate?
Potential recruiters look for excellent written and verbal communication skills in addition to basic knowledge of the law read during the course of law graduation.
How do I know if a career in IPR is for me?
Software Engineering/Law was not something which I planned.
No lawyer knows that he needs an engineering degree for patents work and no engineer knows that he has to attain a legal knowledge to bring perfection to patents work. Thus, the knowledge about this career choice is very little know. In general, engineers without law degree initiates the work in patent domain, and then later these engineers tries to complete the law degree. So, being an IPR professional is generally not a career by choice but it is a career by opportunity.
What do you think everyone leaving higher secondary school should know?
Everyone should visit a career counselor at least once to choose his/her career and to sort out what they want to be. Career counselor's job is to assist or guide a student to figure out what they want to be.
Here is the link to to Deepak's another interview where he explains more about IP law and its prospects.
---
Thanks for reading! 🙂 If the article helped you, leaving your 
comment 

below would mean a lot to me and it helps other people see the story. And you can say hello to us at 

hello@applefora.com
If any of your friend is considering a career in a similar area 
share 

this with him/her.
You can 
read 

more real and inspiring (not really typical motivational stuff) career stories here.