I am Vineet Samvedi, working as Assistant Brand Manager with one of the reputed FMCG – Healthcare company in Kolkata. My hobbies are playing cricket, listening music, drawing – sketching and creative mining.
Who is a Brand Manager?
A Brand Manager monitors and understands the relevant category consumers, competition, market, sales and brand knowledge.
What influenced you to choose Marketing and Branding?
I always wanted to be a cricketer in the first place. But, you never know what destiny has in store for you. Marketing caught my attention when I was doing my graduation. MNC Brands used to appeal me and excite me. I have thought, how a particular brand can become so big, influence individuals and create aspirations. This led to a desire within me to understand the brand world and marketing know how. From there on, the interest in the subject grew and desire to acquire knowledge. Hence I started to develop the basic skills needed and sharpened my understanding.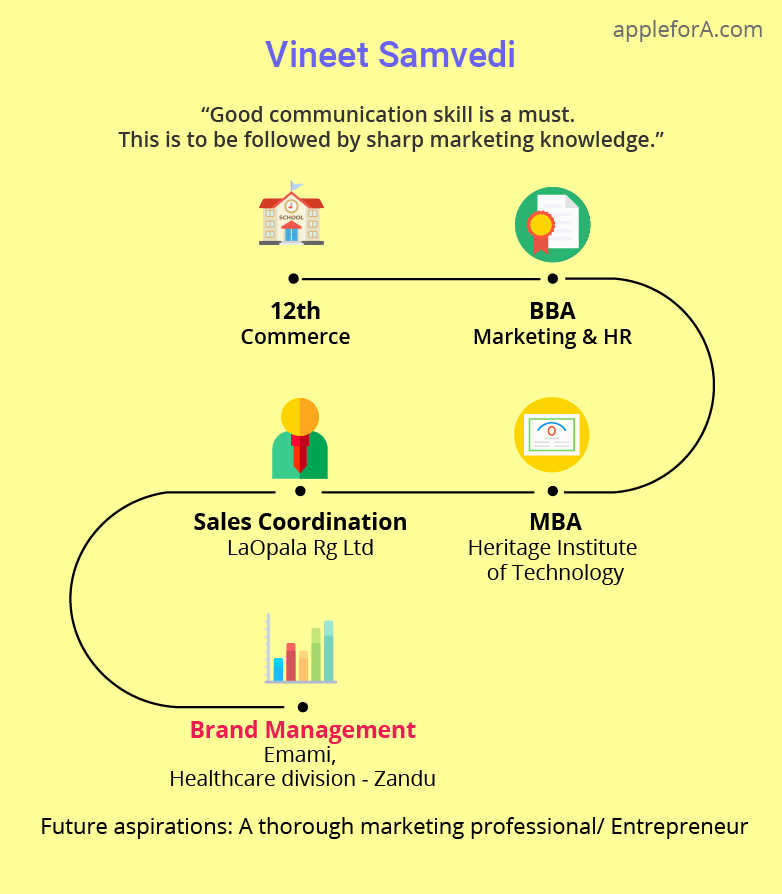 What is your typical day like? 
My typical day as an Assistant Brand Manager is pretty hectic. Out of the total, 90% goes for brand operations & fire fighting and the rest 10% goes for creative and strategic thinking.
The work place is a conducive environment with challenges brewing on gradual basis. Brand  operations implies daily brand related operations work, such as; Product, Packaging, Agency and Promotion.
Product: briefings, R&D meeting, sourcing of references for benchmarking the product, pricing, trade structure, analyzing competition, checking with sales, market in terms of acceptable pricing and trade structure.
Packaging: briefing, coordination with packaging team with respect to the necessary deliverables.
Agency: packaging creative development.
Promotion: communication strategy development, press or TV creative development in coordination with Agency.
Thus a daily coordination with all the cross-functional teams like R&D, packaging, operations, agency, vendors, etc., becomes the job of an Assistant Brand Manager.
What steps did you take to land in your present job?
I went to Emami Ltd., seeking for a winter internship interview during my first year in MBA. As I got selected, my journey into the marketing – branding world started. After winter internship, came summer internship for which I once again [fortunately] got an opportunity with Emami Ltd. Overall, both the internship opportunities provided me with a platform to create a favourable impact. Hence, after completing my MBA, I applied for branding profile with Emami Ltd. Luckily there was a vacancy and I landed in the job.
How is the actual career different from what you initially thought about it? 
"Practicality is completely different from theoretical know how."
No regrets, as I was completely raw when I started my career. There are certain things that, you learn it in a hard way or even have to unlearn and relearn certain things. The challenge is, how you leave aside regrets and keep moving forward. Above all, God has been kind and hope He continues to do so.
Actual career is a real world. It wants you to be hands on with your brand, company, surroundings all the time. You can't let anything slip at any point of time.
Surprise element: Expect the unexpected. Operations pose a daily challenge, whereas in strategic implications, your point of view might get discarded completely.
Learning: be hands on, focussed, street smart, quick learner, articulative in everything you do.
What things would you do differently in preparing for this career?
I would enrich my:
marketing knowledge
consumer understanding
communication skills to the maximum possible extent
I love learning new things and encountering new challenges day to day.
What are the challenges you face in your career?
It's a long list. However, few major challenges are pay, hectic work life – daily long hours at work, unstructured, unplanned system leading to cram before meetings. Lack of clarity in certain key decision making areas. It is purely because of the system which is running the show.
What sort of experiences helped prepare you most?
The tough times and situations have helped me evolve as a better person. The experience of working as a brand person has made me go through the thick & thin of times and come out more stronger every time. Belief: In the success of the brand, lies the organization's success as well as mine.
How do you like to spend your free time?
Listening music, surfing net, reading books, watching TV and cricket shadow practice.
What are the skills and education required to be a Brand Manager?
Good communication skill is a must. This is to be followed by sharp marketing knowledge.
Education in Marketing Management as first specialization subject is important.
What do you think potential recruiters look for in a fresh Marketing Graduate? 
Marketing management understanding – theoretical knowledge
Case studies know how
Current market scenario, happenings and trends
Good communication skills
How do I know if a career in Marketing and Branding is for me?
Marketing is a vast field. The major questions one need to ask oneself is, am I passionate about brands? Does it really create interest within me? Does it drive me? Analyze yourself how deep you would like to go, in order to get the questions answered and the quest for knowledge.
While studying the subject, you can evaluate yourself whether you have the quest for knowledge or not. More than that, one should be creative, have good communication – share articulated thoughts, willingness to understand the consumer and their behaviour.
If the brand world is creating any curiosity within, you can opt for branding, marcom (Marketing Communication), sales, etc.
What do you think everyone leaving higher secondary school should know?
Students should sharpen analytical, logical reasoning, data interpretation skills as well as should concentrate on specialization area in which one is passionate about.
Life is all about perseverance. Keep taking the blows, fight it out and keep moving forward.
Students are free to interact and ask me questions that they intend to.
9903595677 | veneet.samvedi@gmail.com

---
Thanks for reading! 🙂 If you enjoyed this article, leaving a comment below would mean a lot to me and it helps other people see the story.