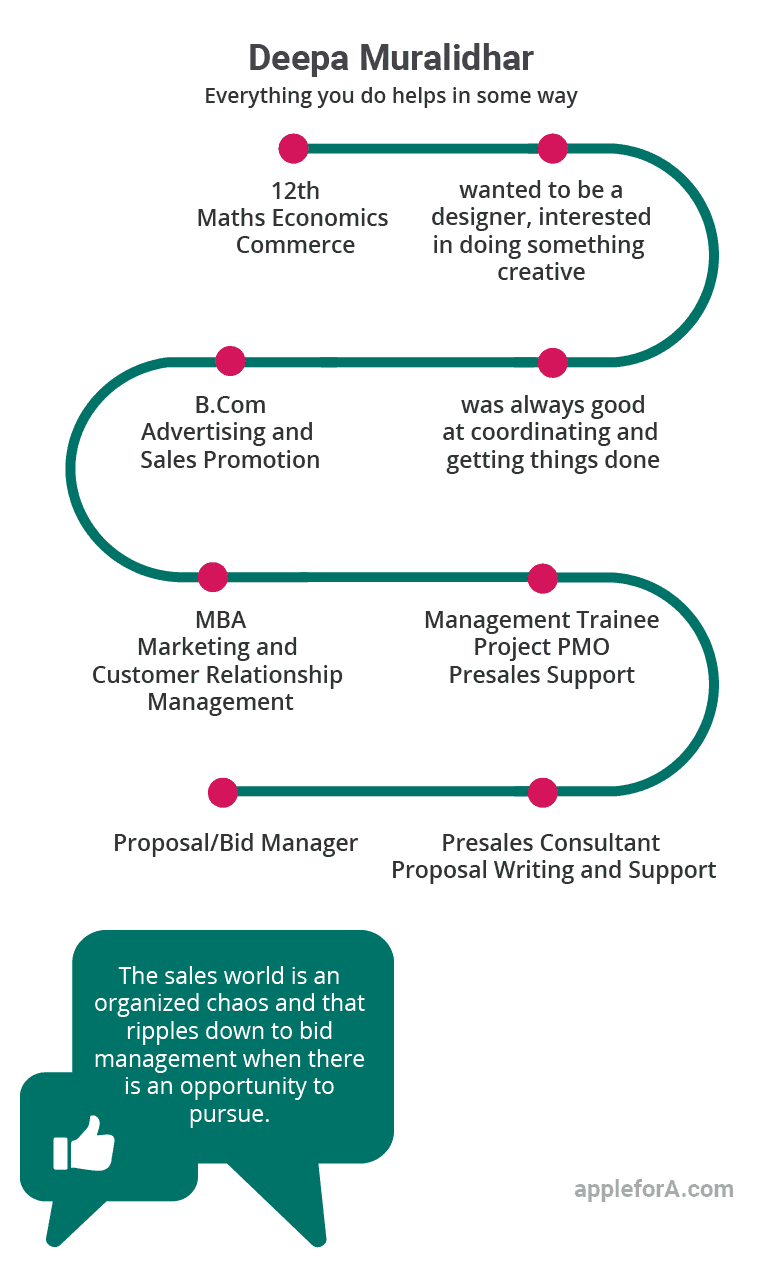 I am Deepa Muralidhar, working as a Bid Manager at Broadridge Financial Solutions, Inc. My job is to 'program manage' the entire bid/proposal function that happens as part of the pre sales life cycle. I oversee the end to end response cycle of RFx* (RFPs/RFIs/RFT/RFQs), due diligence activities and surveys.
In short, I support the sales organization sell a packaged solution in a formal bidding process.
*RFX, which is one of the most common acronyms in the strategic sourcing and procurement landscape, is a catch-all term that captures all references to Request for Information (RFI), Request for Proposal (RFP), Request for Quote (RFQ), and Request for Bid (RFB).
Who is a Presales Consultant?
Presales is part of a broader area called bid management. Presales, as the name goes, pre-selling activities that is part of the sales life cycle. The role of presales is to match the organization's services or products to the needs of the customer. This role is especially crucial in the IT industries because the products and services are often heavily customizable and because the requirements of different customers are often unique.
Bid Management – there are two main aspects to this. The solutioning side and the management side.
Bid Management/Presales/Proposal Management are interchangeable in the industry. Presales is more of a solution architecting role where a Subject Matter Expert studies the client's bid/tender/RFx document, understands the requirements/problem statement and provides a solution. The presales function is part of the product/service group working with the sales organizations to deliver solutions to customers.
A Bid or Proposal Management function is more of a PMO (project management office) role where the Bid/Proposal Manager project manages the entire response process. This role is part of the sales organization and involves overseeing the proposal (RFx) response development process from the beginning to the end. Bid managers orchestrate the creation of the solution, ensuring compliance with customer requirements while highlighting company value proposition. The role of a bid manager often works with the organization's stakeholders to bring and deliver strategic methods to win bids.
A Bid Manager coordinates across all the departments to deliver a response to proposal.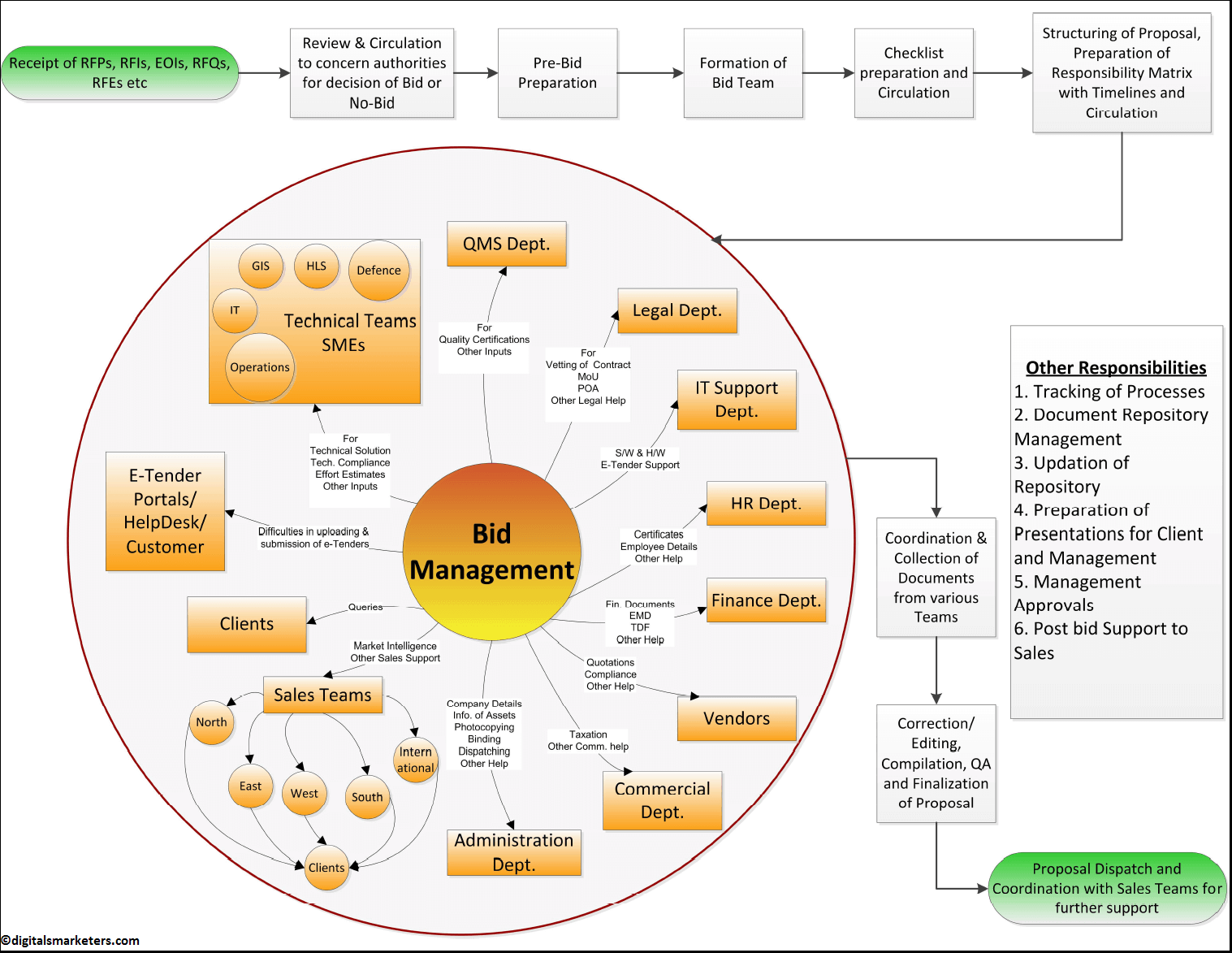 How it all got started for you?
🙂 I wanted to be a designer in my high school. Thankfully that did not workout for me. Nothing I am more ill suited for – turned out to be an opposite of a fashionista.
I was always interested in doing something creative and was always good at coordinating and getting things done. After a lot of trial and error of roles when I started working, I found my niche in Bid Management. I am a PMO who likes to present, market and promote. Voila – a bid manager!
What are your specific activities as a Presales Consultant?
The sales world is an organized chaos and that ripples down to bid management when there is an opportunity to pursue.
A typical day looks like:
Conducting and chairing proposal kickoff meetings.
Conducting research.
Working with boiler plate content to create a base document.
Management of proposal teams (sales, legal, finance, product experts, business groups, senior stakeholders, security teams, marketing and design.
Manage production of the proposal, set schedules, review calls, manager overall proposal quality.
Final submission to client with all the elements placed in a professional company branded package.
Workplace is energetic and busy.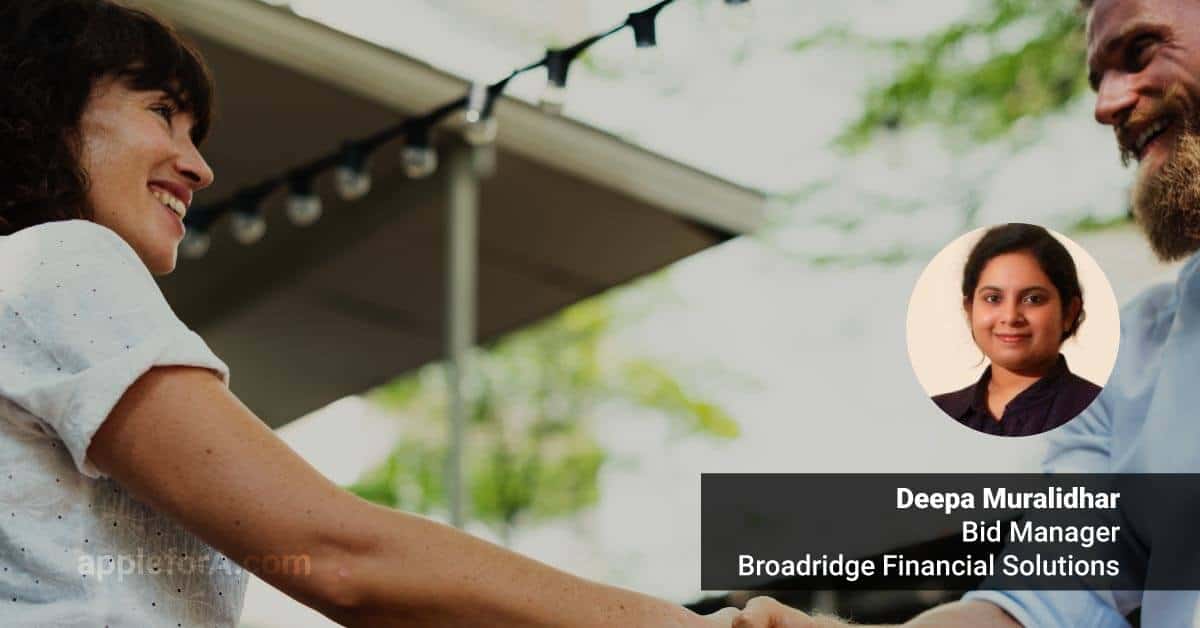 What steps did you take to land in your present job?
Sharpened business writing skills.
Learnt industry terminology.
Learnt best practices from APMP, PMP.
Honed program management skills and ensured proactive stakeholder communication and reporting.
What did you learn about your career after you started off?
No work is as you imagine it to be. There is a little bit of everything in every area of work. I imagined my career to be hotshot marketing and branding. Always on the move and making things happen. But you still need the background work. Diligent long hours of research, data capturing, reading, discussions. As the image says below – to be a proposal/bid manager you have to wear many hats. Get things done while the clock ticks to the deadline.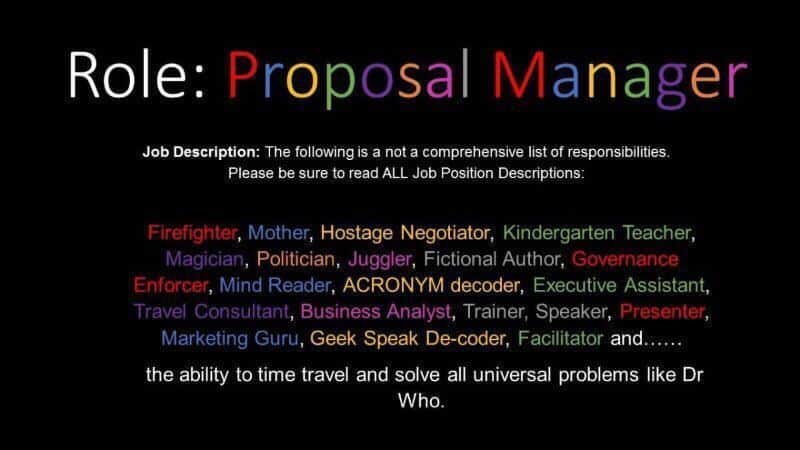 What advice you have for your younger self?
Read. A lot!!
What do you love about your current role?
Work life balance, global, cross culture reach.
What are the challenges you face in your career?
Long working hours.
Always under stress of deadline.
All RFPs/Bids are time boxed.
What type of sales professionals will be high in demand in the near future?
Sales professionals are the bridge between clients and companies. They are the face of an organization before partnerships even began. Being knowledgeable, articulate, confident and presentable is a must.
Can you please summarise your career journey?
+2 – Maths Economics Commerce (MEC)
Graduation – B.Com Advertising and Sales Promotion
Post Graduation – MBA in Marketing and Customer Relationship Management – Amity
Management Trainee, Project PMO, Presales Support – Mahindra Satyam
Presales Consultant – Proposal Writing and Support – Microsoft
Proposal/Bid Manager
Currently working on APMP certification
Future Aspirations:
Aiming to be an industry expert in this area.
What sort of experiences helped prepare you most
Everything you do helps in some way.
+2 helped with basics.
B.Com helped with honing my presentation skills.
MBA helped with communication, negotiation and a peek into the industry.
I was fortunate to work with an excellent set of programme managers based out of UK. Methods and tools learnt from them are key to my accomplishments.
What are the skills required to be a Pre-Sales Professional in 2020?
Communication 95%
MS Office tools 90%
Research and Writing 70%
I am 17 and I am planning for a similar career path like yours. What advice you have for me?
Decide if you are the backstage organizer or the actor. This is a job for all those people who make things happen working in the background. Read all kinds of business management, business communication books and books on win themes.
The recruiters look for good communication skills. When you are about to leave higher secondary school, take up a lot of direct selling and marketing projects. This will help you understand the area better.
What are some alternate career options for a Pre Sales consultant?
Project Management
Research
Program Management Office (PMO)
What are some resources you use to keep yourself updated about the industry?
APMP – Association of Proposal Management Professionals
What is the most important prerequisite in a proposal/bid manager?
Calm and Patience.
---
Thanks for reading! 🙂 If you enjoyed this article, leaving your 

comment

 below would mean a lot to me and it helps other people see the story. And you can say hello to us at

hello@applefora.com
If any of your friend is considering a career in a similar area 

share

 this with him/her.
You can 

read

 more real career stories 

here

.