I am Kanika Bhardwaj, an advocate and a councillor. Also the founder of Kanika Bhardwaj & Associates – a law Firm. My firm deals with various matrimonial, criminal and basic civil cases.
I am the first generation lawyer and I guess I'm doing good.
So students who are first generation lawyers and have no links can also be successful. I just want to inspire law students and want to encourage them to pursue litigation, if litigation is your passion.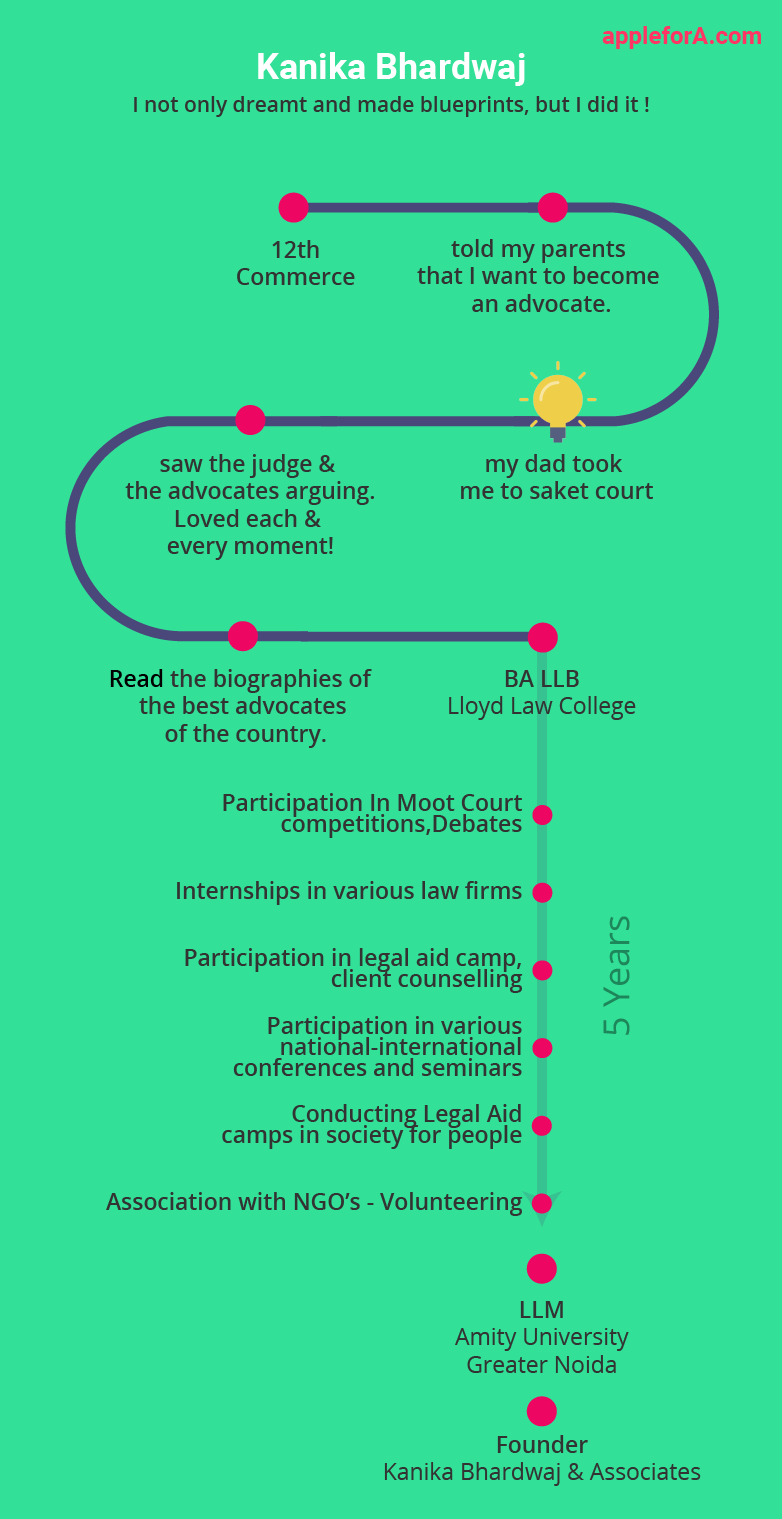 How is an Advocate different from Lawyer?
An advocate is one who is registered in Advocates Act and who is enrolled as an advocate. Also an advocate is a person who practice litigation.
A lawyer is basically any person who has completed his/her law. Lawyer can be either into corporate field or legal advisor or legal manager etc. Both terms are similar but not same.
What did you want to be when you were in higher secondary school?
Well, since 11th standard I was sure that I have to become an advocate and realized at a very early age that this is my profession. I told my parents that I want to become an advocate.
In order to make me aware about the courts and advocates, my dad took me to saket court one day which was just established at that time.
I saw the judge and the advocates arguing and was loving each and every moment! That was the day when I was more sure about me becoming an advocate. I used to google and read the biographies of the best advocates of the country. With time law became a passion and of course the first love!
Later, when I got my first case and the client paid me the litigation fees, that moment was a moment beyond words. It was my first paid case. Such small incidents motivates me further.
What is your typical day like?
Well, everyday is a different day. Nothing is scheduled in our profession except the court appearances. I start my day at 9:45 in the morning. I go to court to appear for any case in hand. Then I come back to office and complete all the drafting work. Later, I go for the meeting/conferences. After that I again come back to office in order to meet the clients who have already given me the case as per the list. I do research when required.
But let me just mention that the routine is not fixed. It all depends upon the urgency and the need and yes of course it depends on the client.
What steps did you take to start your own law firm?
First of all, I made a strong decision to start a law firm and I worked for it. I not only dreamt and made blueprints, but I did it!
Most of the fresh advocates dream of starting a law firm but the problem is that they only dream, never act. It is very important to have long term vision incase one wishes to start his own law firm.
I wanted my own cases. Without cases you cannot start a law firm. I struggled to fetch maximum cases. I never cared about my age. At times even judges points out to me that " Miss Counsel, you are too young, are you sure you are the main counsel?" and I am like " Yes, my lords ! I am the main Counsel in the case, please can I give my submissions". For me it's a kind of a proud moment because even judges at times notice that I am too young and still handle cases independently. Also I have got appreciation from many judges.
So, my only point is that act on your dreams, just don't dream. Everything will happen with the flow but you have to act upon it.
How is the actual career different from what you initially thought about it?
Initially, I had no idea about the procedures of the court. I did not know how to file a case and what all steps one has to take to fight a case. I just thought that a client will come, he will give you the case and then you have to argue his case in court.
But then when I did my internships, I found that ohh boy! It's completely different. It is more complicated and serious than what I have ever thought during my school and initial days of college. But with time I learned everything and now I am a pro I guess.
I am glad I didn't get into any other field. I am really happy with my profession and I love what I do.
What advice would you give your younger self?
First of all let me tell you that, in this field every advocate works differently and every mind is different! 
Now coming to me personally, I am more focused on work rather than money. Therefore, I run after fame and work. I believe money will follow. Sorry to say this, but the fact is that today's generation is running behind money. They start with the litigation, but later end up in corporate because of money issues.
Therefore, it's an advice to my younger self that litigation will not fetch you money initially. If you are sure that litigation is your passion, and you want to be an advocate then choose the field or else you will land up wasting your precious years. I am not demotivating any law student, rather I just told the fact and it's better to be aware at this early stage.
Talent finds its way anyhow
What do you love about your current role?
In this field, as you grow old, you gain more experience. The more experienced you are, the more you are in demand. I love me being called as an advocate and love the fact that I am an advocate and am following my passion and my dreams.
What are the challenges you face in your career?
The age! People have a perception that, if you are young you should go for juniorship, work under some senior advocate, etc. I am totally against juniorship. I suggest juniorship can be done for a year maximum and then side by side you can just start creating your own vision, struggle for your own independent cases. Because, ultimately only the number of cases you have will make you independent.
People advised me that I should do juniorship. If I had been into juniorship, till now I would never be able to establish my own firm at this age.

Further, the working hours are really hectic. There are days when you have to work 15-18 hours for a case. There is only work life after being an advocate and no personal life. I can say that, your personal life will suffer a lot. Working till midnight is common. So yes, there is a lot of struggle in this field. And more over, there is cut-throat competition.
What changes can you expect in the field of law in the near future?
The younger generation can rule the field in coming days. There is a perception that only senior people are good lawyers because they have good command over law and they are more experienced. But now I think the number of young advocates are increasing day by day and it is really good to see that.
What sort of experiences helped prepare you most?
The awareness that 'nobody will help you' helped me prepare the most. It is a fact that nobody will help you and make you learn in this field. You have to learn everything on your own. You have to observe things and learn from your mistakes.
What are the skills required to be an Advocate?
clever
hard working
ability to argue
presence of mind
research skills
command over language
able to study for long hours
What are some alternate career options for a law graduate?
There are so many options for a law graduate.
Corporate field (real estate, mergers & acquisitions, etc.)
LPO'S like Pangea (legal outsourcing)
Legal manager/ advisor/ officer in MNC's
Public Prosecutor ( Government Advocate)
Working in legal department of any company as in house lawyer, etc.
What do you think potential recruiters look for in a fresh law graduate?
In a fresh graduate the recruiter will observe only your zeal to practice law, confidence level (weather you will be able speak in front of Hon'ble Judges or not) and presence of mind. Obviously, it's understood that the fresh graduates have no knowledge about the court procedures. But, the student must be enthusiastic and must have zeal to practice law.
Many law graduates complain that they have to work for very low salary during their initial years. Your comments on that?
Initially, the salary is very low just to meet the expenses. But this is how it goes. That is why I said previously that juniorship is only for learning. It will not help you make money.
Money can be made only from your own independent clients and cases and you have to struggle for it.
Who do you think should take up this Career choice?
This field is only for those students who have passion and love for law and its practice. Or else the students will just end up being nowhere.
Advocates have to play with the words every time. Therefore, if he/she has good command over language, they can give it a try.
After 12th do internship in a law firm or under an advocate to explore the field. Later analyse yourself whether you can practice law or not.
Any recommended resources for students who are interested in Law?
Students can research judgements on Manupatra or SCC Online. The best judgements portal. They can read new judgements and can learn from it.
Students can also visit District Courts.
What should one do during the college days?
During the college time,

do as many internships as possible

. Law firms having cases in district and high court are preferable.
Mainly stay in district court during internships, because

what you learn from district court will help your entire life.

If possible visit the supreme court.
Participate in legal aid and learn client-counselling.
Can one become a good advocate by memorizing the law books?
NO!! Books, bare acts, judgements, etc., can only help you with the law part. Books can tell you the law. But they never tell you how to implement the law. Law books tell us "this is to be done" but they do not tell us "how it is to be done" and that's the main part of advocacy. How the things are to be done, how the arguments are prepared, how the relief is sought, etc. One can learn all such things only in court while being in court and watching the procedures.
So, more than the books, the practical part is really important.
Any final thoughts?
---
Thanks for reading! 🙂 If you enjoyed this article, leaving your 
comment 

below would mean a lot to me and it helps other people see the story.
If any of your friend is considering a career in a similar area 
share 

this with him/her.
You can 
read 

more real career stories here.