Hi, I am Gautam Tiwari, and I have been working on various roles from animator to CGI-supervisor.
My Portfolio:
Started my journey back in 2005 from UTV Toons as animator for DVD films like King Kong, Alice in wonderland, Jungle Book and The Prince and the Pauper. I have also contributed on the gaming projects like GTA & Mocap (Motion Capture) project Harry potter when I was associated with Rockstar Dedicated unit (Technicolor). Later on started working with Crest Animation studio for VFX Projects Like Ra-One and award-winning TV series- Octonauts and many more as Episodic Lead. Moved on to work with Froggy Heart Studios as CGI- Supervisor based in Romania (East-Europe) For a TV-Series which was evolved from a very known novel "oinnuima – da – Brouscuete". Now currently I am working as Animation Supervisor with Golden Robot Animation Studios Pvt., Ltd., and managing CGI projects.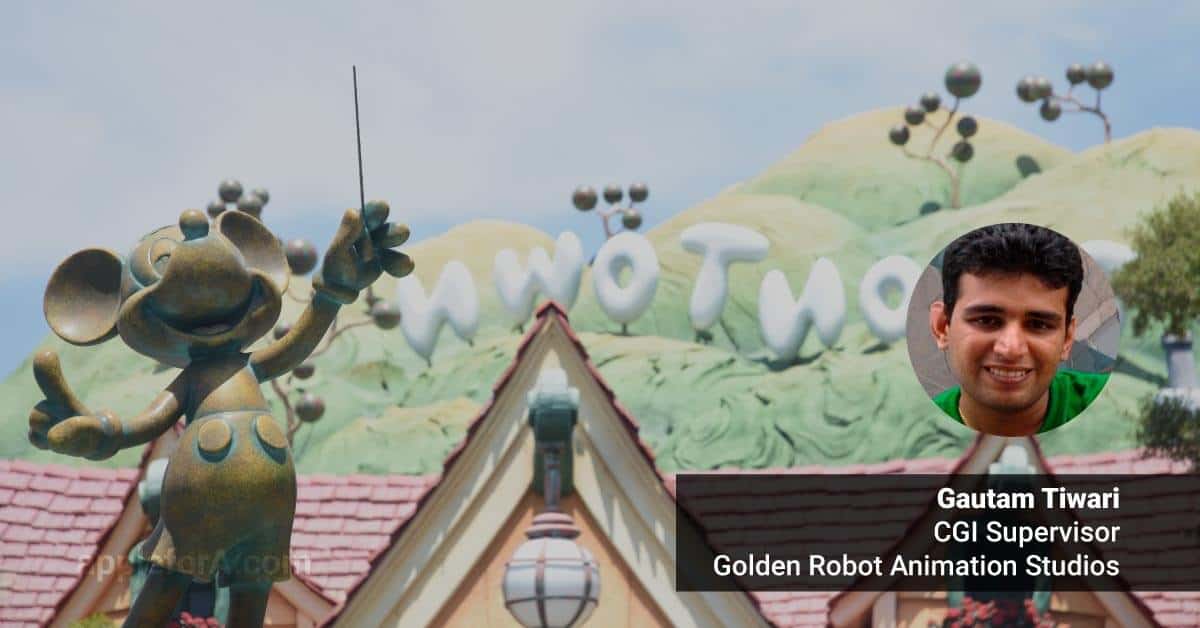 Who is an Animator?
Well according to me, an animator is a virtual actor, who feel the character's personality, emotion and situation of the story and put all this in a character to give it a meaningful life.
How it all got started for you?
I actually wanted to join IAF (Indian Air Force) when I was in higher secondary school. But aeronautics was a bouncer to me as I was not good in studies. Books and I are like two different poles, who can never come together.
My journey as an animator started when I dropped out of college.  One of my friend's dad suggested me to try animation since I love fantasy world and cartoons. He-man, SWAT cats, Tom and Jerry, Donald Duck, Uncle Scrooge and many more cartoon series motivated me to become an animator. I grew up watching these series, used to live in their fantasy world, used to act like them and mimic them. All these cartoons have influenced me to become an animator.
What is your job role within the organisation?
Currently I am supervising a team of animators. I guide and coordinate them how to get out the characters, emotions and personality, keeping the style of animation in mind to deliver the project within the time. My duty is to help them out, if they get stuck somewhere or does have any technical issues.
Execute the script of the show, breaking them into different sequences or scenes as per the requirement of script and deliver the project in video output to different channels to broadcast them for the audience.
An animation studio is always a fun place to work. Every artist is a creative person and is always keen to create some awesome piece of work. Every day we get new ideas, new inputs, learn and share new things.
What steps did you take to land in your present job?
After dropping out of college I had three options, fashion design, interior design, animation & VFX.
Thanks to my friend's dad's suggestion, I choose Animation & VFX. After that it took me 9 years and various projects to gain and develop that experience and level to become an animation Supervisor.
What do you wish you knew before you started preparing for this career?
I thought there's only one type which is CGI, but as I went in detail, I knew that there are variations.
For example, if you combine CGI with live shoot it becomes VFX and many more variations. If I knew this earlier, I would have focused only in VFX. But, in my case it has worked good for me. Today, I do both CGI and VFX.
What advice you have for your younger self?
Practice a lot of sketching, strong poses and thumbnails drawing. Upgrade yourself on regular basis not in just software but creatively also.
What do you love about your current role?
I work in a very healthy atmosphere and the place is filled with fun. Nobody is the boss, everyone works as a team and gives their 100% to get a collective goal. Playing games and pranks on any one is our day to day routine…:)  The part I love the most is, I don't have to wear formals. Everyone wears casual and flip flops are good enough for us. Working hours are flexible and every Friday we have some events from HR which is called as F4 Friday (Fun for Friday).
What are the challenges you face in your career?
There are lots of challenges. Meeting the deadlines is one of the biggest challenges. We have to meet the same by hook or crook. Sometimes we have to spend the nights in the office working, just to meet deadlines. Every episode comes with a new challenge, it could be either look or feel, animation or asset development. There are creative and technical challenges.
Every challenge makes us learn something new which also help us to plan better the next time.
What type of Animators will be high in demand 5 years?
CGI, VFX and Game Animators.
Can you please summarise your career journey?
+2 – Commerce
Dropped out after completing F.Y. B.com (First Year Bachelor of Commerce)
Joined Maac (Maya Academy of Advanced Cinematics – animation and vfx course). Along with that started part time job at Creative Visions as trainee animator.
Started my career with UTV Toons
Senior Animator  –  Maya Entertainment
Group Lead  –  Technicolor India
Technical Lead  –  Crest Animation Studios
Team Lead  –  Digitales Animation Studios
CGI Supervisor  –  Froggy Heart Animation Studios Based, Romania(East-Europe)
Animation Supervisor  – Golden robot Animation Studios, India
What sort of experiences helped prepare you most?
Each and every role and responsibility helps not just me but everyone. It just depends on person to person how he or she takes up the challenges, positive or negative. I personally believe, if you take up any role or challenge in your life on a positive node, it will always give you a positive result.
What are the skills and education required to be a Animator?
Education:
If you clear the required degrees, it clear outs your base and guides you with the right directions, But Academic qualification are not necessary if you have the required skill set.
If you are confident and know to animate and bring out the emotion and feeling from 3d models, able to convey the script or story and a demo reel where you can showcase your abilities, no one will ask you for degrees. I have seen other animators who have dropped out from their degrees, but doing well in the industry.
Skills:
If you want to take on technical side – math is important.
If you want take on creative side – art & sketching is important.
Good communication skill is must in all sort of streams.
How do you like to spend your free time?
Photography, travelling, camping, watching cartoons and movies, and playing Call of Duty and many more.
What are some alternate career options for a Animator?
Creative side – you can go for animation, creative or Art Director.
Technical side – you can go for technical support or TD (Technical Director) or a coder based on your interest.
What do you think potential recruiters look for in a fresh Animator?
Right skill set
Dedication
Commitment level
Learning curiosity
Enthusiasm
Ambitious
Who do you think should take up this career choice?
Working as an animator require lots of patience, hard work and dedication. As an animator one should enjoy his/her work. You can't miss deadlines. Broadcast dates have been fixed and millions of audience are waiting for new episodes. You cannot let them down, you have to give them a good show.
Anybody ready to take up this stress can definitely dive into this field. It's a whole different world out there once you set your foot in this virtual and fantasy world. Nothing can stop your dream and passion, if you give your 100% effort.
Any recommended resources for aspiring Animators?
Lots of resources and study material are there. Few of them which I follow are mentioned below:
What do you think everyone leaving higher secondary school should know?
If you have little bit of interest, start keeping yourself updated with the trends and new software. This industry is growing very rapidly especially in India. Keeping yourself updated will definitely help you in today's competition. Start sketching and from sketching I mean rough drawings, doodles and thumbnails. Drawings will help you to narrate your vision very clearly.
Any final thoughts?
Animation is not at all easy.
It's a job which requires a lot of patience, time, passion and ambition.
Some times me and my colleagues have not gone home for weeks and it's just because of our passion. We have spent endless night working on different projects and don't know how many more to come, but we are up for it.
If you take the work as work some times it becomes boring, but if you add elements like enthusiasm, dedication with a little bit of fun and play then you can overcome all the hurdles easily. For example, in my current studio we have a culture called #workplayanimate, the phrase itself explains everything. Keeping this in mind we overcome all the difficulties.
---
Thanks for reading! 🙂 If you enjoyed this article, leaving your 

comment

 below would mean a lot to me and it helps other people see the story. And you can say hello to us at

hello@applefora.com
If any of your friend is considering a career in a similar area 

share

 this with him/her.
You can 

read

 more real career stories 

here

.