I am Vishnu BG, people call me BG. My job is to consult and provide insights for anyone in this world on any topics for their growth. I am a soft spoken person and likes to help and consult people.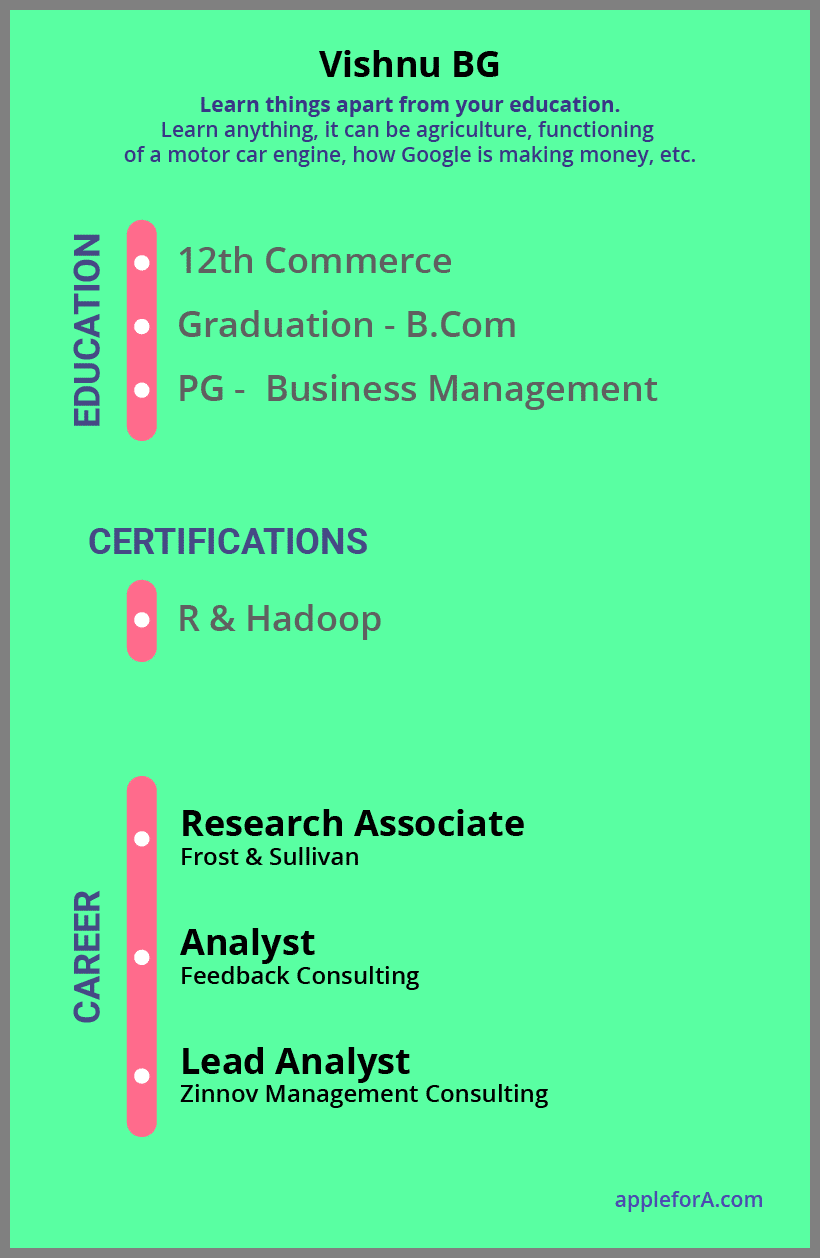 Who is an Analyst?
An Analyst is one who is interested to learn new things and has the ability to solve any complex problem with a long term benefit.
Normally for an analyst, the job can be bucketed under 2D's – Data & Deck. "Data" often termed as oil of the current decade is a crucial element in an analyst job. You have to be extremely thoughtful in getting the right data and street smart in converting this to arrive at meaningful insights which will flow in the "Deck".
How do you like to spend your free time?
I strongly believe that knowledge is everything and always strive to increase this quotient during my free time. It can range from talking to small kids, listening to thought leadership videos and reading articles. With the knowledge gained, I like to share with people which can help them in some sort. Exploring nature, travelling and playing sports are my in gene which is a part of my agenda when I am free.
What did you want to be when you were in higher secondary school?
As a teenager, I was very fond of learning new things, especially business related as I am from an entrepreneurial family. This drive would have resulted me in ending up with a career in the Management Consulting domain. I did not have much idea about this domain and ended up pursuing B.Com as I opted for commerce during my higher education. Further I pursued MBA because it was my long term vision when I was in my higher secondary.
What is your typical day like?
My typical day comprises of:
handling data request
deciding on a resource allocation
reviewing the final deliverable before sharing it with the client
a buddy breakfast with the new joiner
opening the CEOs mail which is the most interesting and challenging thing to do.
Can you mention your specific activities within the organisation?
My main activities or tasks ranges from conducting secondary research, primary research, creating deliverables in various formats (XL, Presentation, Word, etc.), handling the research excellence team, supporting in proposals, hiring for the team, data collection, creating dashboards, frameworks, data models, report writing,tracking about the industry, vendor management, team management etc.
To sum up, I am responsible for the knowledge team and any data which flows out of this.
Analyst again is a very broad term, each analyst perform different type of activities.
What steps did you take to land in your present job?
Learn, learn and learn – The only mantra to grow up the ladder in anything. Build your knowledge and always keep it updated which is very important to survive in this competitive corporate world.
Always go a mile beyond your destination to capture the sweet spot.
Take more responsibility and accountability.
Understand your clients and company's expectation from you and contribute more than that.
Create a combo of Hard + Smart work.
How is the actual career different from what you initially thought about it?
When I started the career, I was supporting a vertical (department) which was totally opposite to me, I was part of energy and utilities vertical. One of the main reasons behind opting for the commerce stream was that, I was not strong in Physics and Chemistry. For many days, I felt like I have made a very bad decision of choosing this industry and the job. After a struggle I learned about the engineering part of transformers, switch gears and then after some months I realised this career is tailor made for me.
I understood that the essence of this industry is not only with the core vertical, but with research and consulting. Another most important thing I realised is that, even a granular level of data can create an huge impact for the company and the society. This is one industry which will be evergreen and only industry which keeps you updated and makes you to have a broad view about the world.
Do you have any advice to your younger self?
Learn a lot, keep updating your knowledge and apply the art of consulting. Even in your personal life, if you are a SME (Subject Matter Expert) in some vertical then this career is for you.
What do you love about your current role?
All these factors make me love my career:
continuous learning
work life balance
never ending demand
finally a decent pay makes this career a pleasant one
What are the challenges you face in your career?
Learning is a challenge in this career. Whenever you work for a new vertical or technology, the amount of time required or your working hours will be long.
What type of analysts will be high in demand in the near future? And your future aspirations.
Analysts are required across all type of industries. But, the demand lies when you have the charisma in handling huge chunk of data and create a long term vision and thought leadership. One should be brilliant enough to solve a problem within short span of time, to put in other words the decision making power create wonders.
My Future Aspiration:
I want to create a startup of my own which will provide consulting and analytics to the Small Medium Businesses in India by solving their problems and make them competitive globally. By creating this I want to make sure that our nation will have the ultimate power globally.
Can you please summarise your career journey?
+2 – Commerce
Graduation – B.Com, GRD College Of Science, Coimbatore (Highly recommend this college, KKR our director is an inspiration to millions of students)
Post Graduation –  Business Management from Indo German Training Center, Chennai
Frost & Sullivan – Research Associate in EPS Vertical
Feedback Consulting – Analyst in Construction Vertical
Zinnov Management Consulting – Analyst, Senior Analyst, Lead Analyst / Manager
R & Hadoop from Jigsaw Academy
What are the skills required to be an Analyst in 2020?
You can be from any stream, but your theoretical knowledge and how much you know about what is happening in the industry matters.
You should have the ability to analyse and learn continuously along with thought process, quick and impactful decision making.
As the world is getting digitalised, consulting also is getting the digital disruption. Therefore, pursuing advanced data analytics tools like R, Hadoop, SAS, etc., and applying consulting on top of it should be your mid-long term vision.
What do you think potential recruiters look for in a fresh Analyst?
thought process in solving a problem
decision making
art of extracting data
creating meaningful insights from it
Who do you think should take up this Career choice?
There is no mandatory as such that you should be from this stream or should have the related certification to pursue a career as an analyst. Anyone with entrepreneurial spirit and like to be a part of big decision making process by continuously contributing, taking responsibility and strive to learn new things every second can be an analyst.
For example, if these things sounds good for you then you should choose your career as an analyst.
How will the mobile phone gets converged by 2020's and how the world and corporates gets the impact by this.
Pepsi wants to create a new chocolate, do you think they should do it. If yes – how or no – why?
Any recommended resources for students who are interested in Market Research?
Udemy and other e-portals to learn about Management Consulting.
Follow companies like Gartner, BCG, McKinsey, etc., to understand more on this.
What do you think everyone leaving higher secondary school should know?
Learn things apart from your education. Learn anything, it can be agriculture, functioning of a motor car engine, how Google is making money, etc.
Everyone who completes their higher secondary should know what are the courses he/she can do, what are the new courses introduced and what opportunities it creates. You should plan at least till your 3rd year of career in this stage.
Any final thoughts?
Be honest, hard work and do not stop learning – Follow this always in your life and other things will follow you.
---
Thanks for reading! 🙂 If you enjoyed this article, leaving your 
comment 

below would mean a lot to me and it helps other people see the story.
If any of your friend is considering a career in a similar area 
share 

this with him/her.
You can 
read 

more real career stories here.